G-economy stocks are winning
September 26th, 2021
It has been a good year for G-economy stocks which we define as equities that are likely to benefit from government-led inflation. The INK Canadian Insider (CIN) Index, which is dominated by G-economy stocks, made a new all-time high of 1,706.58 on Friday. The INK CIN Index is up 30.0% year-to-date (local, price-only returns), crushing the S&P/TSX Composite (+17.0%) and even the popular Nasdaq 100 Index (+18.9%).  We had a hunch that it was going to be a good year for G-economy stocks when Horizons ETFs announced on December 31st that it would be closing the only investment vehicle using the INK CIN Index. While the closure was a good contrarian signal that INK CIN Index stocks were likely to have a good year, we doubt that keeping it open would have led to the type of asset growth needed to make the ETF commercially viable in 2021. The ETF landscape has become a race to the passive bottom with many investors and advisors favouring low-cost passive index investments after seeing decades of passive ETF outperformance in the United States.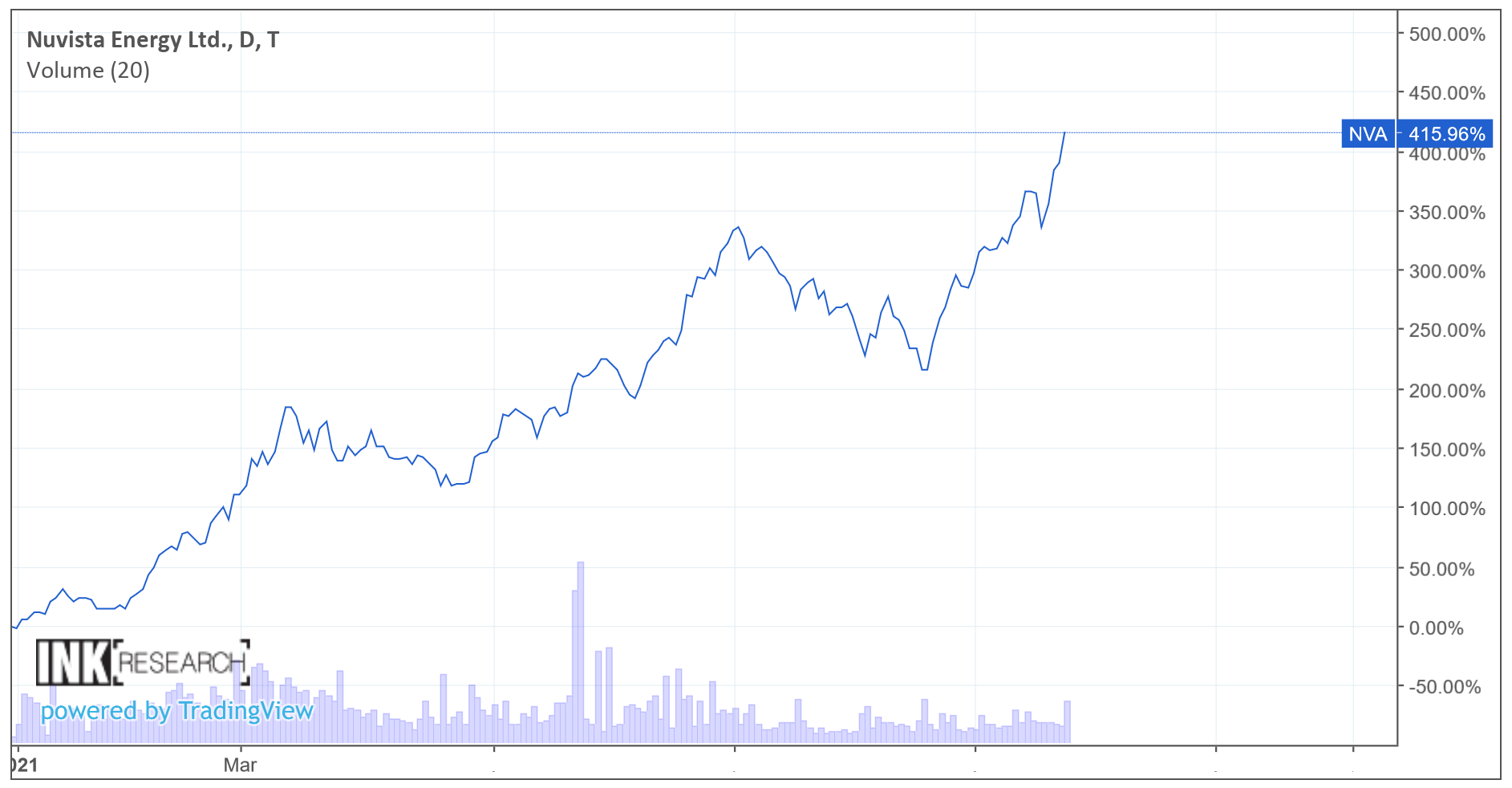 Nuvista Energy (NVA) is the top INK CIN performer since the summer rebalancing
However, every good ride comes to an end, and that appears to be what has happened to passive ETFs in 2021 as those vehicles find themselves low on smaller oil & gas stocks which have been top performers year-to-date. Meanwhile, the INK CIN has a 37.1% exposure to the group. This allocation is based on our quantitative process which will be rebalanced again on the third Friday in November. INK CIA Institutional members can see the full constituents list via the INK Index website. Meanwhile, for the second week in a row, the top three INK CIN Index performers of the week were from the Energy sector.
As pleased as we are with the performance of the INK CIN Index and G-economy stocks, we remain mindful of the risks associated with a potential Fed tightening. As such, we continue to favour a barbell approach that includes both G-economy stocks and defensive names such as stocks in the Healthcare sector.
Some insurance to bad outcomes remains warranted, in our view. As Jeff Snider reminded us on September 23rd, something is just not right in the plumbing of the US monetary system. In Jeff's view, the underlying problems that triggered the great financial crisis have never been fixed. In light of that reality, Snider is starting to sound more constructive towards cryptocurrencies which was a bit of a surprise to us.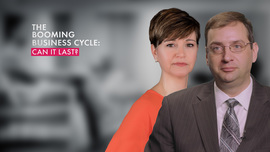 Snider: the system has not been fixed
Cryptocurrencies were a hot topic in our latest Howe Street interview on September 21st. At the time, Gary Gensler had just given a hostile interview in the Washington Post about the SEC's approach towards cryptocurrencies going forward. As it turned out on Friday, China announced another crackdown on the crypto-industry. Fortunately, Raoul Pal showed up in the Daily Briefing Friday to make sense of it all. We will provide our updated take on cryptocurrencies and equities in the Monday market report.
Finally, if you are a member you can download our entire Canadian INK Edge universe coverage in excel format via INK Chat.
| | |
| --- | --- |
| Top 3 Gainers Last Week | Top 3 Losers Last Week |

Returns are as of the last trading day of the previous week.
Featured Clip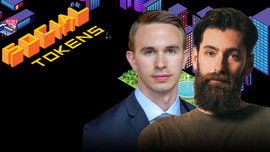 The DAOs are coming
Decentralized autonomous organizations (DAOs) are capturing the imagination of creators and entrepreneurs the world over. Jess Sloss, instigator at Seed Club, joins Kevin Kelly, co-founder of Delphi Digital, to discuss how they guide and invest in startup communities as well as explain how social tokens can play an important role in delivering value to those communities' members. In this deep dive, Sloss explains who DAOs will work for and why Seed Club is discerning who is in this journey for the long haul. Filmed on September 16, 2021.
Insider of the Week
Jonathan Wright
Jonathan Wright has been President and Chief Executive Officer of Nuvista Energy since 2011. It has been an up and down journey for the share price over the past decade, but Mr. Wright has hung in there. That says a lot about his commitment, along with the 800,917 shares that he holds. The stock is having a good year and, if mean reversion is at work, the rally may have just begun.
INK Canadian Insider Index
1 Year Total Return Performance




Historical Performance

Annualized Total Return as of September 24, 2021 04:49 pm

| | |
| --- | --- |
| 1 Year | 70.00% |
| 3 Years | 13.34% |
| 5 Years | 10.69% |
| 10 Years | 11.61% |
To start receiving a PDF version of this newsletter by email select it in your
alert settings
. If you do not have an account, join us
here
.