The Fed's remedy (Spoiler: it is not Japanisation of the yield curve)
February 22nd, 2020
Gone are the days when central banks took away the punch bowl just as the party started to heat up. In the modern era, central banks are standing by to fill up the punch bowl before it gets empty. In contrast, insiders are currently taking money off the table as the party continues. However, we have yet to see the full set of conditions needed for us to issue a Wow! alert.
A Wow! alert would be our high conviction signal that the dynamics for a market top are in place, even if the exact timing of such a top is uncertain. To issue a Wow! alert, we need to have both a correction signal from our Wall Street indicator at the same time as we have a warning signal from Industrials insiders.
Our Wall Street Indicator will be sending a correction signal when both the 30 and 60-day Investment Banking and Services Indicators (a sub-indicator of the Financials) have hit or are near zero. The 30-day recently hit zero but the 60-day has not (it is at 7.4%).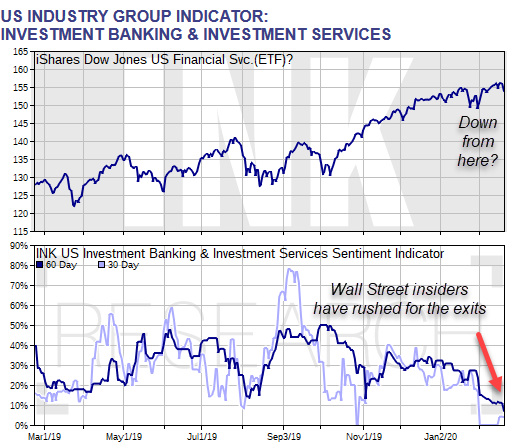 INK's Wall Street Insider Indicator is sagging
With a pullback in financial services stocks last week, we will be watching to see if any more Wall Street buying emerges. If selling dominates we will likely get close enough to issue our alert. Over in the real economy, we have a warning sign still in place from Industrials insiders. Both our 30-day and 60-day Industrials Indicators are below 20%. When that has happened in the post-QE period, it has often spelled trouble for the market. At 20% there are 5 stocks with key insider sales for every one with buys.
Our first Wow! alert took place in the summer of 2018 following the publication of the July 25th INK US market update. At the time, we suggested that while the timing of a correction was uncertain, a 20% move to the downside was likely. If it comes, we will announce it in our US market report which is distributed to INK Research and Insider Tracking Advantage subscribers.
As the Wuhan coronavirus and its associated COVID-19 disease continue to infect market sentiment, inflation expectations have struggled to regain their footing. After climbing slightly in early February, they generally slipped last week but have not yet broken down. Meanwhile, Canadian mid-cap stocks as tracked by the INK Canadian Insider (CIN) Index have been able to recover some lost relative ground. So far this year, the INK CIN Index is up 4.1% versus 3.0% for the S&P/TSX Composite and 3.5% for the S&P 500. However, part of the outperformance was attributable to a strong showing by gold stocks in the index. We will have more confidence that the INK CIN can continue to outperform if inflation expectations can sustainably move higher.
Inflation expectations as measured by 10-year TIPS breakevens close to falling below 1.60% (click for larger)
With 10-year inflation expectations ever so close to tumbling further, on Friday we heard from Federal Reserve governor Lael Brainard describe the treatment that the Fed might attempt to administer if things start to unravel. Contrary to what was suggested by a popular perma-bear financial website, the Fed would not be following the Bank of Japan in trying to cap long-term yields. Instead, it could focus on capping short-term yields. The length of the maturities would match the length of forward guidance. Here is what Brainard said:
Forward guidance could be reinforced by interest rate caps on short-term Treasury securities over the same horizon.
Here is how it could work. If the Fed were to say that it expects to leave the overnight rate unchanged for at least 2 years, it would seek to cap interest rates on two-year Treasury notes or securities with a shorter maturity. That is a lot different than Bernanke style QE which involved the purchase of long-duration Treasuries and mortgage-backed securities. In fact, Brainard seemed to give old-style QE the cold shoulder:
One important benefit is that this approach would smoothly move to capping interest rates on the short-to-medium segment of the yield curve once the policy rate moves to the lower bound and avoid the risk of delays or uncertainty that could be associated with asset purchases regarding the scale and timeframe. The interest rate caps would transmit additional accommodation through the longer rates that are relevant for households and businesses in a manner that is more akin to conventional policy and more continuous than quantitative asset purchases.
There is a lot to unpack in that paragraph, but there are two key takeaways. First, she recognizes the problems with large scale asset purchases. Secondly, her approach would essentially allow market forces to set the rates at the longer end of the curve. This should be music to the ears of any commodity investor.
There was even more encouraging news for commodity investors in Brainard's remarks. In terms of inflation, she proposes flexible inflation averaging. As she explains it, such a policy would seek to achieve inflation above 2% for a period to compensate for the inflation shortfall over previous years. While it remains to be seen whether her vision of inflation averaging becomes a reality, the averaging approach seems to be gaining steam. If the Fed moves in that direction later this year, it should provide Canadian mid-cap stocks with a tailwind in the second half of 2020. Investors may want to consider such a scenario now while Canadian mid-cap stocks are relatively cheap.
| | |
| --- | --- |
| Top 3 Gainers Last Week | Top 3 Losers Last Week |

Returns are as of the last trading day of the previous week.
Featured Clip
New CEO and new money
This week's feature is the INK Ultra Money Free video summary of the INK morning report distributed to INK subscribers and Canadian Insider Club members on February 3rd. Gold and silver miner Bluestone Resources (BSR) received a boost from a familiar name in the mining industry. Now it looks set to climb the Lassonde mine life value curve.
Disclosure: one or more INK employees holds Bluestone Resources.
Insider of the Week
Fed Governor Lael Brainard
In remarks to the 2020 U.S. Monetary Policy Forum on Friday, Federal Reserve Governor Lael Brainard provided more clues about the direction the central bank is looking to take to boost inflation. The Fed's thinking is not getting much attention in the media. However, it could have secular implications for Canadian stocks.
INK Canadian Insider Index
1 Year Total Return Performance




Historical Performance

Annualized Total Return as of February 21, 2020 04:49 pm

| | |
| --- | --- |
| 1 Year | 8.68% |
| 3 Years | 2.36% |
| 5 Years | 4.45% |
| 10 Years | 8.06% |
To start receiving a PDF version of this newsletter by email select it in your
alert settings
. If you do not have an account, join us
here
.