The FAANGs are losing some of their bite
September 9th, 2019
In our US Market report for INKResearch.com and InsiderTracking.com Advantage subscribers last week, we made the case that North American markets were starting to favour a contrarian investing style where companies with good growth prospects and relatively low valuations are likely to gain traction with investors. So, where does that leave the widely-followed FAANG stocks? INK Research CEO Ted Dixon was asked just that by Jacqueline Hansen for a CBC National News report on big tech. He suggested that seeing insider selling in weak FAANG stocks was a warning sign. We addressed the outlook for FAANG stocks in our September 11th US market update. As a group, we believe they are vulnerable to a consolidating pattern or even potentially falling until their valuations become more attractive.
However, within the FAANG group, there are differences when it comes to insider behaviour which suggest that not all stocks in the group may be destined for a period of stagnation or decline. While all five stocks in the group have seen insider selling, the amount of selling at Alphabet (GOOGL) has been relatively modest over the past 90 days at US$4.3 million. The limited selling has helped the stock maintain a mostly sunny INK Edge outlook. That puts it in the top 30% of American stocks ranked. Facebook (FB) also maintains a mostly sunny outlook but for a different reason. While the selling in the stock has been large, it comes on the back of a market-beating 15.8% price gain over the past year. Insider selling is to be expected following such an advance. Going forward, continued selling could cloud the stock's outlook if it takes place as the stock price stalls.
In fact, insider selling into share price weakness is weighing on the outlooks for Amazon (AMZN), Apple (AAPL), and Netflix (NFLX) with rainy outlooks for Amazon and Netflix and a mixed outlook for Apple. A rainy outlook places a stock in the bottom 10% of all stocks ranked while a mixed outlook puts a stock in the middle 40% of all stocks in the US market.
While none of the original FAANG stocks has managed to get into the sunny category, that is not a big surprise since insider signals tend to be biased towards small and mid-cap names. That said, the FAANG group does not come across as an area that will be generating above-average returns over the next year. For investors that want to keep some exposure to the group, Alphabet and Facebook are the best bets according to our signals. Although there are new regulatory risks with both names, some of that may already be factored into the share price.
INK Edge outlook ranking categories (Sunny, Mostly Sunny, Mixed, Cloudy, Rainy) are designed to identify groups of stocks that have the potential to out- or under-perform the market. However, any individual stock could surprise on the up or downside. As such, outlook categories are not meant to be stock-specific recommendations. For background on our INK Edge outlook, please watch our short video or visit our FAQ #5 at INKResearch.com.
| | |
| --- | --- |
| Top 3 Gainers Last Week | Top 3 Losers Last Week |

Returns are as of the last trading day of the previous week.
Featured Clip
Big bets on Barrick
A culture of equity ownership has taken hold at Barrick Gold (ABX). That should make the stock even more attractive to big players who want to add exposure to the gold group.
Insider of the Week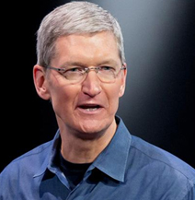 Apple CEO Tim Cook
On August 26th, Mr. Cook sold US$54.7 million worth of Apple (AAPL) stock. The sales were made pursuant to a Rule 10b5-1 trading plan adopted by Mr. Cook's trust.
Despite the sales being under a permited pre-specified plan, it is interesting he ended up selling shortly before Tuesday's product launch.
INK Canadian Insider Index
1 Year Total Return Performance




Historical Performance

Annualized Total Return as of September 9, 2019 04:49 pm

| | |
| --- | --- |
| 1 Year | -7.69% |
| 3 Years | 2.11% |
| 5 Years | 2.32% |
| 10 Years | 8.97% |
To start receiving a PDF version of this newsletter by email select it in your
alert settings
. If you do not have an account, join us
here
.