Energy is winning but gold is picking up the pace
June 6th, 2021
As we wrote in our May 31st market update, insider sentiment in the Energy sector just will not give up. Our INK Energy Indicator has bounced and is now back above 100%. The fact that we have more stocks in the sector with key insider buying as there are with selling is a big surprise given the more than 50% gain in the S&P/TSX Capped Energy Index so far in 2021. Normally, we would expect to see insiders taking money off the table in greater amounts after such a move. That leaves us wondering how much further do we have to go in the oil patch? Do we have a tiger in our tank, or are we running on empty?
Keith Dicker of IceCap Asset Management was back on INK Ultra Money Friday with Steve Saretsky defending IceCap's downbeat view on risk assets. He suggests we are late in the third period of the risk asset rally which we assume would include oil & gas stocks. In contrast, on Thursday Peter Boockvar makes the case that inflation is going to persist longer than most people think. If Peter is right, inflation-oriented stocks should have further upside.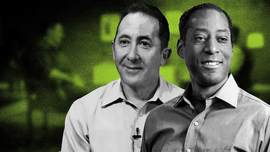 Boockvar warns on Inflation complacency
Darius Dale, founder and CEO of 42 Macro, presents a middle inflation ground view between Dicker and Boockvar. He suggests inflation may have peaked for the time being and that will provide some headwinds for investors, likely later in Q3. He lays out an unfolding environment that lines up with our take on energy and gold stocks published in our May 3rd market report (A bullish gold narrative shaped by a foot-dragging Fed). Dale provides a comprehensive actionable view of where he sees the world heading over the next 3 years, and his interview is our video of the week (spoiler alert, he is not a medium-term dollar bull).
We continue to believe oil prices will eventually call the Fed's bluff on its transitory narrative. Even if Dicker is right and we near the end of the third period, sometimes the last few minutes of the game is where you get the most bang for your buck and we have no intention of leaving early. Like Tony Greer who was back on the Daily Briefing on Tuesday, we are still bullish on the oil patch.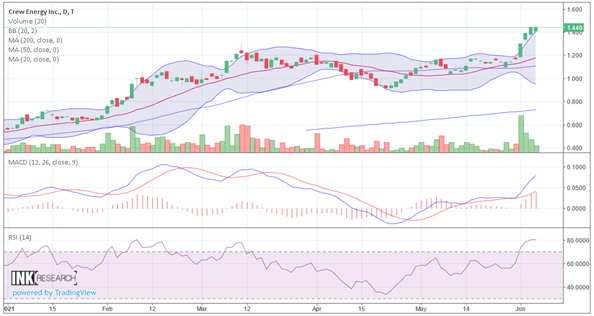 Crew Energy is up 112% since our since our Feb. 1st morning report
For those looking to add to the energy exposure, make sure to check out our Top 30 Energy Report.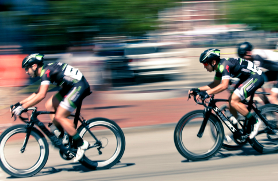 May Top 30 Energy Stock Report
Gold stocks are picking up steam with the S&P/TSX Composite Gold Index up 20.1% over the past three months. As such we are slowly adding to our gold stock exposure as a day of policy reckoning for the Fed draws closer. We have been featuring more gold stocks recently in our morning report and we have another one on Monday. Make sure to follow INKResearch on Twitter to get a live sneak preview of our Morning Report. Every evening Sunday to Thursday around 7 pm pacific time we broadcast our video summary of the next day's morning report.
On Friday, Raoul Pal interviewed Rolf Hoefer, co-founder of Cultur3 Capital, where they discuss the future digital communities. This is a must watch for investors following the media industry. It certainly has us thinking hard about where we need to take the INK platform in the years ahead.
Disclosure: one or more INK employees holds a position in Crew Energy.
| | |
| --- | --- |
| Top 3 Gainers Last Week | Top 3 Losers Last Week |

Returns are as of the last trading day of the previous week.
Featured Clip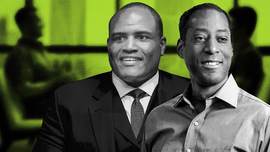 Darius Dale launches 42 Macro
Real Vision managing editor Ed Harrison sits down with Darius Dale, founder and CEO of 42 Macro, to lay out his investment framework for markets and provide a strategic update on his macro outlook for this year. He introduces his GRID regime framework, which measures, tracks, and contextualizes the rate of change in key macro variables across time and geographies to evaluate their impact on a wide array of asset classes. Using this model, he offers his insights into the trajectory of economic growth and inflation and how this will shape policymaking and markets over the coming months. Dale also shares how to apply this model for portfolio construction. Follow Darius on Twitter @42macroDDale and @42macro. Filmed on May 28, 2021.
Insider of the Week
Jamie Levy CEO Generation Mining
By just about any measure, CEO Jamie Levy and his Generation Mining (GENM) team have made some impressive progress on the palladium-copper project. Since acquiring an interest in Marathon in July 2019, the company has moved the project all the way to delivering a feasibility study which was announced on March 3rd. The report estimated a post-tax net present value (at 6% discount) of $1.07 billion based on set of assumptions. Read our June 3rd morning report for more.
INK Canadian Insider Index
1 Year Total Return Performance




Historical Performance

Annualized Total Return as of June 4, 2021 04:49 pm

| | |
| --- | --- |
| 1 Year | 72.99% |
| 3 Years | 9.89% |
| 5 Years | 10.71% |
| 10 Years | 9.08% |
To start receiving a PDF version of this newsletter by email select it in your
alert settings
. If you do not have an account, join us
here
.