On the edge of boom and bust
May 21st, 2019
As the Sino-US trade war heats up, investors are being left to wonder what the impact will be on global growth. There are both bullish and bearish perspectives. The bullish view argues that the trade at stake between the two economic superpowers is not all that big in the grand scheme of things. According to the Economist, the trade war escalation could shave 0.5% off Chinese growth, while the South China Morning Posts suggests US annual growth could experience a 0.2% clip. So, while growth would be reduced, those amounts are probably manageable and could even prompt more stimulus measures from governments.
The bearish viewpoints to the uncertainty surrounding those estimates. Moreover, the bears will point out that that we still do not know how much further retaliation could go and what other countries might be dragged down in wake of tit-for-tat measures and potential dumping of surplus products.
At this point, our insider signals are right on the edge. Our insider sentiment indicators in both Canada and US are consistent with a near-term top in the markets, but they are not at dangerous levels. That suggests the current pullbacks could be measured. On the other hand, the INK Canadian Insider (CIN) Index has been underperforming the large cap S&P/TSX 60 Index on a six-month basis since last August, the longest losing streak since the run-up to the great financial crisis. When investors have concerns about global growth, they tend to prefer the perceived relative safety of large-cap stocks over smaller names. Consequently, the duration of the current INK CIN underperformance is cause for concern.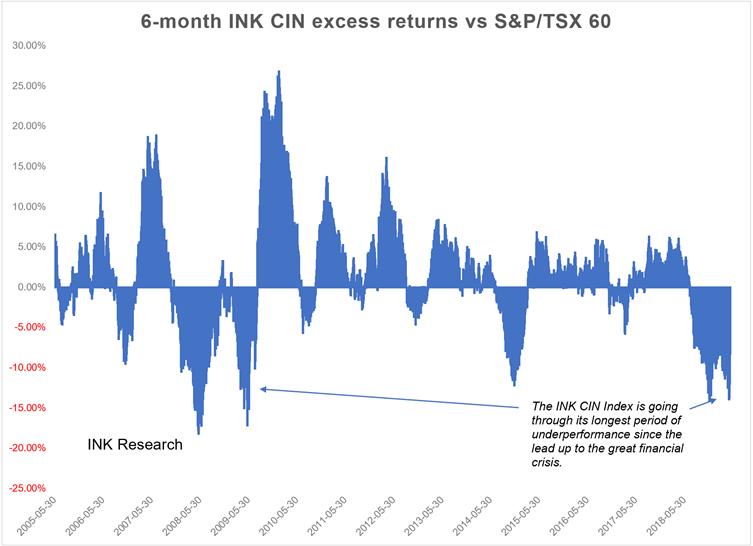 We are in the longest INK CIN Index relative losing streak since the financial crisis (click for larger)
On the positive side, during the May rebalance of the INK CIN Index, insiders reduced their economy-sensitive stock bets only slightly, with 56% of the Index allocation going to Basic Materials, Energy, Industrials and Consumer Cyclicals compared to 62% 6 months ago. Within that group, we saw a 6% downsizing of exposure to gold stocks coinciding with a 4% boost to copper mining stocks, a move which appears slightly bullish.
As we move into what tends to be a vulnerable period for stocks, insiders appear to be walking along the edge of a bearish cliff. If the global economy manages to show some resilience over the next few weeks, insider courage is likely to be rewarded. Of course, if the US heads for a recession and China growth stalls, insider stocks will likely be headed for a fall. The sad reality is that large cap stocks would not be far behind, despite their perceived relative safety.
| | |
| --- | --- |
| Top 3 Gainers Last Week | Top 3 Losers Last Week |

Returns are as of the last trading day of the previous week.
Featured Clip
Bob Hoye: Follow the short-term money
With all the talk about yield curves and trade wars, Bob Hoye suggests focusing on something very basic: the three-month US Treasury bill rate. As Hoye explains, rising rates signal good times ahead while falling rates signal just the opposite.
In addition to short-term rates, Hoye is keeping a watchful eye on credit spreads which could also provide a warning sign that the rally is vulnerable.
Insider of the Week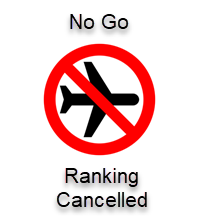 Bombardier CEO Alain M. Bellemare
The Bombardier CEO was one of a group of insiders who sought and received an insider filing exemption for stock sales under the company's now defunct Automatic Securities Disposition Plan (ASDP). Before the company shut down the ASDP at the prodding of regulators, Mr. Bellemare sold more than 3.6 million shares for more than a $10 million gross profit. 
Compare that to the stock's dismal performance during the ASDP. Between the exemption date and the day the plan was unwound on May 3rd, the stock tanked 50%.
Inspired by this episode, we have introduced the INK Research No-Go stock list that will keep tabs on which issuers have insiders who seek and obtain insider filings exemptions for ASDPs. Learn why we feel investors are generally best to avoid stocks that have received ASDP insider filing exemptions by reading our May 21st post introducing the No-Go list. On inauguration date, the list had six stocks on it.
INK Canadian Insider Index
1 Year Total Return Performance




Historical Performance

Annualized Total Return as of May 21, 2019 04:49 pm

| | |
| --- | --- |
| 1 Year | -13.54% |
| 3 Years | 4.16% |
| 5 Years | 2.56% |
| 10 Years | 11.15% |
To start receiving a PDF version of this newsletter by email select it in your
alert settings
. If you do not have an account, join us
here
.