Do you believe in value?
February 6th, 2021
In 1934, Columbia Business School professors Benjamin Graham and David Dodd published Security Analysis which ended up being the foundation of value investing. The value movement became so popular that even Eugene Fama, leader of the efficient markets school, eventually converted. In 1993, he and fellow University of Chicago professor Ken French developed the three-factor model that incorporated a version of the price-to-book (P/B) ratio along with company size into the capital asset pricing model (CAPM). The CAPM purported that investors could not beat the market on a risk-adjusted basis.
10-years after the 3-factor model was invented, Fama received the Nobel Prize in economics. That may well have coincided with the peak in value investing. Belief in the P/B and other value factors began to erode dramatically as investors turned to the allure of low-fee passive investing.
Now, like religion, it may be best to avoid the subject of value in polite company. We have no further to look than INK Chat which is typically a civilized place. However, on November 8th the chat took a turn down the value alley when we noted that cryptocurrency-focused Voyager Digital (VYGR) was a top mover in the INK Top Movers Report. At the time we said:
Voyager Digital VYGR.CD which focuses on providing cryptocurrency trading applications is another momentum driven stock moving up the rankings. It is an expensive way to get exposure to the cryptocurrency area, trading at P/S [price-to-sales] ratio of about 93.
Since that post, the stock has become progressively more expensive, advancing more than 1200%. To the company's credit, it grew its most recent quarterly sales by 200% on a sequential basis. Its price-to-sales ratio is now north of 550.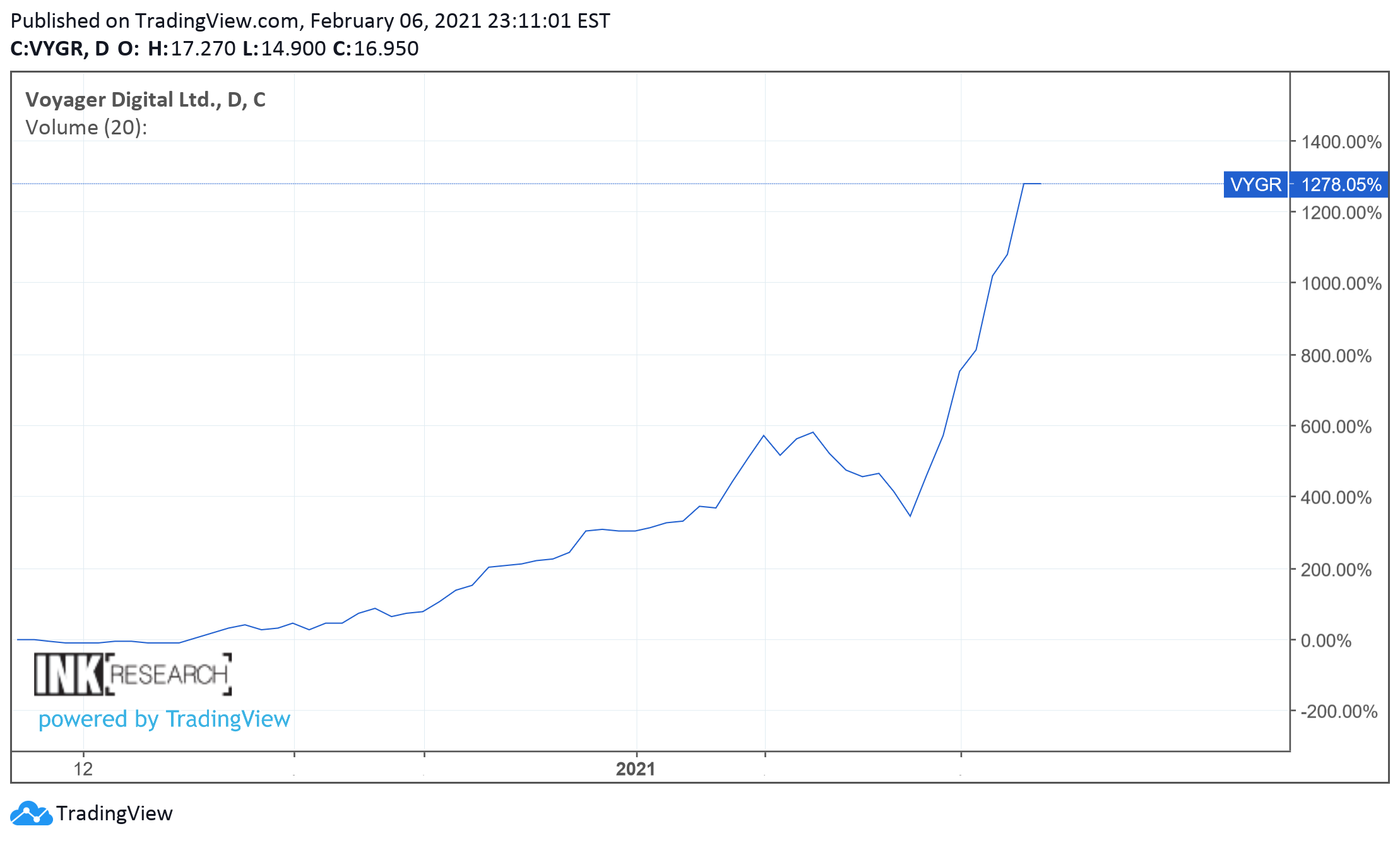 Voyager Digital was featured in the November 7, 2020 INK Edge Top Movers Report
For remaining value believers out there, we did come across a value success story in our February 4th Morning Report which highlighted Copper Mountain Mining (CMMC). The stock which we featured as a contrarian value-type play in the fall is up over 200% in the past six months. While not nearly as spectacular as the Voyager Digital odyssey, it was an impressive showing. At the very least, Copper Mountain Mining gives value investors some reason to keep their faith (Watch video summary). 
However, the high-profile defections from value investing continue. In a February 4th Real Vision interview on INK Ultra Money, David Rosenberg makes the case for growth over value stocks. His rationale is grounded on his familiar call for disinflation and lower bond yields. We have awarded the interview Video of the Week, not because of Rosenberg's continued bullish Treasury stance, but in recognition of a compelling and cutting deconstruction of Joe Biden's Buy America policy and how it avoids dealing with the elephant in the room.
Meanwhile, cryptocurrency-related stocks continue to make their mark in the Canadian landscape with another one leading the pack on the way up our INK Edge Rankings in the Top Movers Report for February 6th. Members can find the report in INK Chat in the #stock_ideas channel. If you are a Club member and did not receive your invite to INK Chat, please contact us.
| | |
| --- | --- |
| Top 3 Gainers Last Week | Top 3 Losers Last Week |

Returns are as of the last trading day of the previous week.
Featured Clip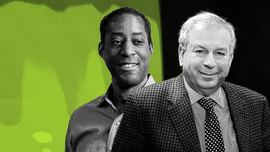 David Rosenberg is bullish on China
In his February 4th interview with Ed Harrison, David Rosenberg successfully puts to rest any notion that he is a perma-bear. Unfortunately, his bullish call is not on US equities. Instead, he makes a compelling, dispassionate case for China. He suggests that the country is poised to capitalize on its relatively successful handling of COVID-19. Rosenberg believes their relative advantage will allow China to expand its influence in the world while the Biden Administration focuses on Buy America and working off its massive debts.
Insider of the Week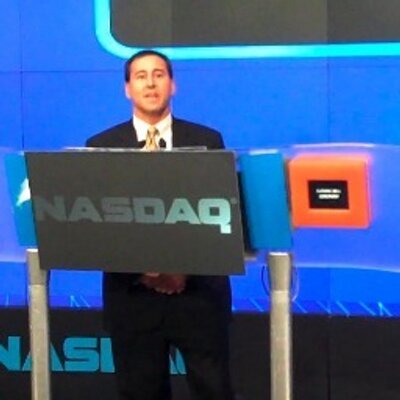 Stephen Ehrlich CEO Voyager Digital (Twitter image)
Crypto-asset broker Voyager Digital blew the doors out Friday morning when they announced preliminary revenue from operations was approximately US$8.5 million for January 2021, up from US$1.7 million in December. Meanwhile, Mr. Ehrlich actively engages his users on Twitter, with action-oriented tweets such as Is #STMX the next run? Direct CEO engagement with clients is on the rise and Mr. Ehrlich is a good example.
INK Canadian Insider Index
1 Year Total Return Performance




Historical Performance

Annualized Total Return as of February 5, 2021 04:49 pm

| | |
| --- | --- |
| 1 Year | 21.58% |
| 3 Years | 6.83% |
| 5 Years | 10.90% |
| 10 Years | 7.40% |
To start receiving a PDF version of this newsletter by email select it in your
alert settings
. If you do not have an account, join us
here
.