D-economy risks remain
April 27th, 2020
We are still not getting confirmation from our INK Indicator that March 23rd represents a strong floor for stocks. Now, it could simply be the case that that signal does not work very well during a global pandemic. Alternatively, the delay in getting the green light could be due to the heightened uncertainty facing the economy. Even if that is the case, at the very least the delayed signal suggests that a heightened level of volatility should persist for a while longer.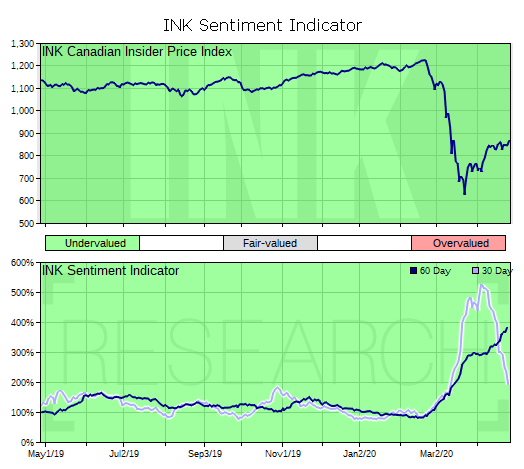 The INK 60-day Indicator has yet to peak
However, there is another explanation for the inability of the indicator to peak. Its refusal to peak could be reflecting underlying weakness in enough stocks to put the durability of the current rally at risk. Consequently, we continue to watch the indicator. We will have our green light that a bottom has been set once our 60-day Indicator peaks as that will represent peak insider buying which often happens near important market lows.
As we wait, we will keep in mind our core investment theme #2 of slowly positioning for an eventual bottoming in share prices. While we are prepared to commit some cash to equities off the March lows, we are keeping enough dry powder in the form of cash and gold to take advantage of further share price weakness should it occur. A game-changing event such as an effective COVID-19 treatment would force us to reconsider that strategy. However, we are not there yet.
Meanwhile, the underlying forces of deflation and inflation are battling for supremacy in the investing environment. The Federal Reserve's balance sheet appears to be growing to the sky, a development that should support the inflation-oriented G-economy provided that the Fed gets the better of any deflationary threats. Last week, we had some positive developments in asset markets supporting the G-economy. Energy stocks rallied even as crude oil collapsed earlier in the week. Treasury inflation securities as tracked by the iShares Barclays TIPS Bond ETF (TIP) rose which suggests that investors are keen to buy inflation protection.
On balance, however, it seems the deflation-oriented D-economy won the week. The inflation-sensitive INK Canadian Insider (CIN) Index lost a bit of ground (-0.8%) and high-yield bond spreads in the United Stated ticked up, as did the gold-silver ratio. In an inflationary environment, we would expect silver to gain ground relative to gold. Should this week turn out to be another good one for the D-economy, that could set the stage for the Fed to accelerate its asset purchases from current levels.
| | |
| --- | --- |
| Top 3 Gainers Last Week | Top 3 Losers Last Week |

Returns are as of the last trading day of the previous week.
Featured Clip
Will government aid keep zombie companies alive?
In his latest interview with Jim Goddard, INK CEO Ted Dixon describes how Canadian stocks could be winners if we enter into a G-economy. He also explains why he is keeping an eye on the US dollar as an indicator of whether we are getting there or if the D-economy will prevail.
Insider of the Week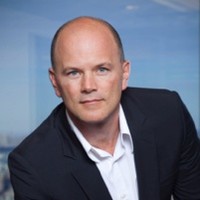 Michael Novogratz, Chairman and CEO of Galaxy Digital Holdings (GLXY)
The CEO of Galaxy Digital Holdings has been buying and those purchases helped make GLXY the top mover up our INK Edge for last week. Galaxy provides shareholders with exposure to 23 different cryptocurrency and blockchain-focused companies along with exposure to digital asset management, trading and advisory services.  His trades were big enough to highlight in our April 27th morning report.
INK Canadian Insider Index
1 Year Total Return Performance




Historical Performance

Annualized Total Return as of April 27, 2020 04:49 pm

| | |
| --- | --- |
| 1 Year | -21.64% |
| 3 Years | -7.77% |
| 5 Years | -2.38% |
| 10 Years | 4.05% |
To start receiving a PDF version of this newsletter by email select it in your
alert settings
. If you do not have an account, join us
here
.