Could crude oil send bitcoin for a spill?
April 23rd, 2021
It could be a watershed moment for the Canadian mining industry. In the 20201 Budget Ottawa, signaled rare earth elements (REE) processing was a policy priority. According to the Mining Association of Canada, over the next three years, $36.8 million will be spent to coordinate federal research and development activities to advance critical battery minerals processing and refining. While the amounts are not earth-shattering, they are nevertheless significant as they put the mining industry on the policy priority list of Ottawa. Hopefully, the initiative will not take too long to get off the ground.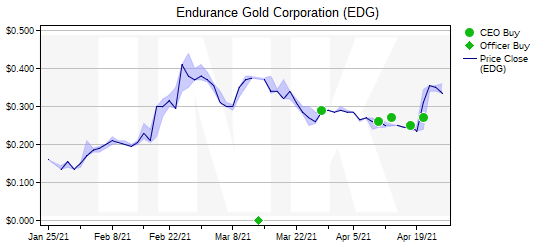 Endurance Gold was one of the few REE stocks to rally after the federal budget
This comes on the heels of news earlier this spring that the Biden Administration was looking to work with Canada to develop battery metals supply chains. So far, investors have yawned at these developments. However, that may be more a function of general resource market malaise right now. As suggested in our April 21st Howe Street interview, there is an opening for a leadership narrative to emerge from the mining industry to focus investor attention on Canada as a source of opportunity in this strategic area.
On INK Ultra Money Thursday, Michael Kao, CEO of Akanthos Capital Management, raised the potential vulnerability of the US to China's dominance in REE. This is one of those interviews that goes by quickly because the insights just keep coming so fast. Kao sets out the bullish case for crude and explains why the path of crude is relevant for cryptocurrency enthusiasts.
For those looking to take advantage of the recent consolidation in oil & gas stocks, check out the INK morning report from April 23rd where we feature natural gas and condensate producer Pipestone Energy (PIPE). We posted the video preview of the report in INK Ultra Money for everyone to see.
Growth is in the Pipestone pipeline
We continue to believe that energy stocks offer some of the last value opportunities in the market. We agree with Jared Dillian who appeared on the Real Vision Daily Briefing on April 21st suggesting the crude oil bull market remains intact.
Finally, for those trying to make sense of the shift to investing in stocks based on environmental, societal and governance (ESG) considerations and their ability impact to society, check out Raoul Pal's interview with Beckon Capital's David Nolan and Chris Selth which aired on April 23rd. They make the case for outcome-based investing and define value from an impact investing perspective.
Disclosure: One or more INK employees holds a position in Endurance Gold.
| | |
| --- | --- |
| Top 3 Gainers Last Week | Top 3 Losers Last Week |

Returns are as of the last trading day of the previous week.
Featured Clip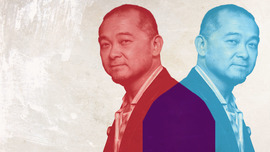 Michael Kao: Shale producers more cautious
While regulation is often seen as being a big risk to cryptocurrencies, what about the oil price? Michael Kao explains how a significant rally in crude could upend bitcoin and other risk-asset markets. Indeed, in this video he lays out the bullish case for oil, explaining how OPEC spare capacity may not save us from rising prices at the pumps. Although he does not make any specific stock or industry recommendations, the scenario he paints seems like it would be a good one for many Canadian oil patch names.
Insider of the Week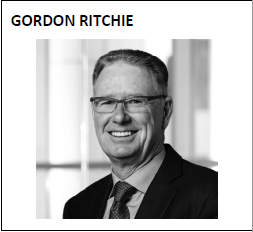 Gordon Ritchie had a distinguished career as a senior investment banker at RBC Capital Markets. Currently, he sits on the boards of two oil & gas stocks, Obsidian Energy (OBE) and Pipestone Energy. We featured both stocks in our morning report earlier this month. He was also a director of Kinder Morgan Canada, the former operator of the Trans Mountain pipeline.
INK Canadian Insider Index
1 Year Total Return Performance




Historical Performance

Annualized Total Return as of April 23, 2021 04:49 pm

| | |
| --- | --- |
| 1 Year | 88.46% |
| 3 Years | 9.32% |
| 5 Years | 11.43% |
| 10 Years | 8.50% |
To start receiving a PDF version of this newsletter by email select it in your
alert settings
. If you do not have an account, join us
here
.