Contrarians start to nibble
February 7th, 2020
We kicked off January worrying about war in the Middle East, but those fears have been replaced with worries about the health of the global economy in the wake of the Wuhan coronavirus, also known as 2019-nCoV. The virus has hit at a time when many insider trading windows are closed in advance of earnings releases. As such, it is difficult to get a clear read on what insiders are thinking as the share prices of economy stocks sink and investors run for the much-touted safety of government bonds which now, almost uniformly across the developed world, offer negative real yields except for perhaps very long-dated US Treasuries. Gold stocks have also benefited on a relative basis.
In terms of the limited reaction of insiders, we have a few observations. First, as we reported in our Friday January 31st morning report, insiders have been buying Peyto Exploration & Development (PEY) shares as the stock has weakened on the back of falling natural gas prices. They seem to be betting that investors are letting current headlines get the better of them. Instead, insiders seem to be looking beyond the Wuhan virus and focusing more on potentially firming natural gas supply and demand dynamics. If they are right, Canadian natural gas producers could be offering some good entry points for risk-tolerant contrarians over the next few weeks, assuming volatility continues.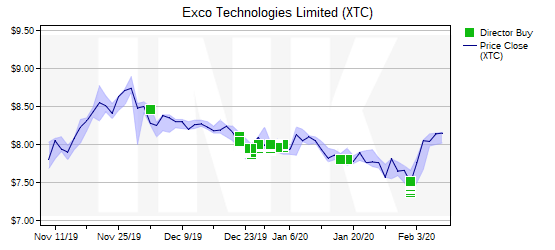 INK Research 3-month Company Chart for Exco Technologies (XTC)
We also note that Edward Kernaghan, an insider contrarian we have covered in the morning report in the past, has been buying at auto component maker Exco Technologies (XTC) as the stock slid at the end of January. Along with oil & gas, the auto industry has a lot of bad news already priced in. We also recall that in past downturns, the auto industry has been a favourite of policymakers to support. As such, the group may be another area for investors to consider.
While the bearish narrative had a grip on market participants at the end of January, the gloom was still not enough to send either Peyto or Exco to new 52-week lows.
Meanwhile, the Fed's rate decision and press conference on January 29th, Jerome Powell dropped the strongest hints yet that the Fed is looking to adopt a more pro-inflation posture over the next few months. For more on the potential medium-term bullish implications for Canadian stocks from a pro-inflation pivot, see our January 30 article, Did Jerome Powell just give the green light to inflation averaging?
For now, the Fed's efforts to achieve firmer inflation has suffered a setback with WTI oil crude trading below $51 on the back of fears that the Wuhan virus would whack global growth. Based on the experience with SARS, it would not surprise us if crude oil languishes until flu season is over. That said, inflation forces have not completely fled the scene this winter. Sugar continues to move higher and is helped to support the equally weighted WisdomTree Continuous Commodity Index Fund ETF (GCC) which advanced slightly (0.6%) in the week ended February 7th. If global economy manages to skirt a recession over the next few weeks, inflation expectations could rebound once virus fears fade. That would be a positive development for Canadian midcap stocks as tracked by the INK Canadian Insider Index.
Disclosure: One or more INK employees holds Peyto Development and Exploration
 
| | |
| --- | --- |
| Top 3 Gainers Last Week | Top 3 Losers Last Week |

Returns are as of the last trading day of the previous week.
Featured Clip
The bright side of oil's slide
In this video summary of the INK Research February 4th morning report, INK looks at recent insider buying at Alimentation Couche-Tard (ATD.B). The stock had just pulled back from an all-time high and we suggested that the stock could climb higher if oil prices continued to be volatile. As it turns, that is what has been happening. In fact, the stock opened at a new all-time high Friday before pulling back on the day.
Insider of the Week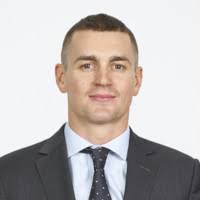 Jack Lundin CEO Bluestone Resources
On January 27th, Bluestone Resources (BSR) announced that Jack Lundin would take over as CEO while outgoing CEO Darren Klinck would become President. Mr. Lundin previously served as Project Superintendent for the Lundin Gold (LUG) Fruta del Norte project in Ecuador. On the same day, a Lundin Family affiliated company provided a cash guarantee for a new $30 million credit facility to be used for Cerro Blanco gold-silver project design, engineering, and early development work as well as for general corporate purposes.
INK Canadian Insider Index
1 Year Total Return Performance




Historical Performance

Annualized Total Return as of February 7, 2020 04:49 pm

| | |
| --- | --- |
| 1 Year | 8.61% |
| 3 Years | 2.29% |
| 5 Years | 4.65% |
| 10 Years | 8.25% |
To start receiving a PDF version of this newsletter by email select it in your
alert settings
. If you do not have an account, join us
here
.