Canadian stocks try again to break out with some energy
November 4th, 2019
November 10, 2019 - Over the past week we were a little bogged down with the November semi-annual rebalancing of the INK Canadian Insider (CIN) Index announcement. As a result, we are a bit behind the curve in terms of producing the most recent newsletter week. A more important issue for markets is whether the Fed is behind the curve. So far, we would certainly not characterize Jerome Powell as being ahead of the curve when it comes to the economy. However, he seems to be at least moving towards a more real-time assessment of things.
The Powell pledge to not raise rates until inflation starts to rise helped Canadian stocks with the mid-cap oriented INK CIN Index advancing 2.0% over the week ending November 8th. Indeed, the Powell put may now effectively be viewed as one focused on real short-term interest rates. So long as those rates remain negative, commodities of all stripes will enjoy monetary tailwinds. Only time will tell if those tailwinds will offset economic headwinds from trade wars, debt overhang, and political uncertainty that is sure to mount as we head towards the US presidential election which is only a year away.
At this point, commodities and many commodity-related stocks are responding well to the Fed's new liquidity push. As we noted in our November Top 40 Stock Report, since October 15th, which marks the week that the Fed began buying T-bills, mining stocks have been the big winners. Meanwhile, the mid-cap-oriented INK Canadian Insider (CIN) is attempting to take out its 52-week highs set in September.
The INK Canadian Insider Index looks like it is trying to run higher into year-end
However, there is one big missing link in the positive commodity story that has been unfolding since the Fed began its bill buying program: oil. While crude has enjoyed a rebound, it has yet to demonstrate that it can regain momentum to the upside. That has left Canadian oil & gas stocks more-or-less in a three-week holding pattern. On the positive side, the August lows that we suggested would hold have broadly done just that. The sector's resiliency is even more impressive given wobbling crude prices, Canadian election uncertainty, and the sad Halloween trick from Encana ( ECA) that it was moving out of Calgary and changing its name to something nobody will remember.
Small-cap oil & gas is one area of the Energy sector where lows have not held. The big question facing investors right now is whether this divergence between small and large-caps is a warning sign or buying opportunity? Over the past week, we ran a mini-series in our morning reports for Canadian Insider Club members and INK subscribers highlighting opportunities in the group. Video summaries are also available on INK Ultra Money.
While the market will remain vulnerable to trade-war headlines, we believe this whole drama is big head fake and dumb money (i.e. algo traders and other passive investors the Encana CEO is chasing after) is at risk as it chases the headlines. As INK CEO Ted Dixon explains in his Howe Street interview which is featured below, traders buying stocks on trade war hopes are likely to be disappointed. Going forward, investors should be concentrating on what parts of the market will benefit from Fed activism and look through the trade-war hype.
The returns for the top three leaders and laggards below are for the week ended November 8th.
| | |
| --- | --- |
| Top 3 Gainers Last Week | Top 3 Losers Last Week |

Returns are as of the last trading day of the previous week.
Featured Clip
The American-Canadian oil patch divergence
In his November 6th Howe Street interview, INK CEO Ted Dixon dives into the divergence we are seeing between Canadian and US insiders in the oil patch. The observations may surprise you. He also explains how commodities and not real estate should benefit from the latest Federal Reserve asset purchases.
Insider of the Week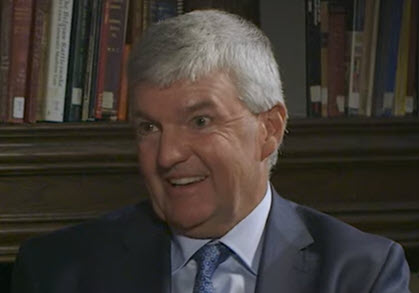 Mike Rose, CEO of Tourmaline Oil (image: YouTube, RexTV)
While investors have fled the oil patch, Mike Rose has been keeping the faith at Tourmaline Oil (TOU). He has spent $4 million buying shares in the company over the past year. As the stock was making new lows in October, he announced the creation of Topaz Energy, a private royalty and infrastructure energy firm. That helped to reverse the stock's fortunes and it is up 11% since we wrote about it in our October 25th morning report.
INK Canadian Insider Index
1 Year Total Return Performance




Historical Performance

Annualized Total Return as of November 4, 2019 04:49 pm

| | |
| --- | --- |
| 1 Year | 0.67% |
| 3 Years | 2.86% |
| 5 Years | 5.06% |
| 10 Years | 8.60% |
To start receiving a PDF version of this newsletter by email select it in your
alert settings
. If you do not have an account, join us
here
.