Canadian stocks still winning the trade war
July 22nd, 2019
It is even taking us time to believe it, but Canadian stocks appear to be trumping US stocks in the China-US trade war. We mark the start of trade hostilities between the economic giants as the December 1, 2018 dinner between the presidents of America and China in Buenos Aires. At that time, the US essentially dropped a tariff ultimatum on its dinner partner. While the two sides agreed in Osaka last month to continue negotiating and not add any new tariffs, existing tariffs remain in place. As much as the mainstream media likes to term the situation a truce, there is no truce. Every day there continue to be economic casualties from the existing tariffs.
As the drag from higher tariffs in both countries slowly begins to work its way through the economic system, money may be slowly moving away from the tariff trigger happy United States. Since December 1st of last year, the S&P/TSX Composite Index is up 8.5% compared to 7.8% for the S&P 500 Index as of Friday. That provides a modest 0.7% advantage for Canadian stocks. However, that is before the impact of a strengthening Canadian dollar which provides another 1.8% pickup. A similar story is seen in the mid-cap area. The INK Canadian Insider (CIN) Index is up 4.2% versus 2.9% for the SPDR S&P MidCap 400 ETF (MDY).
Last week, the INK CIN Index advanced modestly, up 0.3%, outpacing the large-cap S&P/TSX 60 which fell 0.2%.
| | |
| --- | --- |
| Top 3 Gainers Last Week | Top 3 Losers Last Week |

Returns are as of the last trading day of the previous week.
Featured Clip
Help wanted for Canadian small-cap oil & gas stocks
On July 17th we published a video summary of the INK morning report on INK Canadian Insider Index laggard Yangarra Resources. In the video, we make the case to watch for a breakout in Canadian Financials as a potential signal that a turnaround in small-cap oil and gas names may be near. It is a theme we expect to revisit over the next few weeks, so subscribe to the INK Research YouTube channel to be alerted to more video highlights on the topic.
Insider of the Week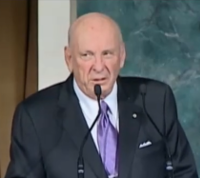 Seymour Schulich
With a million dollar public purchase of Pengrowth Energy (PGF) shares this month, venerable Canadian investors and businessman Seymour Schulich is our insider of the week. His Pengrowth purchase is distinctly contrarian, with the stock down more than 50% over the past year and trading not far off its 52-week low of 44 cents. On Monday the stock closed at 49 cents. Mr. Schulich made his purchases between the prices of 48 and 53 cents.
INK Canadian Insider Index
1 Year Total Return Performance




Historical Performance

Annualized Total Return as of July 22, 2019 04:49 pm

| | |
| --- | --- |
| 1 Year | -10.77% |
| 3 Years | 2.67% |
| 5 Years | 1.85% |
| 10 Years | 10.23% |
To start receiving a PDF version of this newsletter by email select it in your
alert settings
. If you do not have an account, join us
here
.