Bus trip into a year of opportunity through a bad winter
November 21st, 2020
Sometimes with the help of the Federal Reserve, investing can seem easy for a while. The year 1999 comes to mind when Alan Greenspan was juicing the monetary system to protect it from Y2K risk, a potential systematic computer disruption as the world entered the year 2000. As the Nasdaq soared seemingly day-after-day, stock tips were as plentiful as yellow cabs on the streets of New York City. However, once the easy money ended, so did the positive returns. The last six months of this year have a mini-1999 feel to it, with the INK Canadian Insider (CIN) Index advancing 37%, outpacing even the Nasdaq 100 which is up 27% over the same period. Tack on the appreciating Canadian dollar and the outperformance widens even further.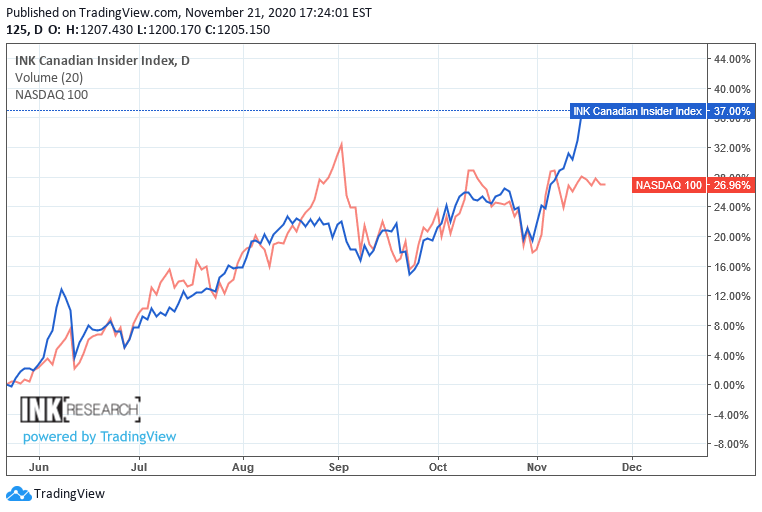 The mid-cap-oriented INK Canadian Insider Index versus Nasdaq 100 Index (6 months)
A big difference between now and 1999 is the market plunge of March as COVID-19 hit our shores. The ensuing rebound in stocks has unfolded on the back of our G-economy scenario of rising inflation expectations. Rising inflation, while essentially serving as a tax on citizens, also provides a bailout of debtors and a rising yielding curve with short-term rates anchored near zero. For a global economy that is weighed down in debt, investor bullishness on inflation-sensitive stocks such as the INK CIN Index makes some sense. 
With a bull market comes opportunities, and this week we wrote about a bus load of opportunities in the November Top 40. The headline is a play on two bus makers in the list, Grande West Transportation Group (BUS) #17 and GreenPower Motor (GPV) #35. We followed up on the report by pointing to the breadth of the opportunities in the list in a November 17th HoweStreet.com interview and explained why keeping an eye on inflation expectations is so important for investors. This was not mentioned in the inteview, but for those interested in participating in the cryptocurrency space via the equity market, stock #8 in the list provides a potential avenue. Meanwhile, the interview wraps up with US politics standing out as the biggest risk for markets.
A video interview with Jill Malandrino on Nasdaq Trade Talks which aired Wednesday made similar points on the importance of the inflation outlook. 
Top 40: The insider bull market bus of opportunity
Late Thursday, politics did surface to sting bullish investors. In a surprise move, Treasury Secretary Steven Mnuchin has pulled the plug on further funding a range of support programs administered by the Federal Reserve. This appears to be an attempt to make life harder for the incoming administration as it will mean they will have to reconstruct monetary support programs if the economic recovery starts to stumble. Meanwhile, fiscal stimulus talks seem stalled even as COVID-19 cases in the United States have accelerated.
Could our bus journey of opportunity into 2021 end badly like the Y2K bull market run? Unlike 2000, there is unlikely to be any Fed tightening in the new year. However, fiscal tightening is another matter. On Real Vision, Friday, we heard the bullish case for bonds and a reversal of the reflation trade for commodities and stocks, which if correct would slam the brakes on the INK CIN Index rally. Raoul Pal serves up a compelling bearish economic narrative and provides some hope for precious metals investors by suggesting that gold is likely waiting for the next Fed round of easing before attempting to move higher. 
While we respect Pal's conclusion, we are not convinced that his scenario is the base case. That said, we are clearly on track for a bad COVID-19 winter, and the Trump administration now seems to be trying to actively destabilize the markets ahead of Joe Biden assuming office. Consequently, depending on one's risk toleranes and timelines, some hedging may be helpful to cushion any market weakness should deflationary forces gain traction in the weeks ahead.
On Tuesday, we heard Hugh Hendry explain how to avoid a deflationary bad outcome. In what is certainly our most entertaining INK Ultra Money video of the week, Hendry believes monetary policy can still work to revive the economy, but only if the entire yield curve steepens with rates across the maturity spectrum below zero. The next day, Real Vision pivoted 180 degrees with Jim Grant who interviewed Toronto-based former central banker William White who is a senior fellow at the CD Howe Institute. White believes negative rates are a bad idea and suggests central bankers need to start planning a path back to normality. 
Finally, we heard Tom Thornton on Wednesday make the case for shorting Tesla (Mixed; TSLA). I discussed the idea as a possible hedging strategy in the #investing_strategy INK Chat channel on November 18th.
Tesla is +485% year-to-date, even beating Bitcoin +157%
If you are not already registered for INK Chat, it is by invitation only for INK subscribers and Canadian Insider Club members. If you do not have your invite, contact us through the inquiries form. INK Chat's #stock_ideas channel is also where we publish the weekly top INK Edge movers. Over the past week, Canopy Growth (Cloudy; WEED) has been the big down mover in our rankings. 
INK Edge outlook ranking categories (Sunny, Mostly Sunny, Mixed, Cloudy, Rainy) are designed to identify groups of stocks that have the potential to out- or under-perform the market. However, any individual stock could surprise on the up or downside. As such, outlook categories are not meant to be stock-specific recommendations. For background on our INK Edge outlook, please watch our short video or visit our FAQ #5 at INKResearch.com.
Disclosure: One or more INK employee holds Grande West Transportation Group and GreenPower Motor Company shares.
| | |
| --- | --- |
| Top 3 Gainers Last Week | Top 3 Losers Last Week |

Returns are as of the last trading day of the previous week.
Featured Clip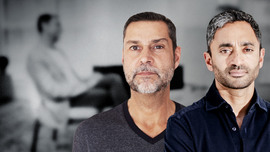 Chamath Palihapitiya on failing to succeed
Chamath Palihapitiya, CEO of Social Capital, is a Sri Lankan born, Canadian educated electrical engineering entrepreneur who made his fortune in the United States. This is an interview that every North American policy maker should watch as Palihapitiya provides an overview of how he grew up in Canada and eventually made his career in the United States. When it comes to succeeding, he reveals what he sees are the best and worst attributes of both countries. While he believes the US provides a better place than Canada to be an entrepreneur, the reason for this is a bit surprising. Spoiler alert, it has nothing to do with taxes. Ironically, he also explains why he likely never would have been successful in the US had he grown up there. It is a fantastic INK Ultra Money video from Real Vision that touches on some of the key cultural differences between these two great and prosperous countries. Palihapitiya also explains why he likes bitcoin and why SPACs can be better than IPOs for entrepreneurs to tap the public markets. 
Insider of the Week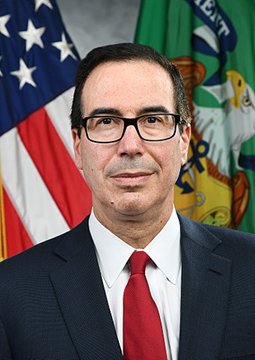 Treasury Secretary Steven Mnuchin
This week we feature a political insider as his recent actions could impact markets for some time. On Thursday US Treasury Secretary Steven Mnuchin wrote the Federal Reserve asking them to wind down the funding of some of their lending support programs that were enacted in the spring. The central bank did not agree with the move and has reportedly said so publicly. One of the programs on the funding block is the Secondary Market Corporate Credit Facility which has been helping to prop up credit markets and in turn the stock market. Politics is a tough sport, and this week Mnuchin gave us a great example of hardball in play.
INK Canadian Insider Index
1 Year Total Return Performance




Historical Performance

Annualized Total Return as of November 20, 2020 04:49 pm

| | |
| --- | --- |
| 1 Year | 6.99% |
| 3 Years | 0.49% |
| 5 Years | 6.34% |
| 10 Years | 6.81% |
To start receiving a PDF version of this newsletter by email select it in your
alert settings
. If you do not have an account, join us
here
.