Bullish signal flashing as insider index winning streak continues
February 25th, 2019
Insider sentiment remains in bullish mode with our INK Sentiment Indicator still above the 100% level meaning there are more stocks with key insider buying than there are with selling. Energy insider sentiment is leading the pack with our sector indicator ending the week at an impressive 400%.
Meanwhile, the mid-cap-oriented INK Canadian Insider (CIN) Index advanced 0.8% last week to finish the week at a year-to-date closing high of 1,153.11. Over the past month, the INK CIN Index (+7.0%) widened its lead over the large-cap S&P/TSX 60 Index (+4.7%). The outperformance of the INK CIN Index signals that investors are preferring global-economy-sensitive mid and small-cap stocks to the perceived relative safety of more liquid, bigger names.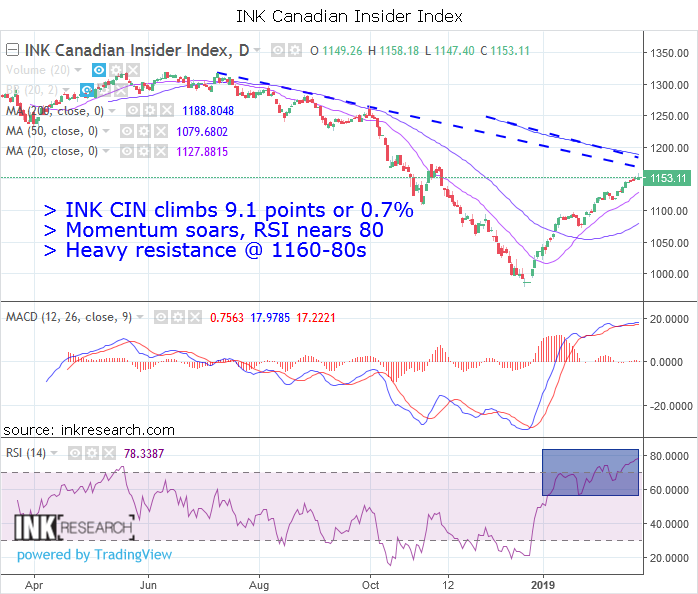 The combination of strong insider sentiment in Energy, the most economically-sensitive sector, and the INK CIN Index's outperformance against large caps gives us a high degree of conviction with respect to the bullish outlook for Canadian stocks. However, as Nicholas Winton points out in this week's Canadian Insider technical review, the Index faces potential resistance between 1,160 and 1,170. It is getting close to that area now, closing Monday at 1,156, up 0.3% on the day. Indeed, Monday's gain makes it 7 up-days in a row for the Index. That's a nice winning streak, but all good things eventually come to end.
Nevertheless, unless our indicators change direction, we will view any decent pullback as a buying opportunity. Nicholas' weekly technical work can serve as a nice starting point for entry and potential exit points.  
While the overall insider outlook for Canadian stocks is positive, one area in the market that looks to be close to exhaustion is the marijuana space. Our Pharmaceuticals Indicator, a sub-indicator of Healthcare, put in a brief bottom last week of 40%. We have found that when this indicator bottoms below 50%, it often signals weakness in the Pharmaceuticals industry which is home to many marijuana companies, including the biggest, Canopy Growth (Mixed; WEED). That said, the dip this time is not as convincing as some of the previous dips we encountered, notably the pullback seen right before legalization day in Canada last October when the indicator fell to as low as 12.5%.
Nevertheless, the behaviour of the indicator seems to confirm the early February highs seen in both the S&P/TSX Pharmaceuticals Index and the Horizons Marijuana Life Sciences ETF (HMMJ). As a result, we favour taking profits in cannabis stocks which have mixed, cloudy, or rainy INK Edge outlooks.
INK Edge outlook ranking categories (Sunny, Mostly Sunny, Mixed, Cloudy, Rainy) are designed to identify groups of stocks that have the potential to out- or under-perform the market. However, any individual stock could surprise on the up or downside. As such, outlook categories are not meant to be stock-specific recommendations. For background on our INK Edge outlook, please visit our FAQ #5 at INKResearch.com.
| | |
| --- | --- |
| Top 3 Gainers Last Week | Top 3 Losers Last Week |

Returns are as of the last trading day of the previous week.
Featured Clip
How Big is the Alamo's Prize? John Kaiser - February 20, 2019
In his latest Discovery Watch broadcast, during the third segment John Kaiser explains how senior gold producers can win in an inflationary environment, but also how junior miners would shine if the real gold price enters a bull market.
The broadcast came before news that Barrick Gold (Mostly Sunny; ABX) was stalking Newmont Mining (Cloudy; NEM), a development that could put the Goldcorp-Newmont merger in jeopardy. Nevertheless, Mr. Kaiser's analysis remains relevant no matter how the drama between the two mining giants unfolds.
Insider of the Week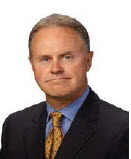 Robert H. Geddes
It was not exactly a romantic affair, but the day before Valentine's Day, Ensign Energy Services (ESI) announced that February 15th would be the marriage date between Trinidad Drilling and an Ensign subsidiary. That meant Ensign had finally won the hearts of enough Trinidad shareholders to complete its hostile takeover. The acquisition approximately doubles Ensign's drilling rig fleet and expands the company's geographic footprint, including greater exposure to the US Permian basin and new jurisdictions such as Kuwait.
Ensign's Chief Operating Officer Robert Geddes was basking in the successful courtship on Valentine's Day, saying, "this acquisition will allow us to take a market share leadership position in key markets and drive stronger financial results on a go-forward basis." It wasn't just talk. As we wrote in the INK morning report on Friday, Mr. Geddes spent more than $200,000 buying ESI shares on February 20th.
INK Canadian Insider Index
1 Year Total Return Performance




Historical Performance

Annualized Total Return as of February 25, 2019 04:49 pm

| | |
| --- | --- |
| 1 Year | -7.83% |
| 3 Years | 8.24% |
| 5 Years | 4.37% |
| 10 Years | 14.03% |
To start receiving a PDF version of this newsletter by email select it in your
alert settings
. If you do not have an account, join us
here
.