A boom born in lockdown
February 13th, 2021
Call it a boom or call it a bubble. The mid-cap-oriented INK Canadian Insider (CIN) Index is up 11.7% in the first 6 weeks of 2021. That is better than its double-digit return of 10.5% for all of last year (returns before dividends). Canadian stocks, as tracked by the Index, are benefiting big time from our G-economy scenario of rising inflation expectations led by government and central bank actions to help the world deal with COVID-19 lockdowns. While we have yet to see consumer prices take-off across the board, inflation has arrived for assets, particularly those with relatively short durations. More on that below.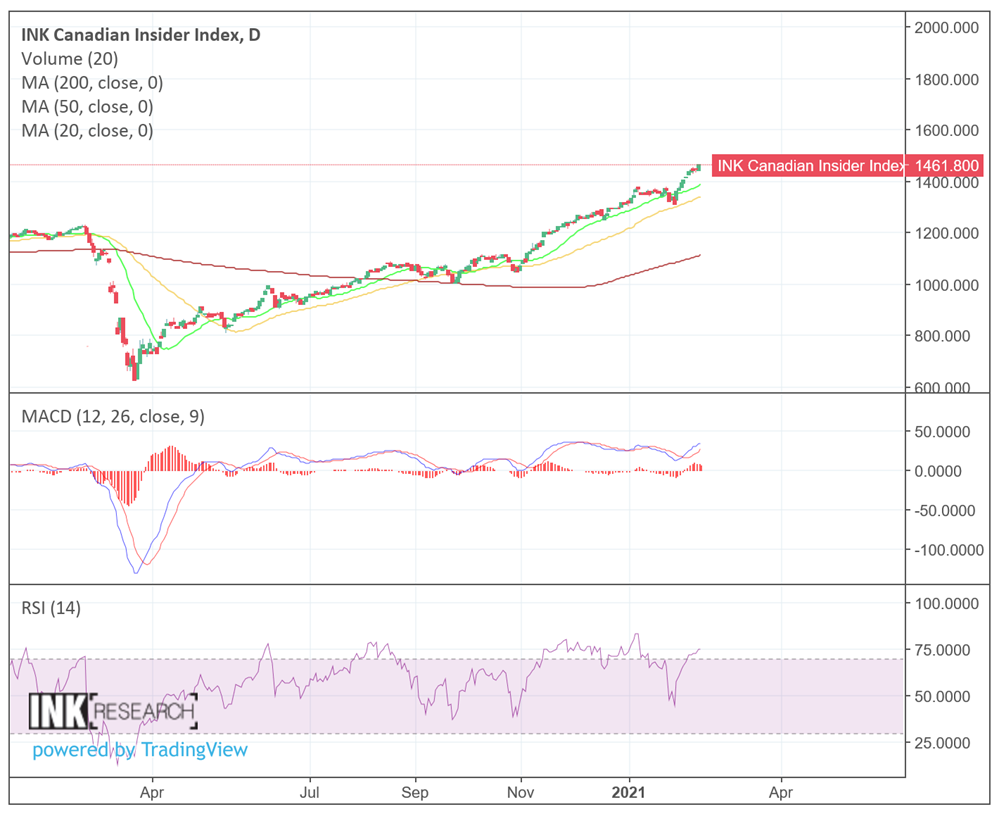 The INK CIN Index is up 11.7% in the first 6 weeks of 2021, already beating its 2020 10.5% gain
With so much central bank money printing, nimble investors have the opportunity to beat broad benchmarks in this type of inflationary environment. Most of our morning report stocks have done just that so far this year. The average 2021 morning report stock is up 19.4% (non-annualized) since the date being highlighted. Bus maker Grande West (BUS) highlighted on January 4th is the leader up 137.6%, followed by Bitfarms (BITF) up 84.0% following our January 5th report. Our contrarian readers may be interested to learn that the laggard so far is Surge Copper (SURG) from January 15th, off 15.4%.
Oil & gas stocks look positioned for gains, given the strength of underlying commodity prices and the negative attention the group has received over the past few years. On Monday, we featured Kelt Exploration (KEL) where we made the case that the stock should probably be trading at a premium to its peers in light of the company's progress on the climate change front. For those investors looking for opportunities in stocks that have significant short interest, Kelt is a good candidate with 7.4% of its float shorted. The shorts better lookout as we believe oil patch investors will soon be scrambling to get into stocks that are taking climate change seriously.

11.8 million of Kelt Exploration shares have been sold short representing 7.4% of the float
Given the combined fiscal and monetary response to the coronavirus pandemic, we have been expecting an inflationary G-economy outcome. We are starting to hear some powerful voices in the macroeconomic world support our view. Real Vision is running a series called Is everything a bubble? Last week, we heard from a range of impressive guests including the entrepreneur-who-could-be-president Mark Cuban on Tuesday, the ever thorough Lyn Alden on Thursday, and a venerable value investing guru tag-team of Howard Marks and Joel Greenblatt on Friday.
Our pick of the bunch was the UK duo Russell Napier and Stephen Clapham on Wednesday. Clapham does a brilliant job walking us through Napier's conversion from being a deflationist to inflationist.
Personally, I really enjoyed the Marks and Greenblatt conversation which addressed the question about what it means to be a value investor today. In a nutshell, Greenblatt's approach is to buy an asset for less than he believes it worth. Marks and Greenblatt do not get into cryptocurrencies, but I believe their common sense philosophy can be applied in the world of alternative coins where many are designed to solve specific market place needs. If any members have some ideas on how we could apply a valuation philosophy to alt coins, message me in INK Chat.
So long as short-term interest rates remain below inflation, cryptocurrencies and commodities should benefit as both are short duration assets. By that, we mean that they either are consumed in the short-term or financed with short-term debt. While one may view bitcoin as a long-term store of value, we doubt there are many 5-year or longer duration assets collateralized against it. In my interview with Jim Goddard on Wednesday, I discussed the short-term money financing boom that is taking place in cryptocurrency decentralized financed (DeFi) space. My overview of the interview is in the INK Chat #investing_strategy channel where I also include a link to short-term interest rate trends on DeFi platform Compound. Right now, there are no signs of deflation to be found in the crypto world. 
For those risk-tolerant investors who have yet to take the plunge into cryptocurrencies, the Coin Bureau released a beginner's guide on Saturday. It provides a good overview of how to get started and security basics.
Guy also discusses a trading platform which he views as an option to get started. While I am not familiar with the platform in question, I know that if you are a Canadian resident you can sign up with Coinberry to start trading crypto. Coinberry has applied to the OSC for registration. Founded in 2017 and based in Toronto, Coinberry provides a platform to buy and sell digital assets like Bitcoin. They are federally registered with (FINTRAC) as a Money Service Business (MSB), and they have in place Know-Your-Customer and Anti-Money Laundering policies. Keep in mind that digital currencies are risky and 100% loss is possible.
While INK Research Corp. does not endorse Coinberry, we provide a link to them as a service to Canadian residents who are looking for a way to trade digital currencies on a platform that has the option of funding via bank electronic transfer. If you join by our link and make a trade on Coinberry, you will be supporting Canadian Insider as INK Research will receive a commission. You will also qualify for a $20 credit with Coinberry.
You can find more cryptocurrency insight from the Coin Bureau and Exodus Wallet on Canadian Insider.
Ultra members, if you have not done so already, check out our morning report video summaries which feature yours truly. As always, the reports are driven by our screens and we do not accept payment for stock coverage.
I hope everyone has a happy Valentine's Day and Lunar New Year weekend. For those who have the good fortune of celebrating Family Day, or Washington's Birthday, enjoy that extra day off!
Ted Dixon CEO
INK Research
Disclosure: I hold Kelt Exploration.
| | |
| --- | --- |
| Top 3 Gainers Last Week | Top 3 Losers Last Week |

Returns are as of the last trading day of the previous week.
Featured Clip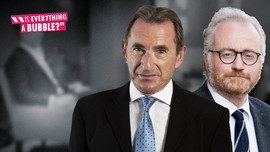 Russell Napier: an Inflation Avalanche
Filmed on February 4, 2021, Russell Napier makes his case for why inflation is indeed on the horizon, discussing everything from rent controls and yield curve capping to credit rationing and pricing power. He and Clapham also explore the various investments that have a favourable risk/reward profile should Napier's thesis prove correct.
Insider of the Week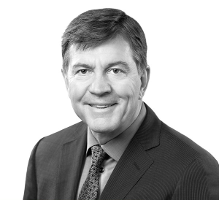 David John Wilson, Kelt Exploration CEO
While the world was fretting over COVID-19, Kelt Exploration had its sights set on the long game. It spent 2020 working on reducing methane emissions. Through technological innovation, Kelt claims to have eliminated 90% of potential methane emissions at a pilot site. Kelt now has set a goal of cutting methane emissions intensity in half by 2025 by implementing its technology on future Montney well pads.
INK Canadian Insider Index
1 Year Total Return Performance




Historical Performance

Annualized Total Return as of February 12, 2021 04:49 pm

| | |
| --- | --- |
| 1 Year | 24.53% |
| 3 Years | 7.85% |
| 5 Years | 12.07% |
| 10 Years | 7.77% |
To start receiving a PDF version of this newsletter by email select it in your
alert settings
. If you do not have an account, join us
here
.