As the bond market snoozes, commodity prices are flying
January 13th, 2020
As we continue to hear talk that the Bank of Canada will be forced to cut rates soon, we will reiterate one of our few out-on-a-limb predictions for 2020: there will be no Bank of Canada cuts in the first half of 2020. It seems the Canadian economy bears refuse to go back into hibernation, despite the Stats Canada December jobs report on Friday which showed a rebound in full-time hiring in Canada of 38,400 jobs, led by the private sector. While these monthly jobs reports are notoriously volatile, the fact remains that 2019 was the second best year for the Canadian job market since 2007. Meanwhile, we call out the rate-cut crowd for continually looking the other way on inflation. Canada's inflation rate has been around the central bank's target for months, and there is no indication that it will be heading in the other direction any time soon.
In fact, given the behaviour of commodities, we suspect the risks for inflation are tilted to the upside. Fpr exmaple, sugar is making 52-week highs this week. On INK Ultra Money last November 28th, Michele Schneider explained the importance of sugar as an inflation indicator and indicated she favoured a small position in the commodity. On Thursday, she revisited sugar and warned of a potential breakout which appears to have happened. For those with access to INK Ultra Money, watch her Thursday take on mega-trends for 2020 here.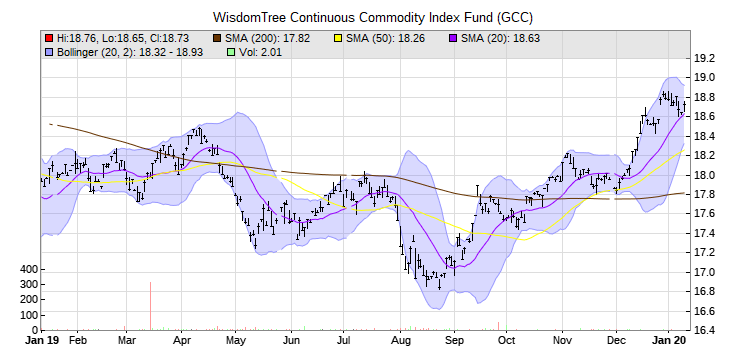 Sugar is helping to lead commodities to the upside with the WisdomTree Continuous Commodity Index Fund ETF (GCC) hitting levels this month not seen since 2018. The ETF tracks an equally-weighted index of agricultural, energy, and metals commodities. This move appears to be under the radar screens of the rate bears. Not only do we hear predictions of rate cuts here in Canada but we also see a North America bond market that is oblivious to the move up in commodities. So far, the bond market in 2020 has been a big snooze. While bond investors are showing no fear over inflation, they also showed few signs of excitement during the early days of the year when geopolitical tensions flared up in the Middle East. Perhaps oil will eventually get their attention.
Oil has yet to join the commodity party rally. However, as shown by EquityClock.com, Canadian energy stocks tend to put in their lows for the year in January. The weakness is typically in response to seasonally weak crude prices. However, given the years of insider buying we have seen in the Canadian Energy sector, we expect a period of significant and extended outperformance is currently in the making on the back of the lows set in August of 2019. On INK Ultra Money Friday, Mark Gordon made a compelling fundamental case for an imminent rise in crude oil prices driven in part by waning oil patch investment and falling electric vehicle sales.
Investors who agree with us that crude oil is about to break out of its current trading range to the upside can use computer-driven and technical selling this month as gifts to get significantly overweight Canadian oil & gas stocks.
| | |
| --- | --- |
| Top 3 Gainers Last Week | Top 3 Losers Last Week |

Returns are as of the last trading day of the previous week.
Featured Clip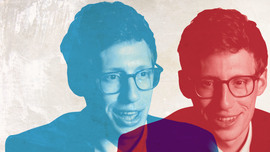 Decarbonization: The Divestment Death Cycle
In a (free) Real Vision video, Rob West, founder of Thunder Said Energy, explains his framework for total decarbonization of the energy industry by 2050 and highlights the new technologies and investment vehicles that will be necessary to drive the transition.
Insider of the Week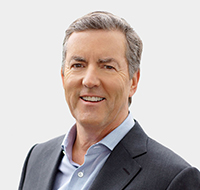 Ross Beaty of Equinox Gold (EQX)
Vancouver mining entrepreneur Ross Beaty has had a busy December. On December 16th, Equinox announced a proposed merger with Leagold Mining (LMC) which would see Mr. Beaty serving as board chairman if the deal goes through. In addition, on December 18th, Mr. Beaty invested $4.7 million in Ecuador-focused Lumina Gold (LUM) by way of a private placement. The same day, he also made a  $3.15 million private placement purchase at Lumina spin-out Luminex Resources (LR). Mr. Beaty is the largest insider equity holder at both Lumina and Luminex with 19.90% and 19.87% of shares outstanding respectively.
INK Canadian Insider Index
1 Year Total Return Performance




Historical Performance

Annualized Total Return as of January 13, 2020 04:49 pm

| | |
| --- | --- |
| 1 Year | 11.68% |
| 3 Years | 2.03% |
| 5 Years | 5.52% |
| 10 Years | 7.73% |
To start receiving a PDF version of this newsletter by email select it in your
alert settings
. If you do not have an account, join us
here
.