Bitcoin gets a boost
May 14th, 2020
The inflation camp received a boost last week as a widely-circulated letter from hedge fund manager Paul Tudor Jones warned about medium-term inflation risks and discussed some of the assets that could do well in such an environment. To the surprise of few, the list included gold. There was a bit of a shocker on the list, however. The big surprise was bitcoin.
Generally, we agree with his digital currency take, particularly given that our Canadian bellwether digital asset stock, Galaxy Digital Holdings (GLXY), has moved into the top 30% of all stocks ranked by our INK Edge criteria. In fact, three weeks ago in INK Research Chat, we reported that Galaxy was the top mover up the INK Edge rankings. This week, the stock has been on the move in the market. INK Research Chat invitations are available for INK subscribers and Canadian Insider Research Club members, and participation is at the discretion of INK Research. If you are not a Research Club member, join us today as an Ultra member, and we will send you an invitation. You can also use the coupon code BTCLIVE at checkout to get 50% off your first year of a Canadian Insider (CIN) Club Ultra membership (redeem the coupon and your displayed total will be reduced by 50%).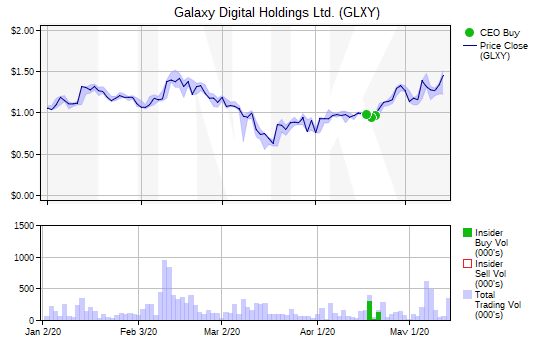 Galaxy Digital Holdings was the top INK Edge mover in late April
The coupon code BTCLIVE is a celebration of sorts. This month, we have launched live cryptocurrency quotes on Canadian Insider. The biggest digital currency is, of course, Bitcoin and it goes by the symbol BTC. Thus, BTCLIVE for the coupon which will give you 50% off a new Ultra Membership. The coupon is available until the end of the month and means you can get your first year of access to not only core INK Research reports, an email watchlist, and a third-party ad-free experience, but also full access to INK Ultra Money videos including Real Vison.
Real Vision covers a wide range of in-depth views of markets and asset classes, including gold and bitcoin. That is why we are confident you will find an Ultra membership to be one of the best investments you could make during these strange times. So, join today to take advantage of the BTCLIVE discount for a new CIN Research Club Ultra membership. If you are not ready to take out an Ultra membership, you can still check out the free Real Vision Daily Briefing which is available after the close on Canadian Insider every trading day.
While bitcoin and gold stocks are a way to take advantage of a possible return of inflation, another potential way for Canadian investors to position for possible inflation is by exposure to stocks in the INK Canadian Insider Index. The mid-cap Index has an over 0.7 correlation with changing US 10-year inflation expectations.
Last Friday, we announced the results of the quarterly index review, and Materials stocks were the big winners. The economy-sensitive sector, which should do relatively well if nominal GDP advances thanks to inflation, will rise to a 20% allocation, up from 12%. Miners First Quantum Minerals (FM), NovaGold Resources (NG), Orla Mining (OLA), and Pan American Silver (PAAS) are four of the sector newcomers. A complete list of the adds and drops is available on the Canadian Insider Blog. The rebalancing takes place after the close on Friday, May 15th. The Index is used by the Horizons Cdn Insider Index ETF (HII).
Disclosure: One or more INK Research employees have an investment position in Galaxy Digital Holdings (GLXY).
| | |
| --- | --- |
| Top 3 Gainers Last Week | Top 3 Losers Last Week |

Returns are as of the last trading day of the previous week.
Featured Clip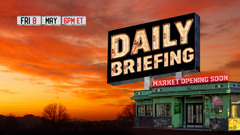 Raoul Pal previews Global Recession, What's Next?
Last Friday, Raoul Pal gave us a preview of the Real Vision series Global Recession, What's Next? Pal more or less nailed the direction of markets over the past year, and he does not pull any punches about what he thinks is next. However, not everyone agrees with his bearish outlook, and we have already been treated to an opposing view from Kyle Bass on Ultra Money this week.
Insider of the Week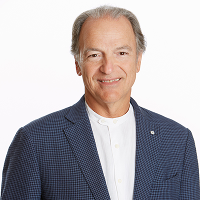 Pierre Lassonde
Orla Mining (OLA) is heading into the INK Canadian Insider Index. One of the players behind the company is mining legend Pierre Lassonde. He was part of a syndicate that provided the company with a US$125 million project finance facility. He has also been buying shares in the public market and is the largest insider beneficial holder of company shares.
INK Canadian Insider Index
1 Year Total Return Performance




Historical Performance

Annualized Total Return as of May 14, 2020 04:49 pm

| | |
| --- | --- |
| 1 Year | -23.32% |
| 3 Years | -9.15% |
| 5 Years | -3.03% |
| 10 Years | 4.01% |
To start receiving a PDF version of this newsletter by email select it in your
alert settings
. If you do not have an account, join us
here
.