As bitcoin backtracks, bullion makes a comeback
May 23rd, 2021
After Elon Musk accused bitcoin of using too much fossil-fuel generated electricity, the cryptocurrency bull market ironically ran into a full-blown energy shortage. Just about every non-stablecoin cryptocurrency ran out of gas last week and tanked. Liquidation of positions carried on over the weekend with many cryptos falling 50% or more at one point.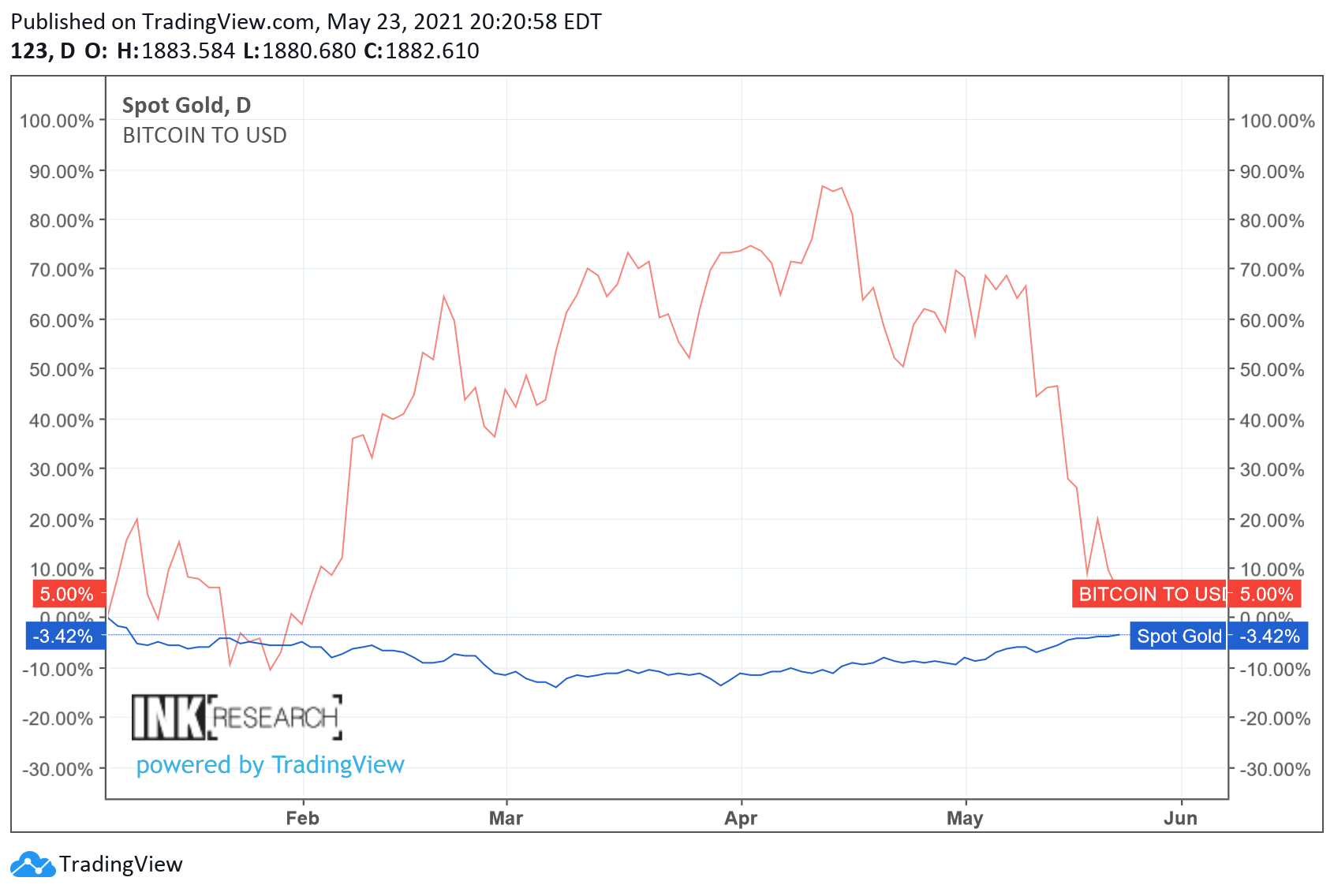 The 2021 bitcoin-gold performance gap is narrowing
Many in the mainstream media pointed to the US Treasury as helping to push cryptocurrencies lower. The theory goes something like the Treasury made a conscious effort to deflate bitcoin with news that it wanted to make cryptocurrency transactions greater than $10,000 reportable. We think that theory is far-fetched. Instead, crypto now serves as the rationale for a larger IRS budget.The US Administration referenced the transaction reporting requirement in a 24-page document that sought to gain political support for more IRS funding to modernize its broad enforcement capabilities. Moreover, what the US Treasury said in the same report seems to be relatively bullish for crypto as it acknowledges the potential for mainstream adoption:
Despite constituting a relatively small portion of business income today, cryptocurrency transactions are likely to rise in importance in the next decade, especially in the presence of a broad-based financial account reporting regime. Within the context of the new financial account reporting regime, cryptocurrencies and cryptoasset exchange accounts and payment service accounts that accept cryptocurrencies would be covered.
Had the report been released three months ago, we expect investors would have focused on the bullish aspect of the document. The fact that the bearish narrative prevailed suggests to us that the momentum in the group has turned to the downside. However, we will have to see if this represents the start of a prolonged bear market or if it is a brutal correction clearing the way for some cryptos to make new highs over the next 12 months.
Despite the volatility, in our view, the driving use case of cryptocurrencies remains in place. On Thursday, Jim Bianco, president of Bianco Research, explains why DeFi is headed toward the creation of a whole new financial system. Bianco argues that the user experience is key, and we suspect that will be one of the key make-it-or-break-it factors for ventures such as Kash being built by our April 7th morning report stock. On Friday, we heard from former Goldman Sachs (Sunny; GS) Chief Information Officer R. Martin Chavez who dismisses the chances of DeFi success using cryptocurrencies such as bitcoin.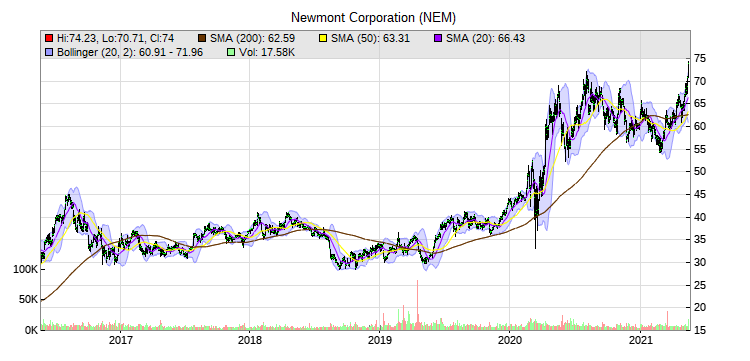 Newmont Mining (NEM) set a multi-year high on Friday
Meanwhile, gold stocks are showing more life as the bullish gold narrative we described in our May 3rd market report continues to build (A bullish gold narrative shaped by a foot-dragging Fed). Last week, the S&P/TSX Composite Gold Index (+2.9%) outperformed along with other defensive names such as Healthcare (+5.0%). While that is encouraging news for the gold bulls, the implications for the broad market are not so encouraging. The Gold/Silver ratio is also making us nervous as it is stuck in a range and ended the week on an uptick.
The combination of swooning cryptos, a stubborn Gold/Silver ratio and a topping signal in our INK US Indicator (Is bitcoin leading the S&P 500 lower) are pointing to some headwinds for the risk assets at least in the short-term. So far this month we have highlighted four gold stocks in our morning report (May 3rd, May 6th, May 19th, and May 20th). In addition, two gold miners were among the top 3 movers up the INK Edge rankings for the week ended May 22nd.
If stocks begin to feel headwinds, the industrials metals miners will need all the help they can get. Ford (F) could potentially help to rev up investor interest in the battery metals group following the launch of its 2022 F-150 Lightning EV pickup. Ford is claiming the truck will be able to go from 0 to 60 mph time in the mid-4-second range when equipped with an extended-range battery.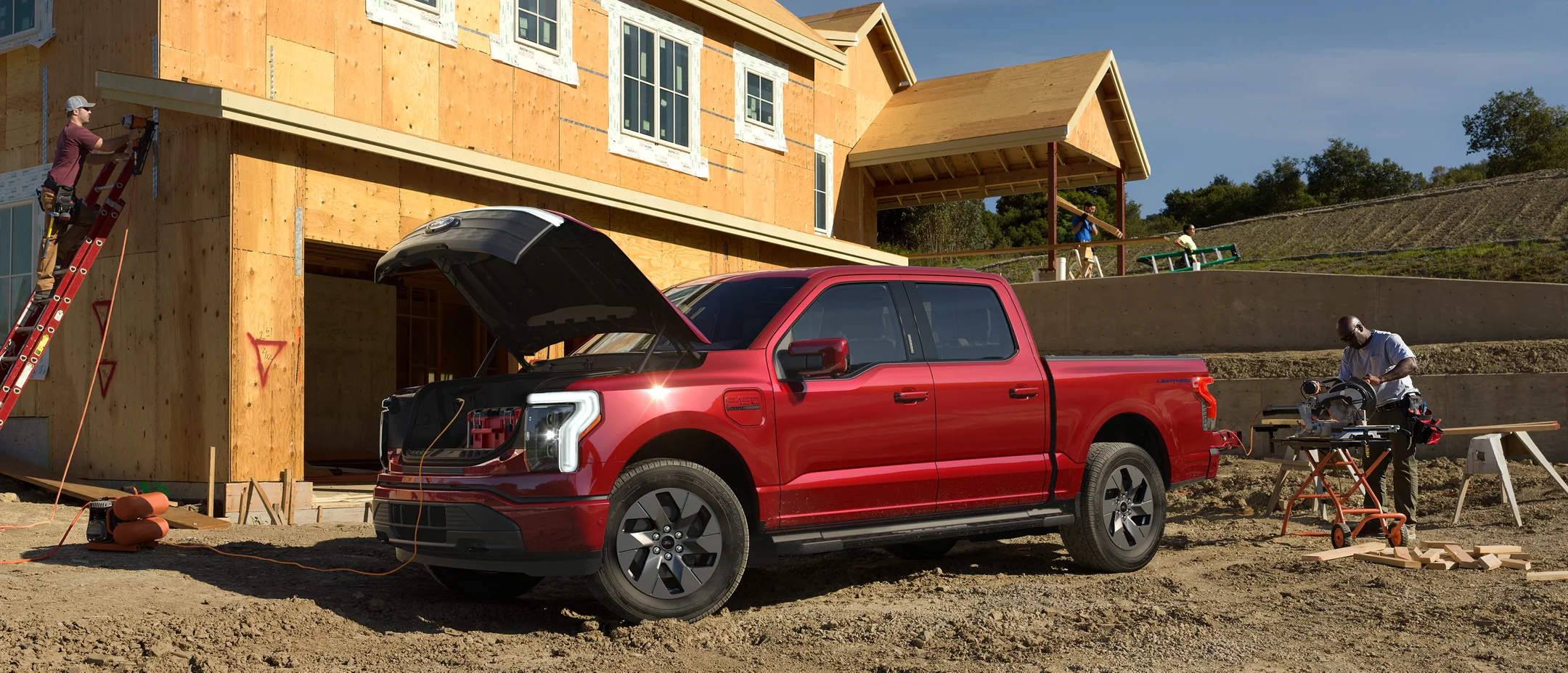 The F-150 Lightning is expected to be available in 2022 (Image: Ford)
While Tesla (TSLA) brought EVs to the early adopters, Ford may be the auto-maker that provides the on-ramp for the mass market.
Real Vision is in the process of wrapping up the Exponential Age series, and it has not all been focused on EV and crypto. On Wednesday, we heard Aubrey De Grey of SENS Research Foundation describe how we could reach escape velocity with the anti-aging process. Will cryonics be the next crypto?
Sportswear Design | Nike nike air max paris 1 patch 2017 , Sneakers , Ietp STORE
| | |
| --- | --- |
| Top 3 Gainers Last Week | Top 3 Losers Last Week |

Returns are as of the last trading day of the previous week.
Featured Clip
Mirasol Resources is up on news
We are working on our morning report video preview format for a hopeful live rollout over the next few weeks. On Wednesday, we provided a preview of our morning report highlighting Latin America focused Mirasol Resources (MRZ). We also featured the report in the Globe and Mail over the weekend. If you have not read the report, check out the video to find out why Mirasol made our screens, again.
Insider of the Week
Patrick Charles Evans
Patrick Charles Evans, who is our insider of the week, has the distinction of having bought stock in two of our morning report stocks this month, Mirasol Resources where he is Executive Chair and Pan Global Resources (PGZ) where he is also Chairman of the Board. Patrick Evan's mining experience extends well beyond those two firms. He was recently President and CEO of Dominion Diamond ​Mines as well as serving in a leadership role at Mountain Province Diamonds, Kennady Diamonds, and Norsemont Mining and several other junior miners.
INK Canadian Insider Index
1 Year Total Return Performance




Historical Performance

Annualized Total Return as of May 21, 2021 04:49 pm

| | |
| --- | --- |
| 1 Year | 80.87% |
| 3 Years | 8.20% |
| 5 Years | 10.61% |
| 10 Years | 8.71% |
To start receiving a PDF version of this newsletter by email select it in your
alert settings
. If you do not have an account, join us
here
.