Believe it or not, Canadian stocks are winning the trade war
June 3rd, 2019
We are well aware of the negatives. Canadian stocks face the headwinds of low Canadian oil prices, a government in Ottawa that sees regulation and high taxation of business as a virtue, frothy real estate markets, consumers in big debt, and uncertainty with respect to a North American trade agreement. What we hear less about is the strength of the Canadian workforce, our stable political system, and a relatively low Federal budget deficit.
Meanwhile, the Canadian stock market has substantially underperformed the US market over the past few years, so a lot of bad news referenced above has arguably already been priced in. In contrast, the US market has benefited from liquidity flows driven by zero interest rates, quantitative easing (QE), and debt-financed tax cuts. However, those positives appear to be in the rearview mirror after the Federal Reserve raised interest rates 4 times last year and implemented quantitative tightening by reducing the size of its security holdings.
Of course, there is also that issue called the trade war.
Remarkably, we continue to hear Twitter and TV pundits saying tariffs do not matter. We beg to differ. No industrial or technology CEO worth a fraction of his or her multi-million dollar compensation package would dare to make a significant growth investment decision not knowing what the state of global tariffs is going to be over the next few years. So, here we are with Canadian stocks generally outperforming US stocks in local currency terms over the past 6 months as of May 31st. The S&P/TSX 60 Index is up 4.8% while the S&P 500 is down 1.4%. Meanwhile, the mid-cap-oriented INK Canadian Insider (CIN) Index is down 0.7%, beating US mid-caps as measured by the SPDR S&P Mid-Cap 400 ETF which are off 4.4%.

The 6-month time frame seems particularly relevant as December 1st served as something close to a China takedown weekend with the US giving China 90 days to come to a trade agreement or risk more tariffs while Canadian authorities arrested Huawei CFO Meng Wanzhou at the Vancouver airport on an extradition request from the Trump administration.
All things considered, perhaps the only surprise relates to why it took so long for the US market to start pricing in some of its idiosyncratic risks.
Gold stocks get an insider buy signal
Our gold stock indicator has put in a peak which suggests that stocks in the group have established a key level of support this spring. Typically, an indicator peaks when stocks are bottoming and that appears to be what is happening with the gold group. As much as we are disappointed with the performance of the group so far this year, we are inclined to add to our positions now that a peak is in. That said, there is always the risk that the current peak is short-lived. However, given the tariff mess that the global financial system must now digest, never mind the uncertainty surrounding Brexit, we suspect gold has put in its lows, at least until the end of June.
We also believe cryptocurrencies are starting to regain traction as an alternative asset. In our May Gold Top 20 Stock Report, we highlighted four cryptocurrency and blockchain related stocks that had positive characteristics. Non-INK subscribers can find the report on Canadian Insider under the Reports tab.
| | |
| --- | --- |
| Top 3 Gainers Last Week | Top 3 Losers Last Week |

Returns are as of the last trading day of the previous week.
Featured Clip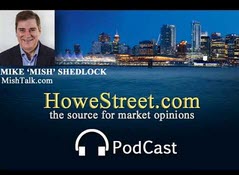 Mish Shedlock talks rare earth metals on May 30th
Starting at the 19-minute mark of his May 30th interview, Mish Shedlock warns that rare earth metals may be a card that the Chinese could play in the trade war. Given the environmental costs and long lag times required to get rare earth metals production going, Mish believes China could effectively threaten to cut off supplies. However, Mish does point out that other analysts disagree with his take the issue.
Insider of the Week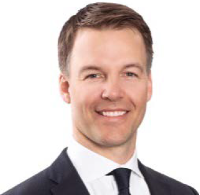 Zachary George
Zachary George is a co-founder of FrontFour Capital, an alternatives investment manager. He has spent just over $10 million buying units of Quebec-focused Cominar REIT (CUF.UN) during the past month. HIs purchases were for funds on a control or direction basis. Mr. George is no stranger to the Canadian REIT scene. In 2008, his FrontFour Capital made waves as it started a shakeup of Huntingdon REIT which ended up merging with another fund which was later sold. 
At age 41, Mr. George is most likely our youngest Insider of the Week so far. Mr. George is also an insider of Trez Capital Mortgage Investment  (TZZ).
INK Canadian Insider Index
1 Year Total Return Performance




Historical Performance

Annualized Total Return as of June 3, 2019 04:49 pm

| | |
| --- | --- |
| 1 Year | -14.89% |
| 3 Years | 2.26% |
| 5 Years | 1.36% |
| 10 Years | 10.63% |
To start receiving a PDF version of this newsletter by email select it in your
alert settings
. If you do not have an account, join us
here
.