Back to basics
October 11th, 2021
For those who believe inflation has further to run, the Basic Materials sector should have plenty of horses for the journey. But, inflation is unlikely to treat all sector stocks equally, as some could be vulnerable to rising input prices. As events turned out, Basic Materials companies grabbed the spotlight over the past week in our morning reports. On Oct. 4th we highlighted Wealth Minerals (WML), a battery metals junior, while on Tuesday we featured innovator ZEN Graphene Solutions (ZEN). On Wednesday, we switched back to mining to focus on zinc producer Titan Mining (IT) and followed up Thursday with producer-wannabe Osisko Metals (OM). We ended the week off with packager Winpak (WPK) which may have some surprises in store for short sellers.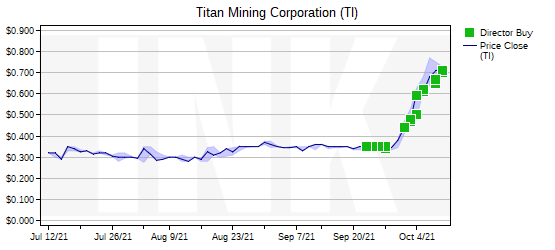 Titan mining gets a lift as investors bet on base metals mining
As a reminder, our complete Canadian INK Edge universe coverage is updated every weekend in the #stock_ideas channel in spread sheet format which can be used for sorting by a ranging of criteria including sector.
Mike Green Conversations
Our platform was treated to 3 interviews by Mike Green over the past week that tapped into the thinking of some the most thought-provoking market players, each of whom tackle opportunity differently. On Oct. 6th we heard from value investor David Einhorn who believes inflation will be sticky. The series finished on Oct. 8th with venture capitalist Josh Wolfe who is bracing for a day of reckoning. Nevertheless, he sees opportunity in space and next generation defense applications. Josh left us wondering about what the next big geopolitical conflict could look like. The video of the week goes to the middle episode on Oct.7th focusing on pandemic investing culture which brought together short-seller Carson Block, quantitative research trailblazer Lily Francus, and TikTok content creator and investor Kyla Scanlon.
| | |
| --- | --- |
| Top 3 Gainers Last Week | Top 3 Losers Last Week |

Returns are as of the last trading day of the previous week.
Featured Clip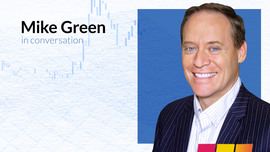 Mike Green tackles pandemic investing culture
The rise of frauds, the role of options trading, the retail renaissance, and the function of social media and "meme" culture all have collided in the markets, amplifying investor apathy, cult-like behaviors, cynicism, and generational discontent. Muddy Waters Capital CIO Carson Block, Moody's Analytics director of quantitative research Lily Francus, and creator and investor Kyla Scanlon come together to shed light on where these powerful dynamics stem from and whether they will endure as a permanent fixture of the market environment.
Insider of the Week
We have seen a lot of insider buying at Osisko Metals (OM) over the past years, and one of the buyers has been President and Chief Operation Officer (COO) Jeff Hussey. Over the past year he has spent just under $100,000 buying shares in the public market. He now holds just over 1.57 million shares representing just over 0.8% of all shares outstanding. The next milestone for the COO will be the anticipated updated PEA for the Pine Point zinc project in the New Year.
INK Canadian Insider Index
1 Year Total Return Performance




Historical Performance

Annualized Total Return as of October 8, 2021 04:49 pm

| | |
| --- | --- |
| 1 Year | 63.27% |
| 3 Years | 15.82% |
| 5 Years | 12.26% |
| 10 Years | 12.14% |
To start receiving a PDF version of this newsletter by email select it in your
alert settings
. If you do not have an account, join us
here
.