Back to basics
June 17th, 2019
Last week, we warned that our INK Sentiment Indicator was tracking eerily similar to last year. That had us worried about a potential correction in markets, particularly US markets. However, last week our indicator moved higher. This is a positive short-term development because it took place even as stocks rose last week. Our indicator, which measures the ratio of stocks on the TSX with key insider buying versus those with selling, moved above 160% briefly even as the INK Canadian Insider Index advanced, finishing the week up 0.6%. Typically, we would expect the indicator to fall when stocks rise as insiders reduce their buying due to higher prices. The fact that it rose instead of dropping or stagnating is a potential sign that insiders believe that growth prospects are improving.
While the move could simply reflect noise leading up to the Wednesday Fed policy statement, the upturn in sentiment coincides with a clear medium-term bullish insider signal in the Basic Materials sector which we wrote about in an INK post Friday (non-INK subscribers can find it on the blog section of CanadianInsider.com). What caught our attention was a peak in our sector indicator late last month. Such peaks reflect peak insider buying and often take place around share price lows. Consequently, insiders are sending a strong message that they expect better days ahead for mining, forestry, and agriculture (ex-cannabis) stocks.
If insiders are right, the signal implies that coordinated efforts may be on the way to attempt to reflate the global economy. At this point, aside from the Fed eventually cutting rates, we are not sure what that will entail. If the major central banks of the world are to have any success at achieving their beloved 2% consumer price inflation targets, they are going to have to do something new. Based on past experience, another round of QE and negative rates won't do the trick. Could wider budget targets for the EU countries or more spending by the EU agencies, as suggested by Modern Monetary Theory proponent Warren Mosler, be on the agenda? We will have to see.
The three INK CIN leaders last week were from the Basic Materials sector while the Energy sector continues to struggle in the current environment with the top 3 losers from that group.
| | |
| --- | --- |
| Top 3 Gainers Last Week | Top 3 Losers Last Week |

Returns are as of the last trading day of the previous week.
Featured Clip
Stewart Muir on Canadian pipeline politics
With Justin Trudeau set to announce the fate of the Transmountain pipeline this month, Stewart Muir provides an overview of where things stand. He starts off the broadcast with an update on some of the obstacles facing LNG Canada's mega project in British Columbia. 
Click here to listen to his June 11th interview with Jim Goddard.
Insider of the Week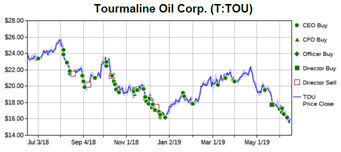 Mike Rose CEO of Tourmaline Oil
It has been an up and down ride for Tourmaline Oil (TOU) stock over the past year, with more downs than ups. However, CEO Mike Rose has been using the weakness as a buying opportunity. Over the past year, he has spent over $4 million buying company stock in the public market.
With the stock trading near 52-week lows, the company announced Monday, June 16th, that it intends to buy back up to 5% of its shares over the next 12 months pending approvals. The fact that the CEO has been buying shares supports the case for the proposed share repurchase program.
INK Canadian Insider Index
1 Year Total Return Performance




Historical Performance

Annualized Total Return as of June 17, 2019 04:49 pm

| | |
| --- | --- |
| 1 Year | -14.08% |
| 3 Years | 3.70% |
| 5 Years | 1.09% |
| 10 Years | 10.67% |
To start receiving a PDF version of this newsletter by email select it in your
alert settings
. If you do not have an account, join us
here
.