Argentina is back
August 12th, 2019
As the week gets going, the investor worry list is a long one: European banks, crude oil, Trump trade tirade tweets, and now Argentina which has seen its currency plummet on primary election results over the weekend. Meanwhile, the Hong Kong dollar's peg is being put to the test as protestors in the city test the patience of Beijing. Worryingly, European banks are sinking to multi-decade lows as investors fret over the prospect of the ECB pushing rates deeper into negative territory. With most European policymakers on holiday, those stocks look vulnerable to headline risk in the weeks ahead. The question is whether or not most of the bad news has already been priced in. If the banks stabilize over the next three weeks, it could set the stage for a decent fall. If they start to make new lows, some stormy summer days could be in store for global markets.

Meanwhile, in terms of the global economy, the struggling oil price has investors fretting over stumbling global growth. The S&P/TSX Capped Energy Index made a 52-week low on August 7th but has since bounced back. Nevertheless, based on its Friday close of 126.73, the sector index remains below its low of 127.36 set in December. However, we are getting a sense that insiders are signalling that crude fears are overdone as more insider buying is showing up. Examples include Whitecap Resources (WCP) which we featured in our morning report Monday, and Encana (ECA) which we highlighted on August 8th.
We are also keeping a close eye on Canadian Western Bank (CWB) which has exposure to both the oil patch and the Canadian consumer, two key drivers of the Toronto market. The stock jumped above $30 on July 31st only to give back those gains on tariff Thursday, August 1st. If the bank can regain its steam, it would be supportive of a relatively bullish case for Canadian mid-caps in our view.
We will continue to keep a close eye on crude and CWB. Last week, the mid-cap oriented INK Canadian Insider (CIN) Index gave up ground, falling 1.1% as exposure to the oil patch served as a major drag.
| | |
| --- | --- |
| Top 3 Gainers Last Week | Top 3 Losers Last Week |

Returns are as of the last trading day of the previous week.
Featured Clip
The last stand for oil patch contrarians: Encana insiders take on the short-sellers
In the video summary of our August 8th INK Morning report, we look at the competition between insiders and short-sellers at Encana. On balance, the stock has a short-squeeze setup based on our signals. But so far, the shorts are winning. We take a look at what could help long investors.
Insider of the Week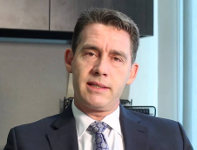 Renaud Adams, CEO of New Gold (NGD)
On July 23rd in our morning report, we wrote that New Gold short-sellers need to get at least one of two bets right: either the gold price needs to stall out, or they need management to stumble on its execution. While gold is not cooperating, management appears to be. On July 11th, the company said in a press release:
 the Company maintained its available liquidity of approximately $400 million, including $110 million in cash and cash equivalents, which supports the implementation of the short-term operational plan.
So, it came as a bit of shocker last week when the company announced a $160 million bought deal financing priced at $1.60 on August 8th. Not surprisingly, the stock sank almost 10% the next day. Score one for the shorts.
Essentially, New Gold CEO Renaud Adams has provided us with a stark reminder that despite the strong gold price, managements have a hard time resisting the chance to load up the piggy bank by issuing new stock when market conditions are ripe. We expect other names will follow the New Gold lead in the weeks ahead.
INK Canadian Insider Index
1 Year Total Return Performance




Historical Performance

Annualized Total Return as of August 12, 2019 04:49 pm

| | |
| --- | --- |
| 1 Year | -12.70% |
| 3 Years | 0.96% |
| 5 Years | 1.73% |
| 10 Years | 9.10% |
To start receiving a PDF version of this newsletter by email select it in your
alert settings
. If you do not have an account, join us
here
.