Among the miners, gold stocks shine the brightest
March 4th, 2019
While the Canadian Insider (CIN) Index 2019 rally is now encountering some technical resistance starting around 1,160, the two key macro indicators that we are following remain bullish. Starting with the mid-cap-oriented INK CIN Index's one-month performance (+4.4%) against the large-cap S&P/TSX 60 Index (+3.4%) last week, we continue to see the INK CIN outperforming. The outperformance of the INK CIN Index signals that investors are preferring global economy-sensitive mid and small-cap stocks to the perceived relative safety of more liquid, bigger names.
In fact, on a 90-day basis, the INK CIN Index (+7.5%) has opened up a 2.6% lead on the S&P/TSX 60 (+4.9%) as of March 1st. Optimism over a China-US trade deal may be helping to lift optimism. That could set up for some profit-taking if a deal is finally announced. On the other hand, the dual tailwinds of the Fed on hold and China taking measures to stimulate its economy may help global stocks weather the reaction to trade deal news.
Meanwhile, our INK Indicator, which tracks stocks with insider buying and selling on the TSX, remains in bull market mode. The Indicator is still above the 100% level, meaning there are more stocks with key insider buying than there are with selling. Energy insider sentiment continues to lead the pack with our sector indicator ending the week at an impressive 312%. Following not too far behind is Basic Materials with our indicator at 269%.
With the annual Prospectors and Developers Association of Canada convention taking place through Wednesday this week in Toronto, today we dig a little deeper into the materials sector to see what insiders are signalling about the mining group's prospects. In terms of specific mining industry groups, our gold stock indicator has the most attractive formation. After peaking sharply last fall above 600%, our gold stock indicator ended Monday at a healthy 216%.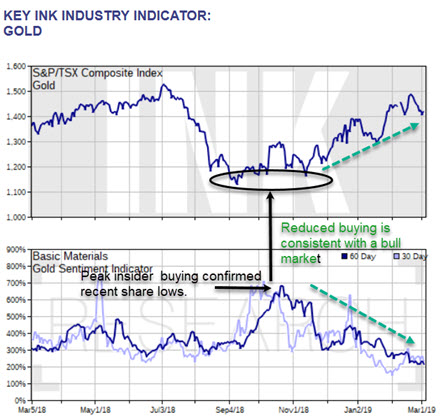 Normally, we expect an indicator to peak near share price lows, and to gradually move lower as stock price momentum gains traction. On that front, the gold group is acting right on cue which should bode well for future gains over the next 3 to 12 months. The behaviour of the indicator also reinforces our second core investment theme, hedging bad outcomes with gold and defensive stocks.
Our other three mining groups have elevated indicator levels with precious metals (typically, silver or PGM focused) at 367%, specialty mining (such as lithium) at 311%, and integrated mining (typically miners characterized by diversified operations) at 242%. Although all three indicators are higher than the gold indicator, two of them have yet to put in compelling bullish peaks over the past year. In particular, our precious metals indicator seems to be unable to signal a clear bottom in stocks. As such, we are skeptical that silver will be leading gold anytime soon. Specialty mining insiders jumped into the market too soon last summer but reloaded again in January which is a bullish sign. Perhaps insiders who bought this winter will have better timing. A more compelling positive trend is seen among integrated mining insiders who are picking up their buying even as share prices rise.
In terms of our INK Edge rankings among mining stocks, integrated Ivanhoe Mines leads the pack. With the spotlight on mining this week, we have provided our 3 top-ranked mining stocks below. All 3 have sunny outlooks, placing them in the top 10% of all stocks ranked in the Canadian market.
1. Ivanhoe Mines Ltd. (IVN)
2. INV Metals Inc. (INV)
3. Golden Valley Mines Ltd. (GZZ)
(A top-10 list is available in the March 4th Market INK report)
Interestingly, with the list dominated by junior players, the result is consistent with a bullish outlook for the real price of gold, something both Bob Hoye and John Kaiser have discussed in recent broadcasts which we have reviewed on INK Research and Canadian Insider. Generally, both commentators have suggested that if the real price of gold rallies, resource deposits held by junior mining companies could become more valuable.
INK Edge outlook ranking categories (Sunny, Mostly Sunny, Mixed, Cloudy, Rainy) are designed to identify groups of stocks that have the potential to out- or under-perform the market. However, any individual stock could surprise on the up or downside. As such, outlook categories are not meant to be stock-specific recommendations. For background on our INK Edge outlook, please visit our FAQ #5 at INKResearch.com.
| | |
| --- | --- |
| Top 3 Gainers Last Week | Top 3 Losers Last Week |

Returns are as of the last trading day of the previous week.
Featured Clip
Danielle Park on corruption in This Week in Money, March 2nd.
In the second segment of the broadcast, Danielle Park who writes the Juggling Dynamite blog warns that the market and political power of big actors is squeezing out honest players. She warns that we are now at an extreme point in terms of money buying influence which is damaging the social fabric of our society. In terms of Canadian society, she points to recent revelations from the former Attorney General Jody Wilson-Raybould about political interference with the justice system.
She also covers current market topics including why we can expect an uptick in unemployment resulting from mergers and acquisitions that have taken place during the boom times.
Insider of the Week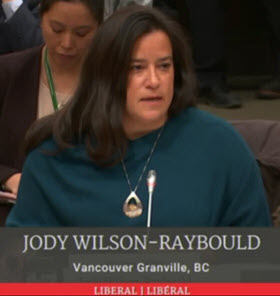 Jody Wilson-Raybould
Former Attorney General Jody Wilson-Raybould rocked the Canadian political world last week with explosive allegations about political interference in the administration of Justice. The near 40 minutes of testimony from last Wednesday gave a blow-by-blow account of how she was pressured to consider a deferred prosecution agreement for SNC Lavalin (SNC).
This story is not over by a long shot. On Monday, Justin Trudeau lost his President of the Treasury Board when Jane Philpott resigned.
INK Canadian Insider Index
1 Year Total Return Performance




Historical Performance

Annualized Total Return as of March 4, 2019 04:49 pm

| | |
| --- | --- |
| 1 Year | -6.65% |
| 3 Years | 7.17% |
| 5 Years | 3.81% |
| 10 Years | 14.15% |
To start receiving a PDF version of this newsletter by email select it in your
alert settings
. If you do not have an account, join us
here
.