AltaGas an early winner in 2020
February 14th, 2020
Oil patch insiders have seen this type of shock story before. Probably the most recent parallel to the Wuhan coronavirus was the 2003 SARS breakout. Oil plunged on fears of drying demand and it took months for it to get some momentum back. However, once it got going, oil really picked up steam marching towards $150 a barrel. Only time will tell if a similar situation will play out this time. For now, insiders are taking a cautious approach. For example, tiny Razor Energy (RZE) has suspended its dividend on fears of a prolonged slump in Canadian crude.
While every company has different circumstances, we doubt that Razor will be the last to cut something, either a dividend, a buyback or capital spending. Meanwhile, our Energy Indicator is giving us mixed messages about the outlook for the sector. It remains at a healthy 154% meaning there are more than 1.5 stocks with key insider buying for every one with selling. However, the indicator is moving in a short-term bearish direction suggesting that early January may have been the peak in oil & gas stocks for the next few months. As such, we are putting the sector on watch for a downgrade to fair-valued. Should the indicator begin to climb again along with share prices, we would remove the watch.
We are seeing similar mixed messages at the market level with our INK Indicator struggling along with the INK Canadian Insider (CIN) Index. While the mid-cap-oriented Index rallied 1.5% in the week ended February 7th, it underperformed the large-cap S&P/TSX 60 which advanced 1.9%. However, for the week just ended, the tables were turned with the INK CIN advancing 1.7% and outperforming all major North American benchmarks except the Nasdaq.  We will have more confidence that the INK CIN can continue to outperform if inflation expectations start to head higher. They appear to be trying to put in a base for a move higher.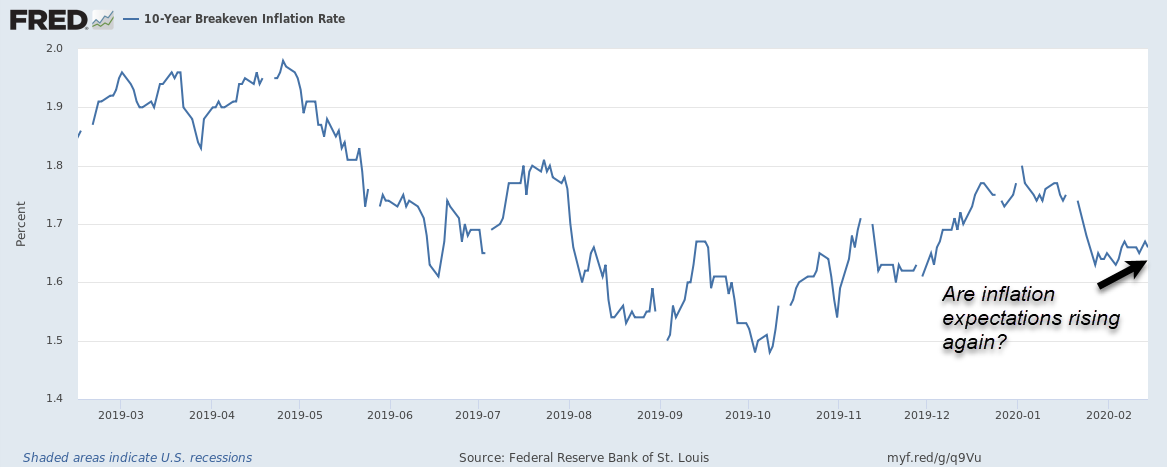 Will inflation expectations recover from the Wuhan shock? (click for larger)
The perma-bears are touting the Wuhan virus as a deflationary shock to the economy. While this is certainly the case with oil, the answer is not so clear with manufactured goods and electronics which could conceivably see supply shortages depending how long supply chains are disrupted.
One way or another, we believe it is only a matter of time before the Fed provides more liquidity to the market either through a rate cut or more short-term note purchases in order to ensure that inflation expectations do not slide further. How quickly they react remains an open question.
As discussed on INK Ultra Money last weekend, there is some chatter in the market that the US Treasury will attempt to force more liquidity into the financial system over the next few months by expanding its General Account at the Fed. The account is used by the Treasury to pay for goods and services. Should Washington push more money into the system, a lot will still depend on where sentiment stands at the time with respect to virus risks, a difficult scenario to predict. If fears of pandemic dominate, bonds and gold could end up benefiting instead of stocks.
Ultra members of the Canadian Insider Club have access to all our Real Vision premium video content along with core INK Research reports and much more. If you are not a member today is great day to join because we have extended our Valentine's sale over the weekend (closes February 16th). Visit our Subscribe page for details.
The potential use of the General Account as a policy tool is an example of just how much has changed over the past few years. As we wrote in a blog post February 7th, we believe the Trump election in 2016 marked a turning point in the relationship between government policy and markets. Geopolitical impacts on markets are likely to be outsized and more durable than what we have seen in the past. For example, the Gulf Wars were significant, but their impacts on markets were acute and not chronic. In contrast, the trade war between China and the US is likely going to be a chronic challenge for investors in the years to come as supply chains get redesigned. In light of the changing world in which we now find ourselves, INK Research has updated the INK CIN methodology to change the rebalancing frequency from semi-annual to quarterly. The change is being made in order to measure insider reactions to changes in economic and geopolitical events more quickly.
On that front we have just announced the winter rebalancing changes which you can find in a Friday blog post.
| | |
| --- | --- |
| Top 3 Gainers Last Week | Top 3 Losers Last Week |

Returns are as of the last trading day of the previous week.
Featured Clip
The week's most popular INK video
The video summary of the January 24th INK morning report was our most popular video on social media over the past week. GreenPower Motor Company (GPV) stock had been going downhill over the past 6 months even as sales have been accelerating. The video looks at what insiders have been doing. Following our report, the company said that it is seeking the approval of the TSX Venture Exchange for a temporary reduction of the conversion price of about $5.6 million worth of convertible debentures to a conversion price of 33.5 cents per share for a 30-day period. No word yet from the company if they have the green light (no pun intended). The stock closed Friday at 33 cents.
Insider of the Week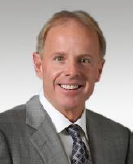 Randall L. Crawford
This week's insider of the week is Randall Crawford, CEO of AltaGas (Sunny; ALA). He has led the stock up towards the top of the INK Edge rankings. That march to the top came into play during the week when INK had to do an extraordinary adjustment of the INK CIN Index after Index member Power Financial merged with another Index member, Power Corporation (POW). AltaGas was the highest ranked TSX stock eligible for inclusion in the Index at the time of the adjustment, so it replaced Power Financial. Congratulations to Mr. Crawford, and we wish them as they work to capitalize on liquefied Petroleum Gas (LPG) export opportunities.
INK Canadian Insider Index
1 Year Total Return Performance




Historical Performance

Annualized Total Return as of February 14, 2020 04:49 pm

| | |
| --- | --- |
| 1 Year | 9.18% |
| 3 Years | 2.21% |
| 5 Years | 4.56% |
| 10 Years | 8.11% |
To start receiving a PDF version of this newsletter by email select it in your
alert settings
. If you do not have an account, join us
here
.