All-time highs, but for how long?
January 9th, 2021
Asian liquified natural gas, bitcoin (BTC) and Canadian insider stocks have one thing in common so far in 2021. All three set all-time highs in the first week of the new year adding some fuel to our G-economy narrative of government-led inflation. Indeed, the inflation-sensitive INK Canadian Insider Index jumped 4.6% in the first week of January to end at 1,368.59, blowing through its 2018 highs. Those 2018 highs were set as inflation-expectations peaked on the back of Fed quantitative tightening. In contrast, inflation expectations as measured by the bond market have been rising recently with 10-year implied inflation expectations ending Friday at 2.06% which above the Fed's mid-point 2% target.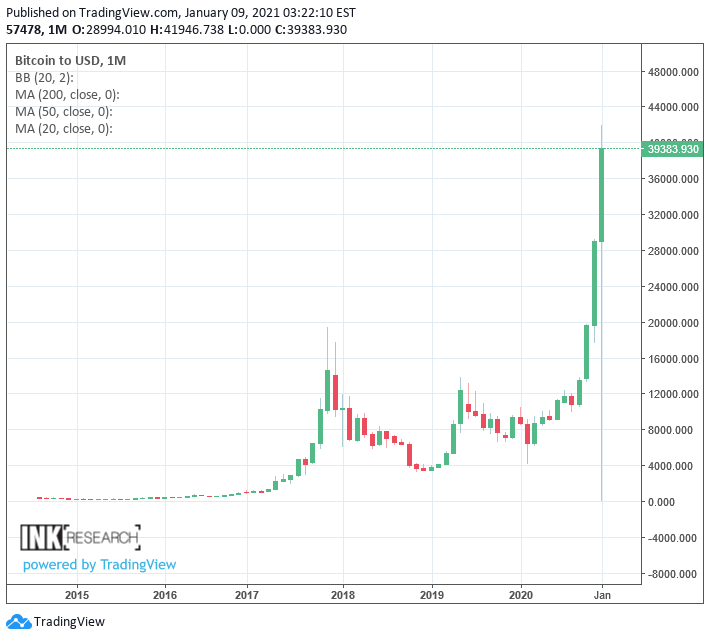 The bitcoin elevator up: monthly chart
Investors are starting to take the Fed's pledge of overshooting its target seriously, but how much longer can the inflation-fueled risk asset party last? Not much longer, according to Raoul Pal. He appeared on the Real Vision Daily Briefing Friday which is our video clip of the week. He sees a potential pullback in February or March, so maybe we should enjoy the party while it lasts.
Pal's interview reminded us of the December 1st Real Vision interview with Teddy Vallee. He warned of tightening financial conditions eventually in Q1 as the Treasury starts to issue more bonds which will suck liquidity out of the market. However, that interview took place before the Democratic sweep in the Georgia runoff elections which tipped control of the Senate to the Democrats. Conceivably, Washington could be set provide the economy with more stimulus before the quarter is out and Joe Biden looks set to try and do exactly that.
In contrast to Pal's bearish stock market view on Friday, in the Daily Briefing on Tuesday, Tony Greer characterizes the current market environment as an inflation bonanza. It is a party he shows no signs of leaving, at least not yet.
Market structure expert Mike Green also makes a short-term bullish case on Monday in both the Daily Briefing filmed on January 4th and a full length interviewed filmed on December 17th. Notably, Green starts in his Monday Daily Briefing segment that he may be overthinking his deflationary outlook which he lays out in the December interview.
The runner-up for video clip of the week is Lyn Alden's 2021 Macro Outlook which is a full-length multi-year outlook on stocks, bonds, and the dollar. She explains why the dollar will not be able to remain the standalone reserve currency and at some point there will need to be a monetary reset. Her view fits well into our core investment theme # 3 which is preparing for a monetary reset with exposure to cryptocurrency opportunities and commodities including precious metals.
The dollar no longer works as the reserve currency
On Friday, we published our short report based on the year-end IIROC data. In the report, we point out that shorts are targeting some Canada-focused pot stocks. We also suggested that for those interested in playing in the cannabis space, US-focused pot stocks were showing up positively on our screens we listed six in the report. 
Following the release of our short report, another US-focused pot stock moved into the Sunny outlook INK Edge category. In fact, it was a top mover in our Top Mover Report for the week ended January 9th which is posted in the INK Chat  #stock_ideas channel. We also list the six US cannabis stocks from the short report in the post. If you are not registered for INK Chat, Canadian Insider Club members and INK Research subscribers are eligible for an invite. Check your inbox for your invitation. If you have not received your invite, contact us and we will resend you the registration link.
| | |
| --- | --- |
| Top 3 Gainers Last Week | Top 3 Losers Last Week |

Returns are as of the last trading day of the previous week.
Featured Clip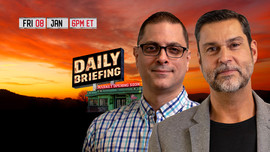 Raoul Pal's 2021 framework
Raoul Pal's January 9th Real Vision Daily Briefing appearance gets our nod for the feature of the week as he gives us his succinct view on asset allocation, stocks, bonds, bitcoin, Ethereum (ETH) and gold for the first six months of the year. He believes too many investors have bought into the so-called reflation trade, leaving stocks vulnerable to a sharp pullback with risks rising as we move into February. However, he has his shopping list ready to buy the correction which he believes will be met with more government stimulus.
Insider of the Week
Som Seif
In our December 30th morning report, we featured blockchain-focused Ether Capital (ETHC) where Som Seif is Executive Chairman. As we wrote in the report, the former investment banker made is his mark in the ETF world, scoring big in 2012 when he sold Claymore ETFs to giant BlackRock (BLK). While he remains grounded in the ETF industry as the CEO of Purpose Investments which he founded in 2013. The stock is up about 75% since our report and for that we show our gratitude by declaring him insider of the week.
INK Canadian Insider Index
1 Year Total Return Performance




Historical Performance

Annualized Total Return as of January 8, 2021 04:49 pm

| | |
| --- | --- |
| 1 Year | 18.18% |
| 3 Years | 4.15% |
| 5 Years | 9.76% |
| 10 Years | 7.41% |
To start receiving a PDF version of this newsletter by email select it in your
alert settings
. If you do not have an account, join us
here
.