We are working on two themes for Monday's Market INK report in wake of the Thursday's double-header for the markets. First up was Janet Yellen and her band of monetary policy makers. After months of preparing investors for a rate hike, she not only delayed, but also backtracked. For months we have been flagging the losing battle that the Fed has waged to get inflation back to their target (not our target I might add). Now, finally they are being up front with investors that they do not see hitting their target until sometime after Obama is long gone from the White House.
The Fed is rapidly losing credibility, and the uncertainty surrounding its policy making should support gold stocks. The big potential headwind for gold would be a rally in the greenback. However, I have to believe that one of the reason the Fed dithered on rates was to take some steam out of the greenback bull market. On Monday, we will do an update of our Gold stock indicator. We also see what other sectors of the Canadian market may be offering value right now based on insider signals.
Canadian Investors also had a chance Thursday to hear the three party leaders debate the economy in the Globe and Mail debate. On Monday, we will further expand our lists of INK Edge stocks that could do well depending on who wins the next election. Given the Fed's status quo policy decision, we have even more factors to work with in light of what all three leaders said last night. At this point, our main thesis that wealth management stocks and home building supply stocks will do well under the conservatives remains intact. REITs could also do alright under another Conservative mandate. At the same time, the Canadian dollar is likely to stay under pressure due to a combination of tight fiscal policy and relentless money printing by the Bank of Canada. Dovish monetary policy might provide a boost for export stocks, but so far we see little indication supporting that assumption from insider sentiment. Instead, basic consumer stocks will likely do well as food prices continue to soar under the Harper and Poloz policy teams.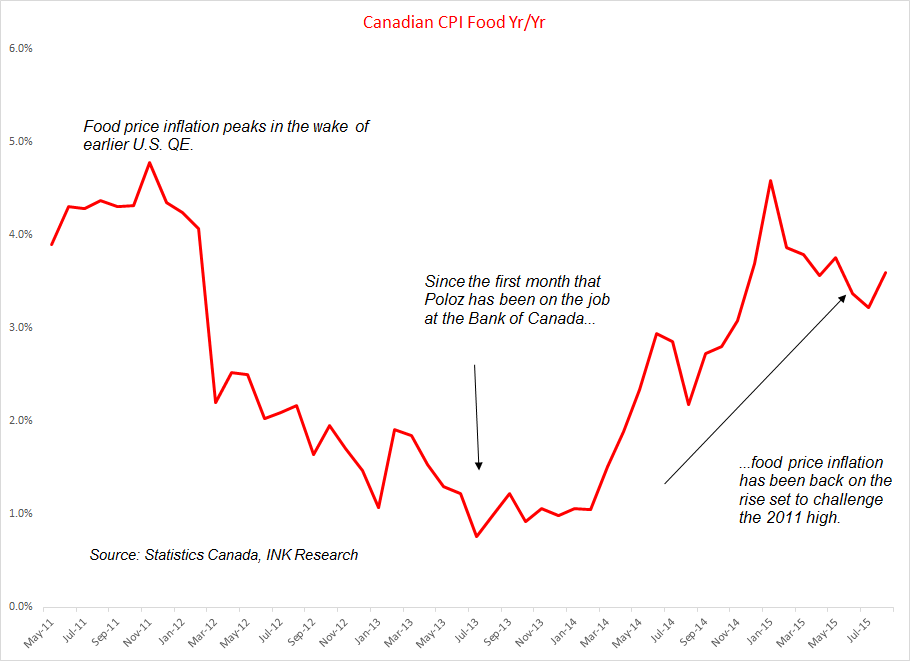 In terms of the Liberals and the NDP, the two main alternatives to the Harper conservatives, Justin Trudeau offered the clearest policy platform for change, promising to borrow for three years to make infrastructure investments across Canada. While all three parties tout infrastructure, Mr. Trudeau is offering the boldest approach it seems. While the deficits he is proposing are quite modest, about $10 billion a year for 3 years, his willingness to go there sets him apart from both the NDP  and the Conservative party. He didn't give the smoothest performance of the three leaders. However, in terms of policy substance he emerged on top. For example, on the important question of a potential housing bubble, his answer about the need to grow incomes and the economy was at least relevant. I cannot say the same for either Mr. Harper who more-or-less was cheer leading for higher prices or Mr. Mulcair who fell back to his talking points on childcare.
On Monday, we suggested that infrastructure contractors and transit equipment makers could do well under one of the opposition parties. We will flush out the top Trudeau and Mulcair INK Edge stocks for next week.
In terms of the Canadian dollar, I will put on my old FX trader hat again and suggest that of the three leaders, the loonie is likely to do best under Trudeau. After an initial sell-off due to uncertainty, the currency should benefit as a modestly loose fiscal policy should help to offset some of the headwinds from the Bank of Canada' ultra-dovish policy approach. The world continues to look for safe government assets, and Mr. Trudeau should have no problem in attracting foreign investment to help finance his proposed relatively small deficits.
In fact, Mr. Trudeau's approach will probably be welcomed by players in the global economy who believe governments have been relying too much on monetary policy.