Thank you for joining us for our technical look at the mid-cap oriented
INK Canadian Insider (CIN) Index
. Since our last update in which we highlighted several bullish characteristics of its chart, the index bounced from the bottom of its consolidation pattern and rose 2% before pausing on Friday.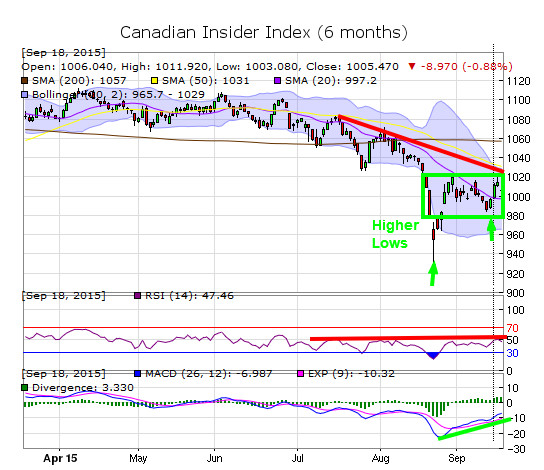 There was good reason for a pause at the end of the week, one which featured great volatility but no interest rate hike for there was natural resistance at the 1020 level which marks the top of the box-shaped pattern or trading range it's been trapped in. Secondly, the Index's downtrend line which goes back as far as June and July falls right at the 1020 level.
With its move up last week, the INK CIN Index has bullishly made higher lows over the past few weeks. Its new support is just above the 1000 level, its 20-day moving average. What's interesting is we could have the start of what looks like a much bigger rally if the INK CIN Index can push through the 1020 and 1030 levels. 1030 is an important resistance level as it is the Index's 50-day moving average. Indeed, above 1030, there remains very little resistance until the major resistance at its 200-day moving average or 1060 level, some 4% higher than where it sits now.
Elsewhere, the chart's MACD indicator remains in an uptrend, continuing to build on the positive divergence we noted last week. With the Index now at a crossroads, what it needs to free itself from its box-shaped consolidation and to carve out a major advance is for its Relative Strength Indicator (RSI) to finally turn on the jets and surge above the 50 RSI level which has capped its rallies the last few months.