Matt Rowe is back on Real Vision with valuable insight into what happened in early September in the US markets when both volatility and stock prices rose together. Importantly, Matt explains what can be learned from last week's twists and turns and how to apply those lessons going forward. After listening to this interview, I had a better appreciation of what to watch in options markets and how to be positioned heading into year end.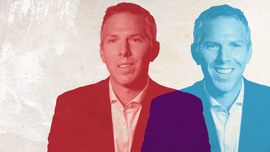 Volatility changes provide hints
INK Research has started the week in the goods producing part of the economy, looking at Richards Packing Income Fund (RPI) as a possible place to hide as investors grapple with economic and political uncertainty. Today, we look at recreational vehicle maker BRP (DOO) where insiders may be sending warning sign about the outlook for the consumer.
If you are not an Ultra member of the Canadian Insider Club, join us today to get full and immediate access to Real Vision videos on INK Ultra Money and to the many Canadian Insider features now reserved for Club members. Learn more about the benefits here.