John Robins' connection to the Yukon runs deep -- his great-great grandfather trekked north as part of the Klondike gold rush of 1896 to 1899, joining an estimated 100,000 prospectors seeking their fortunes.
The geologist is part of a modern-day gold rush in the territory as chairman of Kaminak Gold (KAM), which he founded. As the company works on a feasibility study for its Coffee project in the Yukon's emerging White Gold district, he's been buying shares.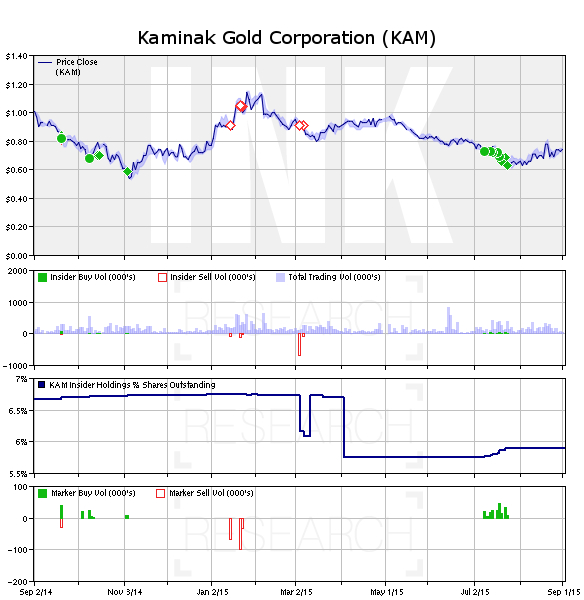 In two transactions in late July, Robins bought a combined 50,000 shares at an average price of 68.1 cents. He owns, directly and indirectly, 1,982,650 shares, a 1.38% stake.
Shares of Kaminak have been hit hard - like those of all junior exploration companies - by the ongoing bear market, but the company has a healthier treasury than most. That's thanks in large part to a $13.5 million financing participated in by mining tycoons Lukas Lundin and Ross Beaty, who each picked up about 10% of outstanding shares last summer.
Kaminak has identified a resource estimated at more than 4 million ounces in the indicated and inferred categories at Coffee. In June 2014, the company published a preliminary economic assessment showing an NPV of $522 million (5% discount) and an after-tax IRR of 26.2%, as well as life-of-mine all-in sustaining costs of US$688. The PEA was based on US$1,250/oz gold, a 0.95 exchange rate and an open-pit, heap-leach mine.
Robins has spent most of his career in the Canadian North, including successfully grub-staking for diamonds in the eastern Arctic - even though his syndicate was looking for nickel. Robins is founder of the privately held Hunter Exploration Group and a cofounder of Stornoway Diamonds (SWY).
His first big score, however, occurred in B.C.'s Golden Triangle. Robins, then a young geologist, and a partner staked claims around Eskay Creek in northwestern B.C. in the mid-1980s. A few years later, while living in northern California, he got a phone call from geologist Chet Idziszek, Murray Pezim's partner:
"We need to talk about those claims," Idziszek told Robins.
"OK, I'll be in Vancouver in a couple of weeks," Robins replied.
"No, we really need to talk to you about those claims," Idziszek said.
Robins' group eventually came to an agreement with Pezim's group. They were later handsomely rewarded when the shares of Calpine Resources and Stikine Resources skyrocketed after the discovery hole at Eskay Creek, which went on to become one of Canada's highest-grade gold mines.
"We went from not being able to put gas in our pickup trucks to doing OK," Robins said in an interview.
In 2008, he was honoured by the Association for Mineral Exploration B.C. with the H.H. "Spud" Huestis award for achievements in mineral exploration.
Lately, he has also been picking up shares of Bluestone Resources (BSR), a shell company that completed a 10-for-1 share consolidation last year and is looking for a project. Robins, who says he has been financing Bluestone for years, is the company's president and CEO.
Robins is also chairman of Kivalliq Energy (KIV), which is exploring for uranium in Nunavut under a partnership with the Inuit.
This blog originally appeared on the INKResearch.com website for subscribers on September 3, 2015.