While most in the mining industry lamented a bear market as tech boomed, Goldcorp (G) founder Rob McEwen adopted open-source innovation.
The year was 2000 and McEwen launched the Goldcorp Challenge, posting all the company's data on the Red Lake mine and offering $575,000 in prizes to whoever could show Goldcorp where the next 6 million ounces would likely be. The contest worked out rather well, for both the winners and the gold producer.
McEwen's latest investment also has a data-sharing component. The gold executive recently invested $1 million into a GoldQuest (GQC) financing that gave him just over 15 million shares, about 9.2% of S.O. (and more than 10% when warrants are included).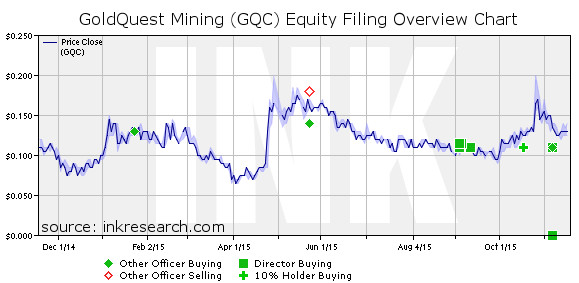 GoldQuest is developing the high-grade underground Romero project in the Dominican Republic, which hosts an estimated 1.645 million gold ounces Indicated at average grades of 2.63 g/t, and 529,000 oz of gold Inferred at 1.64 g/t, as well as silver, copper and zinc.
On Sept. 30, GoldQuest announced a data-sharing and collaboration agreement with Precipitate Gold (PRG), its exploration neighbour in the emerging Tireo belt in the Dominican.
Proceeds of GoldQuest's $3.5-million financing will help fund a pre-feasibility study on Romero, where recent PFS drill intercepts also captured investors' imaginations. On Oct. 27, GoldQuest announced 223 metres grading 3.03 g/t gold and 1.22% copper, including 27 metres grading 11 g/t Au and 2.4% Cu.
GoldQuest shares ran up to 17 cents after the drill results, but have since settled back to 13 cents.
McEwen is an insider of several mining companies, but his largest stake is in namesake McEwen Mining (MUX), where the chairman owns a 25% stake. The company mines gold and silver at its San Jose mine in Argentina (49% MAQ/51% Hochschild) and El Gallo mine in Mexico and has exploration and development projects in Nevada, Mexico and Argentina.
It's been a gruelling year for gold miners, and McEwen has experienced adversity beyond a dropping gold price. On April 7, armed robbers stole 900 kilograms of gold-bearing concentrate containing about 7,000 ounces of gold from the Sinaloa mine. Cartels were blamed, and insurance covered about 80% of the US$8-million loss, reducing the company's loss to US$1.6 million.
McEwen's second largest public-company position where he is an insider is Lexam VG Gold (LEX), which is exploring in Ontario's prolific Timmins gold camp.
McEwen created a lot of shareholder value with Goldcorp in Red Lake, and he's also shown a knack for dodging shareholder destruction in the region.
In 2010 he exited his position in Rubicon Minerals (RMX), a Red Lake junior developing the high-grade Phoenix gold deposit. Rubicon's share price recently got crushed when the mine's start-up was thwarted by environmental issues and a discrepancy between mine models and the reality underground.
McEwen was a 10% shareholder of Rubicon until Oct. 5, 2010.