An INK Research review of filings by insiders at Bombardier (Unranked; BBD.B) for August 15th transactions relating to its announced Automatic Securities Dispositions Plan (ASDP) raises a number of questions with respect to ownership changes.
According to descriptions of insider ownership types provided by the System for Electronic Disclosure by Insiders (SEDI) in the document Ownership types & registered holders information, there are three ownership holding types in the Canadian insider filing system:
Direct (beneficial)
Indirect (beneficial)
Control or Direction
The document is pretty straightforward, written pretty much in easy to understand language so that both insiders making filings and the public looking at filings can understand the difference between the ownership types. The document is fairly clear in its explanation that when an insider is a beneficial owner, he or she would file their holdings as either direct or indirect ownership. The document is also pretty straightforward as to when indirect ownership applies:
A person is an indirect beneficial owner when the person's securities are held through an issuer, an affiliated issuer, a family trust, a third person or other legal entity.
Essentially, if an insider still has beneficial ownership of a security, but turns that security over to another legal entity, the insider would file indirect ownership for those securities. The question of beneficial ownership is important. At INK, we focus on what insiders own beneficially because generally it implies that they have ultimate title to the equity value of the security.
Before we get into the meat of what is troubling us, it is worth considering the concept of beneficial ownership a bit further. Securities rules in Canada do not provide a precise definition of beneficial ownership. However, some of its attributes ordinarily found in common law are described in the companion policy of National Instrument 55-104 Insider Reporting Requirements and Exemptions:
the potential for gain in the nature of interest, dividends or other forms of distributions or reinvestments of income on the security;
the potential for gain in the nature of a capital gain realized on a disposition of the security, to the extent that the proceeds of disposition exceed the tax cost (that is, gains associated with an appreciation in the security's value); and
the potential for loss in the nature of a capital loss on a disposition of the security, to the extent that the proceeds of disposition are less than the tax cost (that is, losses associated with a fall in the security's value.
In other words, if you are the beneficial owner, you enjoy the gain or feel the pain. As is often the case with securities rules, complications can crop up somewhere, and in the case of beneficial ownership, an issue potentially arises in Quebec because it is our understanding that the concept of beneficial ownership does not exist in civil law. Fortunately, section 1.4 of Quebec Regulation 14-501Q addresses the issue saying:
In a regulation, a person that beneficially owns securities means a person that owns the securities or that holds securities registered under the name of an intermediary acting as nominee, including a trustee or agent.
Given the importance of beneficial ownership of a security because of the gain or pain associated with it, we find it notable that there were a series of August 15th transactions filed on SEDI by a dozen Bombardier insiders that reported securities being changed from direct ownership to control or direction.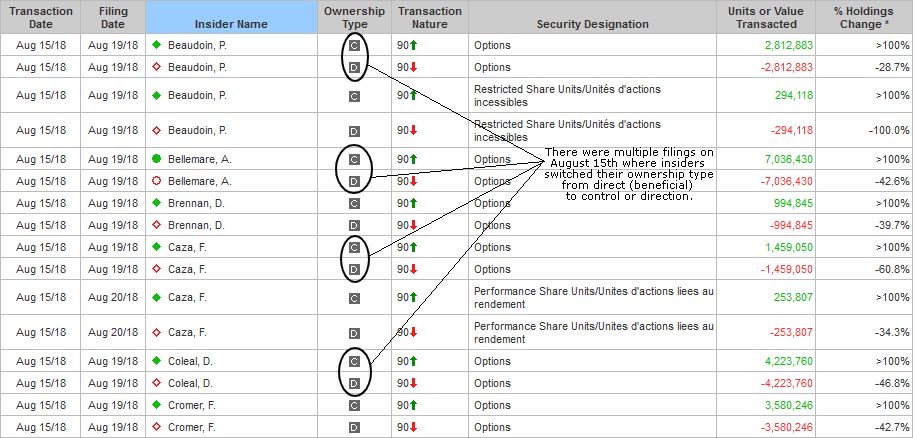 Most of the securities were derivatives-type (options, performance share units, etc). One insider reported changing ownership with respect to 168,714 Subordinate Voting Shares Classe B. In all cases, the registered holder became Solium Capital (ASDP). Solium Capital (Mixed; SUM) trades on the TSX.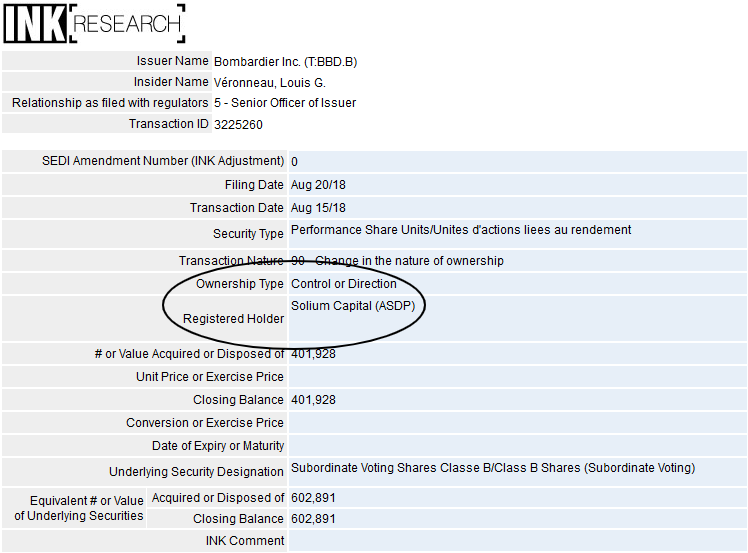 The first question that comes to mind is: did 12 Bombardier insiders really give up beneficial ownership of some 35.5 million securities on August 15th? Based on our understanding of SEDI ownership types, that is what appears to have happened. Typically under an ASDP, beneficial ownership does not change or disappear until the securities are exercised for underlying shares which can then be sold. To see beneficial ownership disappear all at once is a novel experience for us.
If beneficial ownership did cease, that leads to the next question. What would be the motivating factors for such a change? There could be any number of reasons generally when an insider makes such a change. However, when a group of insiders make the change to the same registered holder, it suggests a common motivating factor was at work. However, because the details of the ASDP are not disclosed, investors are left guessing.
There is at least one other explanation for the switch to control or direction on August 15th. That explanation could be that there was no beneficial ownership change but insiders decided to file the change of registered owner to Solium Capital as a control or direction change. However, such an approach does not seem consistent with our understanding of ownership types as described above. If beneficial ownership did not change on August 15th, we would have expected the filings to reflect indirect ownership with Solium Capital as the registered holder.
Perhaps the filings reflect an interpretation or definition of ownership types that has escaped us. If that is the case, we expect such an interpretation has escaped the understanding of other investors.
One way or another, Bombardier investors need clarity. If beneficial ownership of Bombardier securities did not change on August 15th, is the filing approach acceptable to regulators? If so, could the Canadian Securities Administrators please revise their SEDI documentation to provide some clarity? Given the willingness of regulators to provide these dreadful ASDP filing exemptions, it is important there at least be a clear set of guidelines on how issuers should be filing their ownership holdings when they participate in such plans.