When mining engineer Bruce McLeod took the helm at Nunavut gold play Sabina Gold and Silver (SBB) in mid-February, he promptly bought 36,500 shares in the public market at 39 cents.
Like many junior gold stocks, Sabina has been pummelled on the Toronto Stock Exchange, falling from highs above $7 in 2011. Unlike most, Sabina has a resource estimate exceeding 5 million ounces of high-grade gold in the measured and indicated categories.
Following the release of a feasibility study with dramatically improved economics for Sabina's Back River gold project, McLeod has been adding to his position.
On May 22 and 25, McLeod purchased 60,000 shares at 43 cents, taking his stake to 196,500 shares.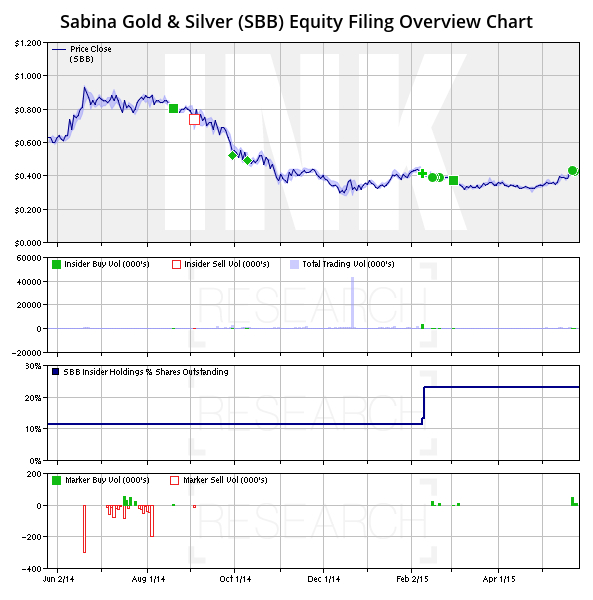 McLeod is part of a renowned B.C. mining family - his father Don McLeod helped discover and develop four B.C. mines and was awarded the Association for Mineral Exploration B.C.'s E.A. Scholz award for excellence in mine development. Sister Catherine McLeod-Seltzer is an accomplished mine finder too, as well as a veteran Canadian executive.
As for Bruce, he built the Minto copper mine in the Yukon as founder and executive chairman of Sherwood Copper, which was sold to Capstone Mining (CS) in 2008 for $244 million. He's also a cofounder of Stornoway Diamonds (SWY) and a director of Yukon gold developer Kaminak Gold (KAM).
For his leadership on the development of Minto, which was built on-time and on-budget, McLeod was a co-recipient of the same mine development award won by his father.
He also sold Creston Moly to Mercator Minerals for $195 million in 2011 in a deal that required McLeod to stay on as CEO of Mercator. In late 2013, he negotiated the sale of Mercator to Intergeo, a company controlled by Russian billionaire Mikhail Prokhorov, but that deal went sour due to slumping commodity prices and Russian political interference. Mercator ended up going bankrupt.
In a recent interview with the Resource Opportunities investment newsletter, which recently initiated coverage on Sabina, McLeod said a Sabina director asked him late last year if he was interested in running the company. His initial response was no.
But the more he looked into it, the more intrigued he became about the gap between Sabina's mineral inventory - 7.2 million oz of gold in all categories - and its market capitalization, he said. The company had $27.9 million in cash and equivalents as of March 31 and is trading at a market cap of about $82 million.
In addition to gold's tumble, McLeod believes Sabina has been punished because of high costs in the North and large initial writeoffs on the nearby Meadowbank mine - which produced 450,000 ounces for Agnico Eagle Mines (AEM) last year - and Hope Bay, being developed by TMAC Resources.
McLeod believes the feasibility study released May 20 should help address the conception that northern mines simply cost too much to build. The FS, done at US$1,200/oz gold and an 87-cent exchange, projected a post-tax IRR of 21.7% and a net present value of $539 million (5% discount rate), based on initial capex of $695 million and average production of 346,000 oz annually over a 10-year mine life. All-in sustaining cash costs are estimated at US$671 an ounce. Life-of-mine average grade would be 5.7 g/t gold and metallurgical recoveries 93%. 
In these markets, however, financeability remains a concern, McLeod acknowledged. So another option Sabina is exploring is construction of a lower-cost "springboard" mine, which could cost under $400 million to build and would focus on the high-grade pits initially.

The stock has a mostly sunny INK Edge outlook, but a mixed outlook on insider ownership - officers and directors own just over 1% of outstanding shares. McLeod told Resource Opportunities he wants to strengthen the culture of insider share ownership, and insider buying has picked up since the feasibility study came out.
On May 22, Matthew Pickard - Sabina's vice-president, environment and sustainability - picked up 20,000 shares at 44 cents. And on May 20, William Murray John, a director of Sabina 10% holder Dundee Precious Metals, bought 200,000 shares at 40 cents. Sabina bought Back River from Dundee in 2009.

McLeod has been a Kaminak director since September 2010 and owns, directly and indirectly, 285,000 shares. Kaminak is run by mining Power Player Eira Thomas, dubbed the "Queen of Diamonds" for her role in discovering the Diavik diamond pipes while working as an Aber Resources geologist. Thomas also cofounded Stornoway with McLeod and Catherine McLeod-Seltzer and was the longtime president and CEO of Stornoway, later serving as executive chairman.
Disclosure: I own Sabina Gold and Silver shares. This blog post appeared on INKResearch.com earlier this morning.