Can two of Canada's best known billionaires be on to something? Investors may learn more when Just Energy Group (JE) releases year-end results next Friday, May 14th, after the market closes.
Shares of Just Energy have been in the penalty box for years. Volatile prices for energy, notably natural gas and electricity, played havoc on margins at the wholesaler, whose army of door-knocking sales representatives offer homeowners long-term fixed price contracts for home heating fuel and related services.
One year ago after earnings were announced, the stock tanked, plunging 25 per cent in two trading sessions, from $8.70 to $6.54. The stock's rocky performance was punctuated by a 40 per cent reduction in the dividend announced last June.
Shares continued the downward trajectory, eventually hitting an all-time intraday low of $4.89 on October 10, 2014. The dismal October valuation far surpassed the stock's lows of the 2008 market meltdown, when shares briefly touched $6.32.
Undeterred in the sell-off were Jim Pattison and Ron Joyce. Pattison, 86, of Vancouver, is ranked as Canada's third richest man by Forbes with net worth of $7.4 billion US. Joyce, 84, of Calgary, has accumulated $1.57 billion US since selling his controlling stake in Tim Hortons in 1995.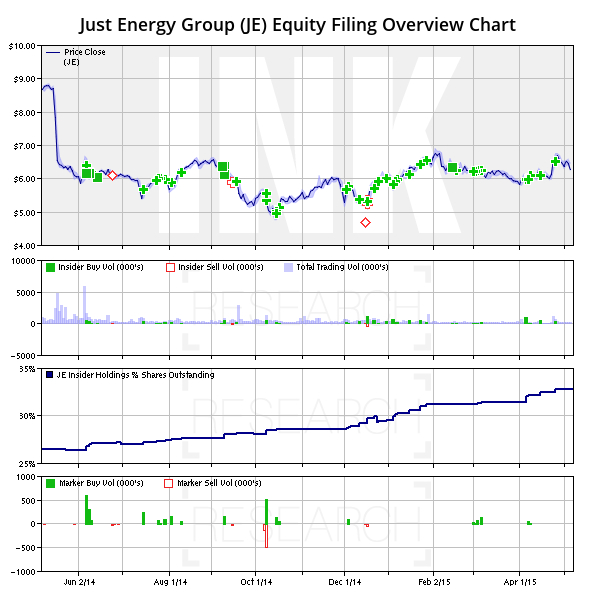 Source: INK Research
Pattison has been buying Just Energy on the public market, investing nearly $43 million in the past year, with nearly $12 million in buying in the past month, bringing his stake to nearly 24 million shares, or 16.4 per cent of the company's common equity.
Pattison's equity stake in the company is not the end of the story:  Pattison's Great Pacific Financial Services also holds $12.9 million in convertible debentures issued by Just Energy Group, yielding 6 per cent.
The debentures are convertible at the eye-watering level of $18. It's no wonder Pattison is content to build his position at prices south of $6, as he did on April 7 when he picked up 934,757 shares at an average price of $5.97. On April 16, he followed up by purchasing 565,243 shares at an average cost of $6.11, followed by another buy of 419,400 shares on April 27th at an average cost of $6.52.
Pattison's well-established reputation for having an eye for value was bolstered in 2010 when he picked up 7 million shares of British Columbia lumber giant Canfor (CFP), at prices ranging from $8.00 to $10.75. By the time Pattison stopped buying Canfor shares in August 2012, he owned 58 million shares, or 43.3 per cent of the company. Canfor traded as high as $31.93 this past February, before settling back to into this week's range of $23. Canfor swung from a net loss of $56.6 million in 2011 to net earnings of $175.2 million in 2014, while EBITDA surged from $228.7 million to $518.6 million in the same period.
Relatively speaking, Ron Joyce has shown an even stronger commitment to the Just Energy story. Joyce has added nearly 600,000 shares to his position in the past month, bringing his acquisitions in the past three months to 2,471,044 shares. Joyce has bought more than 14 million shares in the past year, bringing his overall stake in the company to 11.77 per cent. Nothing seems to diminish Joyce's enthusiasm for the Just Energy story: he picked up 100,000 shares near the October 14 bottom at $4.97, buying more at $6.25 this past March, and in April at $5.98 and $6.10.
At these levels, Just Energy's common dividend is closing in on 8 per cent. With the company reporting earnings next Friday, investors will soon see if Pattison and Joyce are really on to something. 


An earlier version of this post was published on INKResearch.com to paying subscribers on May 11.