Yesterday, Real Vision's Ed Harrison provided a timely overview of the risks that options pose to Technology shares due to the role that institutions have been playing in managing exposure to the high-flying group. He explained that if the market starts to roll over, institutions would mechanically pick up their selling. If you have not listened to Ed's overview of option dynamics, it provides great insight into some of the factors at play in today's sell-off. That leaves us with the question: is more selling coming? At this point, Roger Hirst suggests that today's action resembles the drop seen in June where stocks became overbought and were due for a pullback. He does not feel this is the start of a bear market.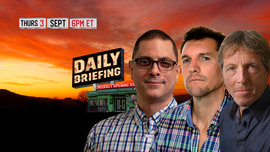 Stocks hit an air pocket but the flight continues
In light of recent market volatility, INK's pivot to the defensive Healthcare sector in morning reports turned out to be timely. On Wednesday, we highlighted that former Conservative Party interim leader Rona Ambrose had been buying shares in Andlauer Healthcare (AND) around the same time news hit that she was leaving Manulife (MFC) where she was a director. Today, we focused on tiny Vitalhub (VHI). In the report, we noted that the stock was looking a bit overbought, and, sure enough, it did pull back today. However, insiders continue to buy shares. The company announced a $2.2 million private placement early this morning that will include insider participation. The deal was priced at $2.20. While the stock fell on Thursday, it closed at $2.36 which is above the financing price.
If you are not an Ultra member of the Canadian Insider Club, join us today to get full and immediate access to Real Vision videos on INK Ultra Money and to the many Canadian Insider features now reserved for Club members. Learn more about the benefits here.