With 3 trading days left in 2022, the rules-based INK Canadian (CIN) Insider Index that employs the INK Edge Outlook process is one of the best performing market indices globally so far this year, up 5.5% on a price basis. If we are to maintain that distinction into year end, a lot will depend on the fortunes of the Energy sector in the final week.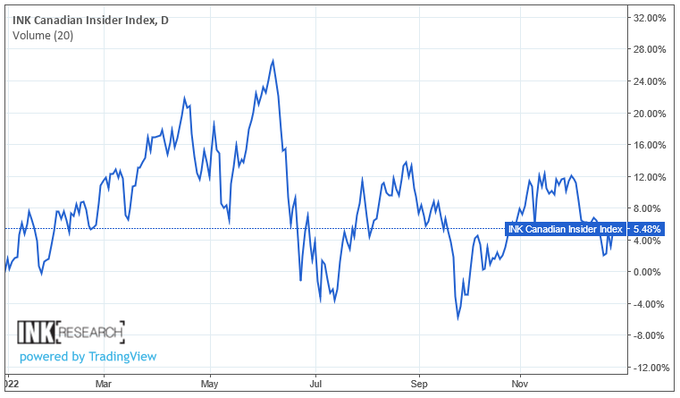 The INK Canadian Insider Price Index December 31, 2021, to December 23, 2022.
The INK CIN Index has just over a 40% allocation to Energy. That allocation was determined by the bottom-up INK Edge allocation process that can vary over time. Five years ago, the Energy sector had only a 10% weight as of the fall 2017 rebalancing.
While the Energy sector has been a key driver of returns in 2022, the story is not all about oil & gas. For example, Fairfax Financial Holdings (Sunny; FFH) has been the second-best performing stock in the 50-member index since the fall rebalancing. The public can track INK CIN Index live and historical performance, announcements and see key characteristics at index.inkresearch.com. INK CIA Institutional members can also view the 50-member constituent list and methodology after logging in using your INK username and password.
The INK CIN Index serves as our live-time institutional track record of the INK Edge outlook process. Generally, we expect the process to do better in liquidity-constrained inflationary periods than during liquidity-rich deflationary periods as seen through much of last decade. As such, we are encouraged with its robust performance this year, which we would characterize as the toughest inflation-dominated investing environment in a generation.
INK Edge outlook ranking categories (Sunny, Mostly Sunny, Mixed, Cloudy, Rainy) are designed to identify groups of stocks that have the potential to out or underperform the market. However, any individual stock could surprise on the up or downside. As such, outlook categories are not meant to be stock-specific recommendations. For background on our INK Edge outlook, please visit our FAQ#3 at INKResearch.com.