Thank you for joining us in this new weekly feature where we take a technical look at the INK Canadian Insider Index. In August, the index suffered a quick and sharp sell-off before rebounding and paring its losses. Following its partial recovery, the Canadian Insider Index has been trading in a very narrow range as investors await a decision from the Federal Reserve on an interest rate increase.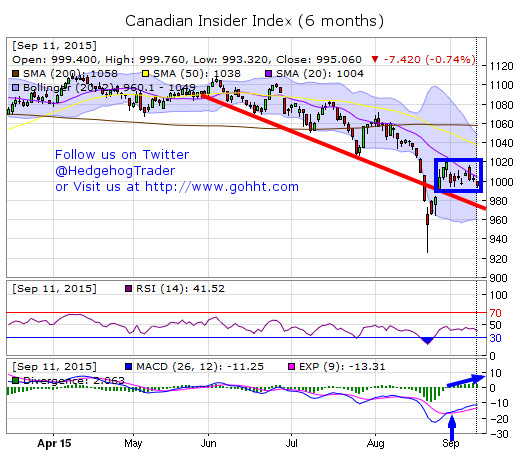 The Index is literally boxed in by major support at 990 and immediate resistance at 1020. Its downtrend line (shown in red) offers more important support just under 980. Major resistance arrives at its 200 day moving average, currently around 1060. If you're looking for risk/reward, the index provides about 20 points of downside and 60 points of upside.
Bullish or bearish? You may be surprised to learn that despite its downward slope, its chart enjoys a couple of bullish aspects. First, we can see its MACD signal triggered a short-term buy signal in early September (where the blue line crosses over the red). Secondly, there's positive divergence as we can see the histogram (green bars just above those lines) switched over from negative to positive, climbing higher even as the price of the index has remained at a standstill. A divergence frequently foreshadows a trend or momentum change, so it's well worth watching.