Thank you for joining us in a weekly technical look at the mid-cap oriented INK Canadian Insider (CIN) Index which is used by the Horizons Cdn Insider Index (HII).  Last week, the INK CIN rocketed another 47.29 points, or 4.2%, to close at 1169.65. In the past two weeks, the Index has melted up over 118 points and 11%.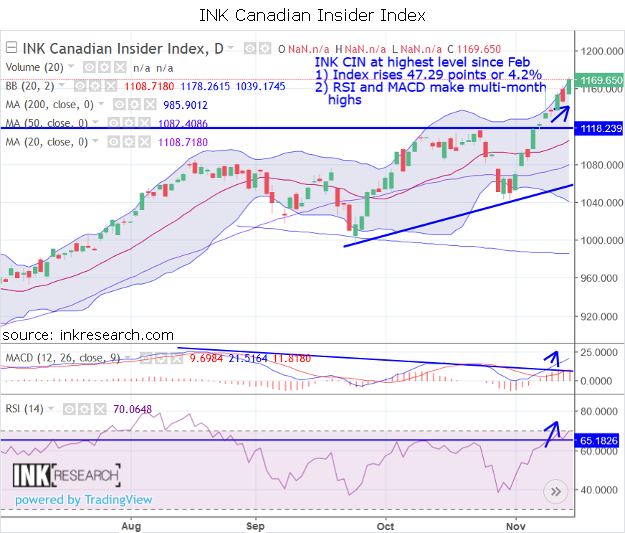 Our short-term momentum indicator, RSI doubled its prior week's move and soared 8.45 points to 70.06. MACD nearly doubled, rising 4.81 points to 9.70. Both MACD and RSI are at their highest levels in many months.
Support is now at 1118 and 1108 (lower Bollinger band). Resistance is at 1170 and 1180.
As far as performance goes, the INK Canadian Insider Index beat copper (+0.76%), platinum (-0.38%), gold (-3.36%), silver (-3.46%), and the SPDR S&P 500 ETF (SPY) (2.27%) but lagged crude oil 8.5%.
My melt-up forecast for commodities and markets is playing out nicely, a prediction we have held since the March crash.
Sport media | Nike Air VaporMax for Men & Women - Buy Online - Ietp