Thank you for joining us in a weekly technical look at the mid-cap oriented INK Canadian Insider (CIN) Index. Last week, the Index rose a modest 2.06 points to 1266.92, adding 0.2% to bring total gains over the past 6 weeks to 19%.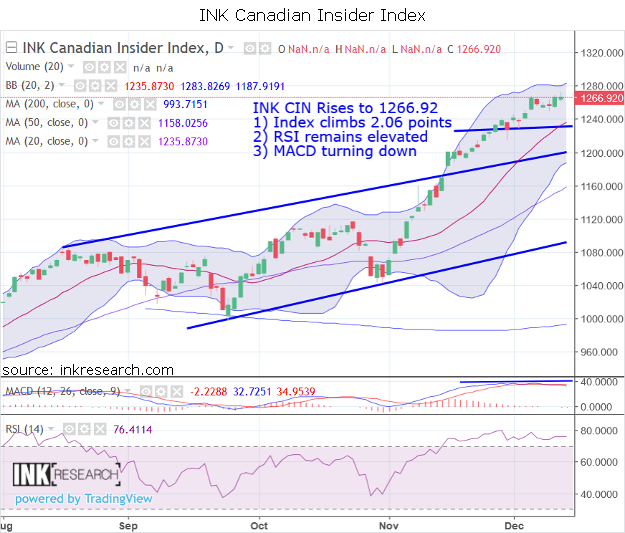 Our long-term momentum indicator, MACD, fell 3 points to -2.23 and our short-term momentum indicator, RSI, dipped 2.7 points to 76.41. Support is at 1250 and 1238. Resistance is at 1283.83 (upper Bollinger band) and 1273.
As far as performance goes, the INK Canadian Insider Index beat the SPDR S&P 500 ETF (SPY) (-1.0%), silver (-0.7%), copper (+0.1%), and platinum (-4.8%), matched gold (+0.2%) but lagged oil (+0.7%).
Considering MACD has turned down and the blue fast line has crossed back down over the red slow line (marginally at least), odds are increasing for a correction or pause. Clearly, commodities are revving up for a further melt-up in the New Year, which would fulfill my forecast of a major market and commodities melt-up made during the March market crash.
The INK Canadian Insider Index is used by the Horizons Cdn Insider Index (HII).