Thank you for joining us in a weekly technical look at the mid-cap oriented INK Canadian Insider (CIN) Index. Last week, the INK CIN kept up its torrid pace rising 35.5 points, or 3%, to finish at 1205.15. Indeed, over the last 3 weeks, the Index has jumped nearly 150 points or 14%.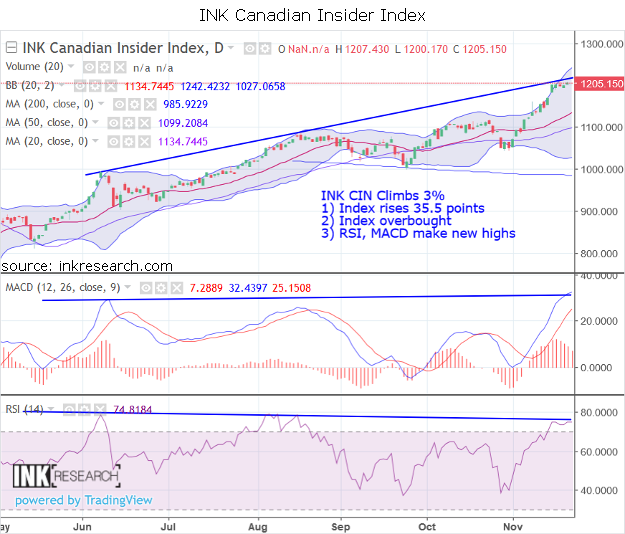 Our short-term momentum indicator, RSI, climbed to 74.82 making a multi-month high and is overbought. The long-term momentum indicator, MACD, jumped as high as 12.3 in notching a new multi-month high but then retreated, closing the week at 7.29, down 2.31 points.
Support is at 1160 and 1140. Resistance is at 1242 (upper Bollinger band) and 1210.
As far as performance goes, the INK Canadian Insider Index beat gold (-0.73%), silver (-1.66%), the SPDR S&P 500 ETF (SPY) (-0.77%), and copper (+3.56%), but lagged platinum (+6.83%) and crude oil (+5.71%).
The INK CIN looks overbought and may need to consolidate its sharp gains over the past month, especially as it is pushing hard against its upper Bollinger band.
The INK Canadian Insider Index is used by the Horizons Cdn Insider Index (HII).