Thank you for joining us in a weekly technical look at the mid-cap oriented INK Canadian Insider (CIN) Index. Last week, the Index resumed its relentless uptrend and added 33.36 points to finish the week at 1238.51 for a gain of 2.8%. Over the last month, the INK CIN has generated a blistering run of 16.8% in gains.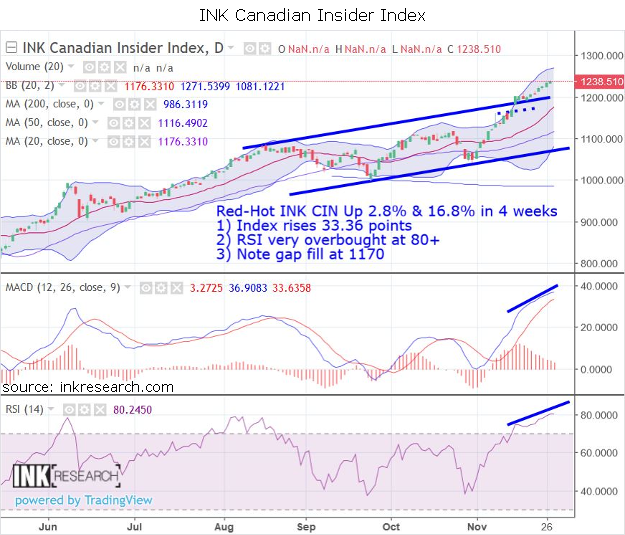 Our short-term momentum indicator, RSI, which was already in overbought territory, shot up another 5.43 points, or 7.2% higher, to 80.25.
Long-term momentum indicator MACD's histogram declined for the second week in a row, falling 4 points to 3.27. Movement in the histogram often precedes signal line crossovers in MACD which could foreshadow a price retreat, so we will be watching closely.
Support is at 1200 and 1170. 1170 is where we see a potential gap-fill to the downside (note dotted line). A gap fill is where the price gapped up and never retested. Resistance is at 1271.523 (upper Bollinger band) and 1240.
As far as performance goes, the INK Canadian Insider Index beat gold (-4.50%), silver (-7.08%), platinum (+0.79%), and the SPDR S&P 500 ETF (SPY) (2.35%), but lagged copper (+3.84%) and crude oil (+7.33%).
The INK CIN is now heavily overbought with its RSI at 80.25 and remains vulnerable to a correction, especially back to 1170 where we see a potential gap-fill. Of course, momentum can take on a life of its own during a furious price rally and price can rise further before that happens.
The INK Canadian Insider Index is used by the Horizons Cdn Insider Index (HII).