It's no exaggeration to say Saskatchewan-based Power Prospector Tim Gitzel is powered by fuel and food. His corporate involvement spans both nuclear giant Cameco (CCO) and NYSE-listed fertilizer play The Mosaic Company (MOS*US), and lately he's been adding to his stake in both companies.
Gitzel, Cameco's president and CEO, purchased 10,000 Cameco shares at $15.85 on Feb. 16. The $158,500 buy brought Gitzel's stake to 143,855 shares, worth more than $2.4 million at current prices.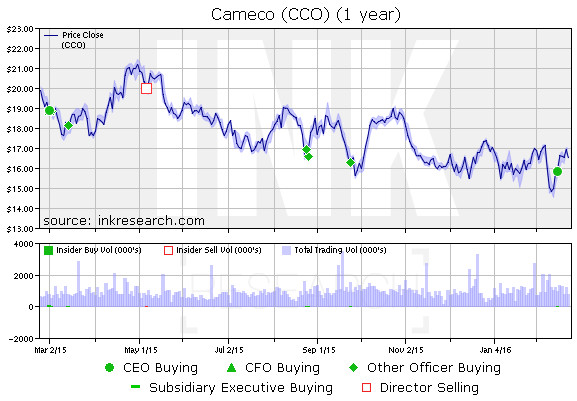 One of the world's largest uranium producers, Cameco has suffered from low commodity prices along with other miners, even as production remains strong. In a world where fighting climate change is a top priority, however, nuclear remains a compelling choice for carbon-free base-load power generation.
Cameco achieved record production of more than 28 million pounds in 2015, a year where the uranium price was flat. That's forecast to grow to 30 million pounds in 2016 as production at Cigar Lake, Cameco's newest high-grade mine in Saskatchewan's Athabasca Basin, ramps up.
The company was also helped by the weak Canadian dollar: 2015 revenue was $2.75 billion, up 15%, and gross profit rose to $697 million, up 9%. But Cameco took a $210-million writedown on its Rabbit Lake operations in the fourth quarter and net earnings fell to $65 million, from $185 million in 2014. Cameco also inked a milestone agreement to sell uranium to India last year.
Gitzel was born and raised in Saskatchewan and it didn't take him long to be thrown into the thick of it after taking the CEO post on July 1, 2011. The following month, Cameco tabled a $520-million hostile takeover offer for Hathor Exploration, a junior miner whose high-grade Athabasca Basin project, Roughrider, is in Cameco's backyard in the eastern Basin.
Rio Tinto tabled a competing offer, which was countered by Cameco, but the London-based mining giant eventually won out with a sweetened $654-million offer.
The loss may have been a blessing in disguise; Rio has the Roughrider project on ice for now. And it gives Cameco dry powder for other potential acquisitions in the Basin, with Fission Uranium (FCU) and NexGen Energy (NXE) two candidates sometimes mentioned.
If Gitzel showed a willingness to use his elbows during the takeover battle, it was a technique he may have learned during his days as a junior hockey player. Gitzel played for the 1979-80 Battlefords Barons of the Saskatchewan Junior Hockey League. In addition to scoring 13 goals, Gitzel had the second highest penalty-minute total on the team that season. In addition to mixing it up in the corners, Gitzel excelled in the classroom on his way to the C-suite. He obtained a bachelor's degree and law degree from the University of Saskatchewan before going into the uranium business, getting his start with Cogema Resources, the predecessor of the Canadian division of French nuclear giant AREVA.
He was Cogema's president and CEO from 2001 to 2004 before taking a Paris post as executive vice-president, mining business unit, for AREVA. He joined Cameco as chief operating officer in 2007 and later became president before taking over as CEO in 2011.
In 2013, Gitzel was appointed a director of Mosaic, the world's largest supplier of phosphate and potash. Mosaic, which was split off from U.S. food giant Cargill, has major potash operations in northern Saskatchewan, where Potash Corp. (POT) is the other dominant player.
On Feb. 16, the same day Gitzel bought the Cameco shares, he also purchased 10,000 Mosaic shares at US$23.35.
BHP Billiton (BHP*US), the world's largest miner, attempted a takeover of Potash Corp. in 2010, but it was rebuffed by the Saskatchewan government. The federal government eventually blocked the takeover, deeming it not to be a "net benefit" to Canadians. BHP is oft-rumoured to be eyeing Mosaic, and if it does make another major potash foray through a takeover of Mosaic, Gitzel's connections could help pave the way for a more harmonious transaction this time around.
Disclosure: An earlier version appeared on INK Research for subscribers on February 24, 2016. Author owns shares in NexGen Energy.