Markets are in the process of resetting as the US central bank effectively put to rest any notion that it was going to do anything more to help inflation get back to its 2% target. On Saturday, Fed Vice Chairman Stanley Fischer addressed the Kansas City Federal Reserve economic symposium at Jackson Hole, Wyoming where he more or less repeated the same old line that the Fed expects inflation to move back to target. Mr. Fischer's speech was a polite way of saying that the Fed is going to let the inflation chips fall as they may and more tightening is on the way.
The Fed may well be on the path to a rate rise, acknowledging that some market volatility is the price to be paid. Whether they have the stomach for what is evolving right now is still uncertain. Unfortunately for investors, monetary policy uncertainty is now the name of the game.
The central bank's acceptance of such uncertainty marks a sea change with respect to the acceptable outcomes surrounding monetary policy. Since the financial crisis, the US central bank has dampened volatility through asset purchases and zero interest rates. With the Fed more or less saying goodbye to those measures, investors will have to adjust to a world with more policy uncertainty.
At this point, insiders are still adding to their positions as share prices fall. Our INK US Market Indicator has now reached the 66% level meaning that there are two stocks with key insider buying for every three with selling. While that is an advance of more than 10 percentage points over the past week, it does not represent a peak in insider sentiment. A peak in sentiment is an important event as it would signal that insiders have hit their maximum level of bullishness.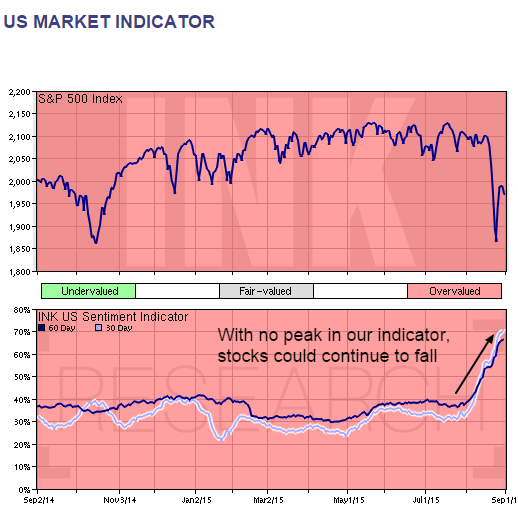 Until our US market indicator makes a clear peak, we will not have a signal that valuations have hit bottom. While a peak in our indicator may well happen after a market bottom, given the risks that are currently confronting investors, being patient is the prudent course. For those investors who are true value investors, there are clearly more bargains in the US market than there were a month ago. Whether those securities become even cheaper over the next few weeks will likely depend on market sentiment and potential policy missteps from the Fed. Both of those factors are beyond the control and vision of insiders.
This article appeared earlier today on the INKResearch.com and TD Direct Investing websites.