For David Grenville (Gren) Thomas, the big score was the discovery of Diavik by his Aber Resources more than 20 years ago.
Thomas and his partners headed north and got to work in the early days of the staking rush following Chuck Fipke's 1991 discovery of diamonds in the Northwest Territories. It took a few years, but in 1994 and 1995, Aber discovered the kimberlite pipes that became Diavik, Canada's second diamond mine. Diavik, still producing, is a joint venture between 60% owner Rio Tinto (RIO*US) and Aber successor Dominion Diamond (DDC) (40%).
Thomas's geologist daughter Eira was running Aber's field exploration team at the time of the discovery, and she's parlayed that early success into an impressive career in mining herself.
Eira Thomas cofounded Stornoway Diamond (SWY), which recently opened the Renard diamond mine in Quebec, and served as CEO of Kaminak Gold when it was purchased by Goldcorp (G) for $520 million earlier this year. She also cofounded and is a director of Lucara Diamond (LUC), Lukas Lundin's large-diamond play, and sits on the Suncor Energy (SU) board.
As Gren Thomas told me last year with a chuckle, "She used to be my daughter. Now I'm her father."
The Welsh immigrant remains very active in the junior exploration space, however, with large stakes in several of the companies he runs. He's chairman of three junior mining companies and CEO of another, and he's been accumulating shares in all four companies over the past three months.
Lately, Thomas has been picking up shares of diamond explorer North Arrow Minerals (NAR), tin development play Strongbow Exploration (SBW) and Africa-focused gold exploreco Helio Resources (HRC), as well as Westhaven Ventures (WHN) -- his largest position among companies where he's an insider.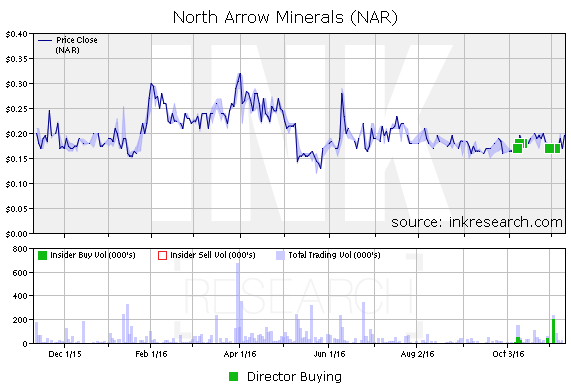 Most recently, on Nov. 3, Thomas purchased 205,000 North Arrow shares at 17 cents, taking his stake in the company (indirectly, through Anglo Celtic Exploration Ltd) to 6,314,035 shares, or about 15% of outstanding shares. Thomas is North Arrow's chairman.
North Arrow is advancing several Canadian diamond exploration projects, including its Pikoo discovery in Saskatchewan and Qilalugaq in Nunavut. The latter project has a population of valuable coloured diamonds.
According to a recent presentation in Alberta, North Arrow plans a spring drill program at Qilalugaq with the goal of getting a better handle on diamond valuations there. A disappointing June 2015 valuation that sank the stock was challenged by small parcel size and lack of high-value stones, the company says. North Arrow subsequently cut and polished several of the Qilalugaq diamonds, producing fancy yellow and orangey diamonds that fetched premium valuations. North Arrow's largest shareholder is Zebra Holdings and Investments Srl., a Lundin family trust (23% of S.O.), and Lucara Diamond CEO William Lamb is a North Arrow director.
Also on Nov. 3, Thomas added to his Strongbow position, buying 40,500 shares at 15 cents to take his stake to 2.37 million shares, more than 5% of S.O. The purchase was part of a flurry of buys in the past month that saw him spend more than $37,500 on shares of Strongbow, where he is chairman. Strongbow's largest shareholder is Osisko Gold Royalties (OR), with about 24% of outstanding shares. John Burzynski, a founder of the original Osisko, sits on the Strongbow board.
Strongbow's flagship project is the South Crofty tin complex in Cornwall, South England, and on Monday the company announced a $2.5-million private placement to pay for development work. There has been tin mining in the area for thousands of years, including large-scale production from the mid-17th century. But the South Crofty mine shut down in 1998 due to low tin prices, and Strongbow plans to dewater and re-open it now that tin prices are higher. The company is advancing the project through water treatment testing and community meetings. A preliminary economic assessment is expected to land in Q1 2017.
Strongbow's president and CEO is geologist Richard Williams, who like Gren Thomas hails from Swansea, South Wales. Williams also runs Helio Resource Corp. (HRC), which is advancing the SMP gold project in Tanzania. SMP has an indicated resource of 590,000 ounces at average grades of 2.4 g/t gold.
Thomas is Helio's chairman and he was recently granted 265,000 common shares of Helio (at 5 cents) as compensation for services. He owns about 2.17 million shares, or .87% of S.O. Helio's largest shareholders are Guernsey-based investment fund CE Mining Ltd, with about 26.5% of S.O., and International Finance Corporation (6.6%), a branch of the World Bank.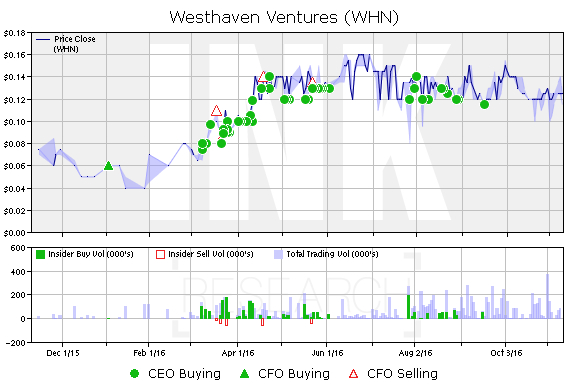 But Thomas has been most active in the past three months buying shares of Westhaven Ventures (WHN), a drill play that is exploring properties in British Columbia's Spences Bridge gold belt. He is Westhaven's CEO.
He has spent more than $330,000 in the last three months on Westhaven shares at prices ranging from 12 to 14 cents. Over the past year, the buying adds up to more than $600,000. The acquisitions included a 2,416,667-unit purchase in Westhaven's latest financing, which saw the company raise $410,000 in September through the issuance of 12-cent units that include a common share and 16-cent share purchase warrant good for two years.
Thomas owns 16.4 million shares, more than 31% of Westhaven's S.O. His son Gareth, a Westhaven director and cofounder, is the company's second largest shareholder, with more than 3 million shares or 5.87% of S.O.
Westhaven is currently drilling its Prospect Valley epithermal gold project, snapped up in 2015 from a struggling exploreco. Prospect Valley has a resource estimate of 166,000 ounces in the Inferred category at an average grade of 0.511 g/t Au. Assays for the drill program have not yet been released, but a recent grab sample 1.2 kilometres northeast of the resource zones returned 7.47 g/t gold.
Disclosure: James Kwantes owns shares of North Arrow Minerals, Westhaven Ventures and Strongbow Exploration. He is the editor of Resource Opportunities, a subscriber-supported newsletter dedicated to uncovering value in the junior resource sector. This article originally appeared November 10th, 2016 on INKResearch.com.
Special offer for CanadianInsider.com users: Until November 16, Resource Opportunities is offering INK subscribers a discounted 1-year subscription for just $99 (regular price $299). Take advantage by using coupon code INK at this sign-up link.