Will Canadian housing suffer the same fate as the oil and gas sector? While in our view the answer is ultimately yes, insiders are signalling if so, not just yet.
Over the past week we have seen some insider buying in the mortgage finance area which suggests that profits are still to be made by selling financial products to eager home buyers who have been encouraged to take on more debt by the Bank of Canada through its rate cuts. Our 30-day Financials Indicator soared to the 1,150% mark on August 10th. That is a high level. At 1,000% there are 10 stocks with key insider buying for every one with selling. 
INK Financials Indicator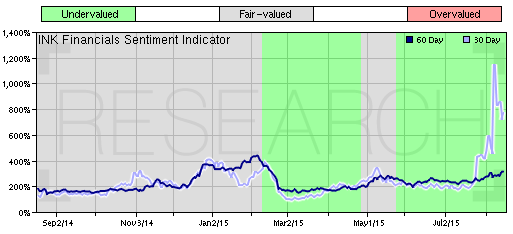 The Financials Indicator peaked last Monday which was the day before the People's Bank of China signaled that it would allow market forces to devalue its currency. Over the short-term, this devaluation could provide a boost to the Toronto and Vancouver housing markets as capital rushes out of China before the renminbi sinks more. 
INK Gold Stock Indicaator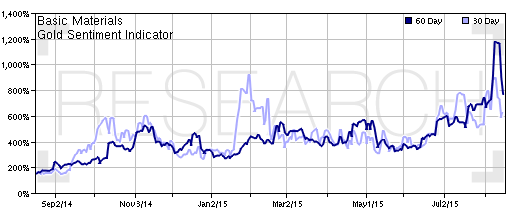 Meanwhile, we note that our gold stock indicator peaked the day after the China devaluation at nearly 1,200%. That buying represents a multi-year high.
A version of this blog appeared on the INK Research website on Monday, Aug. 17, 2015.