We are pleased to celebrate the re-launch of Canadian Insider by sharing some thoughts on the market. 
We begin with a particularly noteworthy chart. The iShares Russell Microcap Index Fund (IWC*US) is a chart I have been following closely. It may surprise people that this fund which holds small cap companies in diverse sectors, has been outperforming the US and Canadian market for about a year and has in the past few sessions, broken out to a multi-year high - importantly, with very little attention from the financial media. Small companies are economically sensitive and as a result, continued strength in this chart provides a bullish backdrop for stocks overall. Indeed, speculation and an appetite for risk appear to be returning.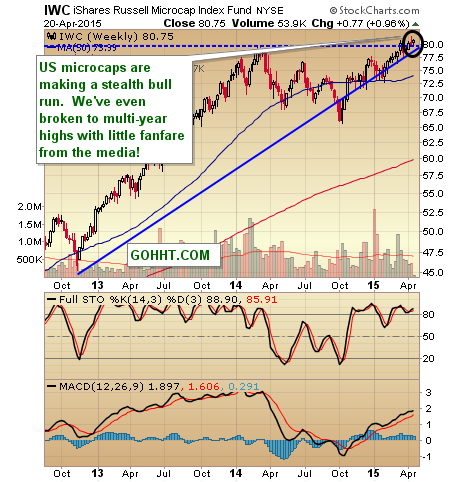 A second chart worth watching is iPath Bloomberg Commodity (DJP*US). It has exposure to numerous commodities and its chart looks to have bottomed back in March. Shares have bullishly made higher lows since then. Volume does need to increase for a breakout move to be sustainable, but momentum looks favourable for a further move forward in the near-term. We think two consecutive closes above $29 over the next few days, would prove very bullish for the commodity sector.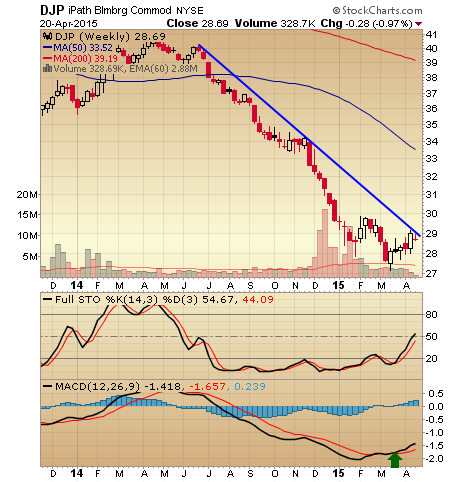 The bullish indications of these microcap and commodity charts dovetail with our proprietary signals which also suggest we are going to see the US broad market continue higher as well as small and microcap companies in the US and Canada. This quarter, a parabolic move in the US dollar pressured not only commodities but also seemed to cap the broad US market. An unwinding of the US dollar's massive rise would re-ignite under-performing assets like these.
 
With that in mind, here are a few ideas we're looking at: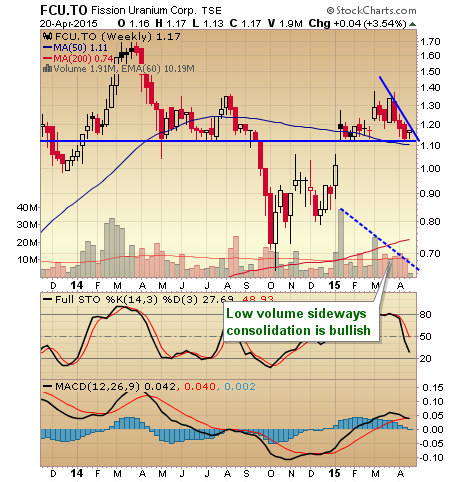 The resource sector has provided countless false starts over the past few years, and for that reason we prefer set-ups that offer favourable risk/reward. Small cap uranium explorer 
Fission Uranium (FCU)
 is one of our favourite takeover plays in the resource sector. In the past year, Fission's CEO bought $137,000 worth of stock, as well as 2 directors who purchased $261,000 in stock. I also like that it has delivered a large resource, excellent drill results and has been a top performer among uranium companies over the past year.  In addition, its chart offers an attractive entry here with clear support of $1.10; indeed, shares have been consolidating around the $1.15 area for nearly 4 months. Usually, the longer the consolidation in a stock, the more powerful the ensuing rally. A stop just under its 50 day moving average $1.10 CAD would serve traders well.
North America's largest uranium producer
Cameco Corp (CCO)
is a hot-bed of insider buying, with insiders including the CEO and CFO having hoarded away over $3.3 million in stock in the past year and impressively, selling less than $2,000 in stock. Shares have moved up sharply in the New Year and shares will need to break through prior resistance at $16.50-$16.60 if it's going to make a run for their 200 day moving average at $17. One bullish indication is that the company recently enjoyed a huge 6 million share day, its biggest volume in over 5 months. It pays a 2.2% dividend. Entries here should set a tight stop at $15.75.
Let's face it
Barrick Gold (ABX)
is one of the world's least loved gold companies. Management flux, project costs, negative environmental PR and other issues have dogged the miner. But poor sentiment is what makes Barrick an interesting proposition, especially long-term. What's also attractive is that the company has seen heavy insider buying since October 2014, including purchases by Barrick's CFO, directors and other officers – totaling $12 million. I can't recall Barrick insiders buying in such size in many, many years. It pays a 1.7% dividend. A stop at $12.40 US looks prudent.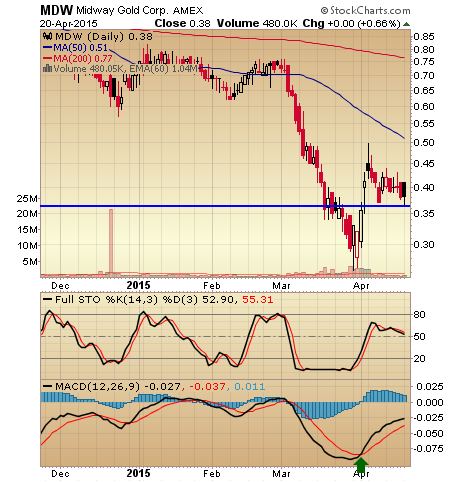 Midway Gold (MDW) is an intriguing idea based on the fact it is a new gold producer in Nevada, and has produced 2,300 ounces of gold so far. Its shares took a 50% haircut in early March when production was briefly delayed and the company announced they would have to come up with a $5 million shortfall. However, on Monday they announced a non-dilutive transaction furnishing them with $10.5 million, more than covering the needed funds. Short interest in Midway encouragingly fell 10% in March and should we see gold prices turn up, we think Midway shares will have a lot of upside torque. In addition, insiders have bought $2 million in shares in the past year, including Midway's CEO who bought $100,000 worth- without making any sales.
It's worth noting that mining stocks typically see their best performance during their production phase begins (see chart below). Midway looks like a savvy buy for patient gold stock investors, not only because it is generating cash flow but also because, as it has just proven, the company has access to financing and has a significant partner/shareholder in Barrick (which may well become an acquirer at some point) and other investors. Shares are likely to be volatile but a $0.34 US stop might be prudent if volatility makes you uneasy. It may simply be a miner some wish to accumulate over the next few months as we reach gold's seasonal low in June or July.
Resource stocks are showing signs of life - but we do recommend using stops and taking profits along the way.  In fact, if we do see resource stocks rally over the next few weeks, those aforementioned seasonal patterns remind us that the quiet months of June and July often yield the best buying opportunities of the year, so it may be a good idea to keep these resource names in mind.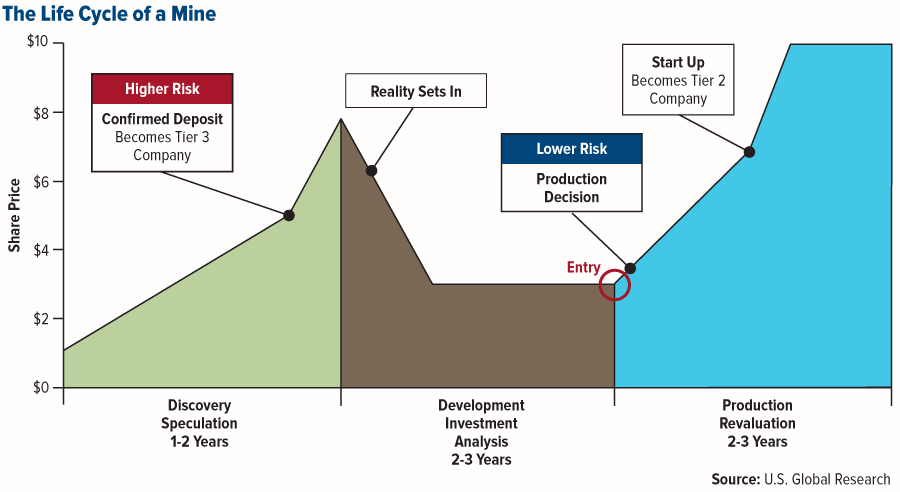 We expect market volatility in the weeks ahead to provide some profitable trading opportunities for investors. We invite you to follow us on Twitter at http://www.twitter.com/HedgehogTrader where we provide commentary and even share specific stock and market predictions.
Nicholas Winton uses proprietary signals to forecast likely moves in stocks and commodities and is the editor of Hedgehog Trader http://www.GOHHT.COM where he runs Hedgehog Trader Newsletter (HHT) his flag-ship advisory that provides excellent trading ideas, with a big picture view of the markets and commodities; and Hedgehog High Roller (HHHR) which covers exciting microcaps and nanocaps; Nicholas also consults for fund managers and private clients.
 
Disclosure: of the companies mentioned, Nicholas owns MDW shares. This blog post originally appeared on INKResearch.com April 21.