With the recent volatility in world markets and currencies, market commentators and mainstream media outlets have become bearish on oil, gold and even the broad markets (think magazine covers screaming 'this is the end!').  The investor herd is running scared, as evidenced by $2.8 billion in outflows from U.S.-based domestic-focused stock funds two weeks ago according to Lipper data. CNBC talking-head Dennis Gartman weighed in, calling for a US bear market to begin.  Another commentator slagged gold, the 5000 year old metal of kings, as a mere "pet rock."  And Mad Money's Jim Cramer recently swore off oil stocks.  We see this outcry of capitulation as a perfect contrarian signal that is putting a profit opportunity of impressive size before investors.
I am looking for a huge rally coming in heavily out of favour and oversold resource stocks as well as other speculative stocks in sectors we also cover like technology, biotech and clean-tech. The US broad market's sideways consolidation for the last 6-8 months has caused many to become fearful and quite skeptical of a further advance. What is less well known, is that the broad market has an extremely bullish track record for gains following sideways movement of six months or more. And as you can see on this S&P 500 (SPY*US),  chart, there's nothing even remotely ominous about this picture.  I see this sideways movement as beneficial in building up skepticism which will soon power the market much higher.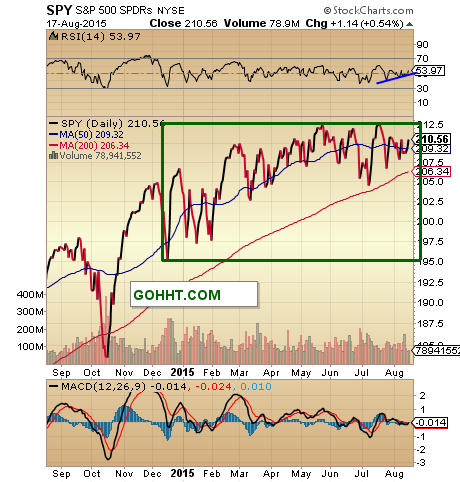 One useful sentiment indicator is the Russell Microcap Index (IWC*US), the index I have been telling people to watch for months. It holds companies across varied sectors – and is particularly economically sensitive considering its microcap make-up. Relative strength is showing signs of positive divergence or a near-term trend change to the upside.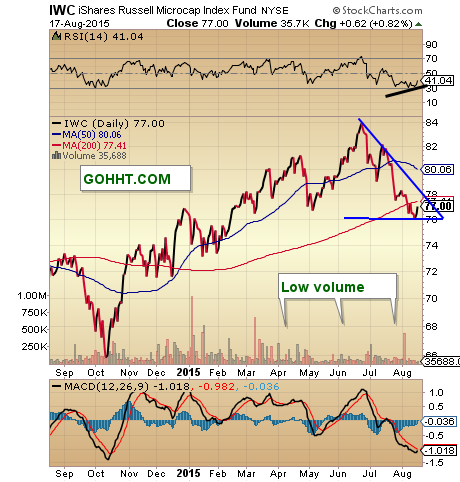 As for gold, despite its lengthy 3 year correction, it is giving us a great heads-up for at least a powerful counter-trend rally - and maybe more. On the GLD (GLD*US), chart below gold's relative strength shows positive divergence. Essentially, we see its RSI rising steeply even as gold's price was falling. We typically see this behaviour preceding a reversal from a bearish trend. And indeed gold is well within a very bullish seasonal period.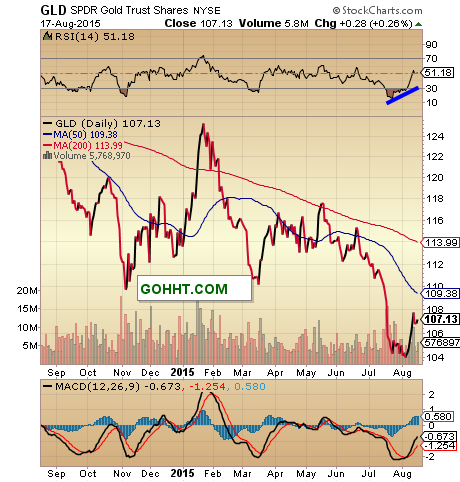 Of course, we like mining stocks more than gold in a major turnaround since miners lead the metal and tend to outperform in reversal situations. Junior mining stocks are actually showing a great deal of strength under adversity. The GDXJ (GDXJ*US), chart below shows RSI has risen higher than the chart of gold, and GDXJ's MACD indicator is very close to issuing a buy signal.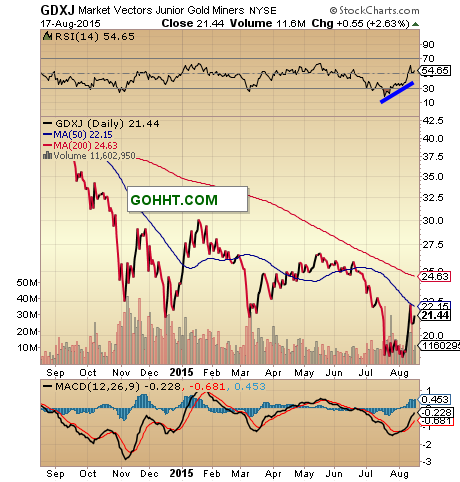 In addition, Bullish Percent Goldminers (BPGDM*US), is a handy sentiment tool, currently showing 6.6% of miners in the index in an uptrend.  It reveals resource investors are clearly on the outside looking in and that tremendous upside resides in these unpopular sectors.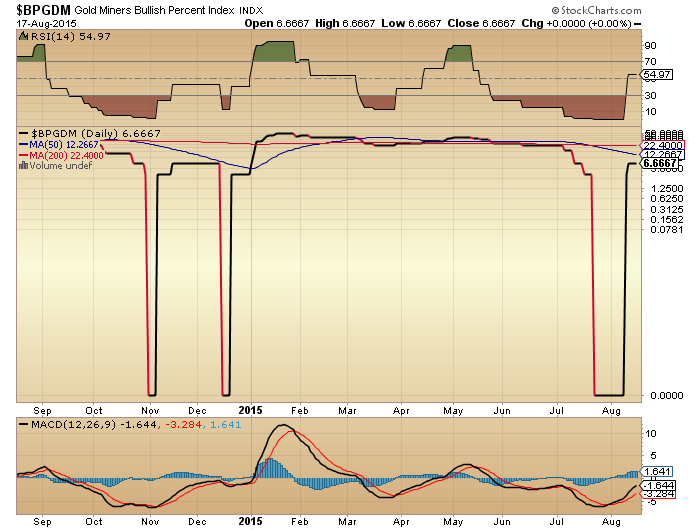 (GDXJ*US), offers significant potential upside of 5% before reaching its 50 day moving average and 15% before reaching its 200 day average.
A large cap Canadian gold miner we like with insider buying is Barrick Gold (ABX).  Like most miners, it's been an ugly stock to own but that's what makes it a great contrarian buy at present valuation extremes.  Insiders have been buyers as recently as late-June when director John Thornton increased his holdings by 36%.  Indeed, shorts have all but exited with their juicy profits, as the company has a mere 1% short interest.
We like McEwen Mining (MUX*US) a lot – it has amazing upside for its leverage to silver and a great leader in Rob McEwen. We also like that 5 different directors have bought $2 million worth of shares in the past year.
A US gold and silver producer we like is Gold Resource Corp (GORO*US) Directors have bought $130,000 in shares this year and with no sales in the same timeframe.  Two insiders bought a combined 39,000 shares in late May, both nearly doubling their holdings at prices 33% higher than today.
Our microcap advisory Hedgehog High Roller (HHHR) also recently uncovered a small, and promising technology company Equatorial Exploration (EXX). The company is led by Duane Nelson who built Silvermex from an explorer into a silver producer and then sold it to First Majestic Silver (AG*US) for $175 million. Their technology can process tailings which are recoverable by gravity processing. Importantly, they don't need to wait for lengthy environmental permits since 96-97% of all the water is recoverable. It splits gold recoveries 50/50 with juniors.   Their technology could help part of the junior mining sector avoid dilution. It's innovative and worth watching.  We also like that CEO Patrick Power has bought $108,000 in shares in the past year and that insiders hold 18%.
We believe microcaps on both sides of the border will perform very well and the Venture (CDNX) is on the verge of a powerful rebound. The Venture has 10% to rise before reaching any resistance. And individually, Venture stocks are likely to see far greater gains once commodities and larger cap miners make a big run.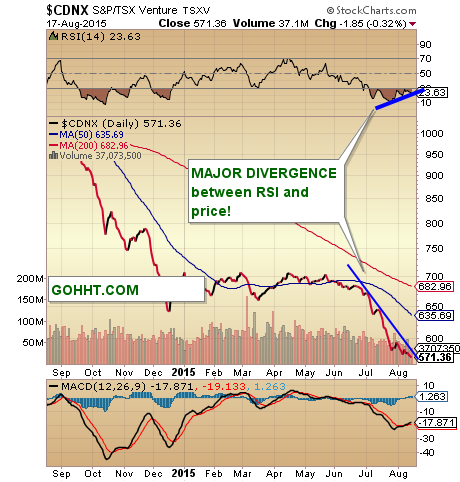 Incidentally, our own proprietary Alpha Signals confirm this positive technical view and indicate that the coming weeks should be great for both resource stocks and the broad market.
This article was originally published for CIA Interactive subscribers on INKResearch.com Tuesday August 18.